Artist

CARNASCIALIA

Pasquale Minieri (guitar, bass, vocals)
Giorgio Vivaldi (percussion, flute)
Carlo Siliotto (violin)
Demetrio Stratos (vocals)
Clara Murtas (vocals)
Nunzia Tambara (vocals)
Piero Brega (vocals)
Luciano Francisci (accordion)
Tommaso Vittorini (sax)
Maurizio Giammarco (sax)
Mauro Pagani (violin, mandolin)
Danilo Rea (piano)
Marcello Vento (drums)
Pablo Romero (tin whistle)

A sort of supergroup formed by Pasquale Minieri and Giorgio Vivaldi with help from Carlo Siliotto, all of them being past members of Canzoniere del Lazio, an interesting folk group born near Rome in the early70's that released five albums between 1973 and 1978.
The Carnascialia project, including such famous names as Mauro Pagani and Demetrio Stratos among others, just lasted for an LP and a few concerts, but the LP is a very good example of progressive Italian folk music, much in the same style as Mauro Pagani's debut album.
The six tracks it contains vary between traditional inspired folk-rock numbers (Canzone numero 1), vocal exercises in Area-style (Fiocchi di neve e bruscolini, with the distinctive voice of Demetrio Stratos) and are generally much influenced by an interesting mediterranean folk feeling, being an early example of "world music" from Italy.
The group also appeared in 1979's tribute concert for Demetrio Stratos, with a remake of a song from the first album of Mauro Pagani.

LP
Carnascialia
Mirto (6323 750)
1979
single cover with lyric inner
BTF/Vinyl Magic (VM LP 170)
2014
reissue of 1979 album with inner - red/gold splattered vinyl


CD
Carnascialia
Mercury (522 837-2 )
1993
reissue of 1979 album - now deleted
Universal (0602527122076)
2009
new reissue with mini-LP single cover - part of the box set Progressive Italia - Gli anni '70 vol.2


VARIOUS ARTISTS COMPILATION ALBUMS
1979: Il concerto
(with Europa minor)
Cramps (5203 001)
1979
2LP - gatefold with inner - from the Demetrio Stratos tribute concert - also features Area, Banco del Mutuo Soccorso, Francesco Guccini, Angelo Branduardi, Antonello Venditti, Eugenio Finardi, Roberto Ciotti and others
Cramps/De Agostini (5203 001)
2018
2 LP - gatefold cover and 8-page insert - no.12 in the De Agostini "Prog Rock Italiano" series


PROMOTIONAL AND JUKEBOX SINGLES (with blank cover)
Canzone numero uno
Gamela
Mirto (5000 534)
1979
white label promo-only single - credited to Pasquale Minieri/Giorgio Vivaldi

Now becoming increasingly expensive and sought after, Carnascialia was released in a nice single cover on the small Mirto label (a Phonogram subsidiary).
The album was reissued on vinyl for the first time in 2014 by BTF.
The LP has on the cover and the label the names of Pasquale Minieri and Giorgio Vivaldi, but it's usually considered as a work of the group Carnascialia, which made many concerts in Italy with this name.
The album has long been unavailable on CD after the first reissue made in 1993. It has newly been reissued by Universal in 2009 as part of the 6CD box set Progressive Italia - Gli anni '70 vol.2 (no. 0602527122021).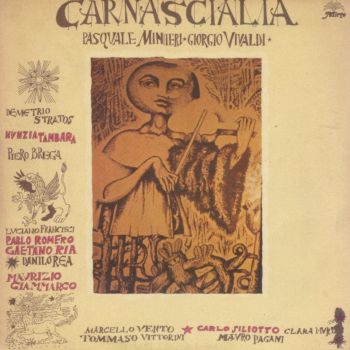 Carnascialia - LP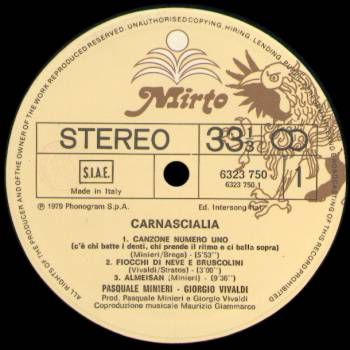 Carnascialia - LP label

A detailed history and discography page of Canzoniere del Lazio and Carnascialia can be found at http://digilander.libero.it/gianni61dgl/canzonierelazio.htm

Thanks to Alos for info on discography