Artist

ERRATA CORRIGE

Mike Abate (guitar, vocals)
Marco Cimino (flute, keyboards, cello)
Gianni Cremona (bass, vocals)
Guido Giovine (drums, vocals)

A privately pressed and very rare album, Siegfried, il drago e altre storie was the first and only LP released by this Turin band, that was active from 1974 and that had previously recorded two tapes and some tracks posthumously released on CD in early 90's.
The band was initially a trio with no name, then a quartet that only took its name Errata Corrige when newcomer Mike Abate replaced previous guitarist Cardellino. Two demo-tapes, entitled Da mago a musicista and Saturday il cavaliere were released by the early line-ups.
After their latest concert at Teatro Carignano in Turin in June 1975 and the following breakup, the musicians decided to record in a studio some of their compositions as a document of their past activity. These recordings were issued on LP in 1976, with fantasy-inspired lyrics and dreamy soft-prog atmospheres not unlike Celeste in their first album or Pierrot Lunaire. More complex arrangements and rhythm changes make this an attractive and original sounding record. Band members play a long list of instruments with good musicianship and the result is absolutely positive.
The Mappamondo CD includes their first recordings along with more commercially sounding 1977 tracks.
The quality is uneven, five tracks from 1974 sound interesting, though the impression for some of these is of unfinished compositions. The remaining four tracks from 1977, in which Abate and Cimino are supported by Arturo Vitale (sax, from Arti & Mestieri), Paolo Franchini (bass) and Giorgio Diaferia (drums, from Esagono) show a sound much closer to jazz rock with some funky elements, like in American dream.
After the definitive band split Marco Cimino played with Arti & Mestieri, Esagono, Venegoni & co. and the Piedmont folk group La Ciapa Rusa, and also appears in the recent Arti & Mestieri reunion CD, Murales. He also was among the founder members of the Turin jazz-inspired label Mu.
In 2015, along with the vinyl reissue of Siegfied, il drago e altre storie, the Black Widow label also released a CD+DVD version with new recordings of the album tracks played by the four original musicians with some guests.

LP
Siegfried, il drago e altre storie
EC (G7 01)
1976
single cover
Black Widow (BWR 173LP)
2015
reissue of the 1976 LP with 12 page booklet

CD

Siegfried, il drago e altre storie
Vinyl Magic (VM 011)
1990
reissue of 1976 album with 1 bonus track
Vinyl Magic (VM 011)
2002
new reissue with a second bonus track
Black Widow (BWRCD 173-2)
2015
CD+DVD - new recordings of the 1976 album tracks with a different cover
Mappamondo
Mellow (MMP 117)
1992
recorded in 1974 and 1977

Released in a limited private pressing (500 copies, according to one of the band members) and only distributed locally, Siegfried, il drago e altre storie is a very hard item to find. It's housed in a simple single cover.
The album was reissued for the first time on vinyl in 2015 by Black Widow and contains a 12 page booklet with original pictures. The same label also released at the same time a CD+DVD containing new recordings of the original album tracks.
Two different versions of the Vinyl Magic CD exist, with light blue design, as in the original cover, or pink. The first edition, from 1990, contains a nice unreleased bonus studio track, Saturday il cavaliere, which, in the following release from 2002, is also added in a live version.
No counterfeits or foreign issues exist.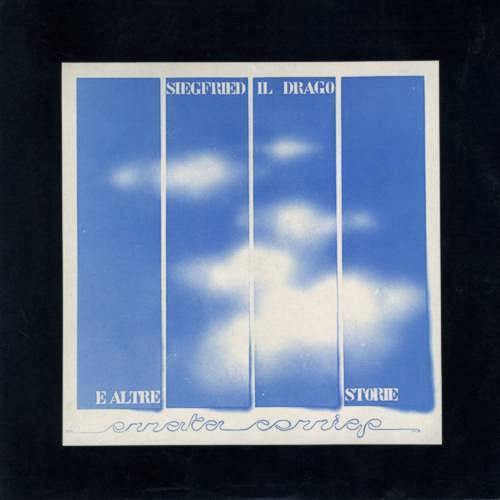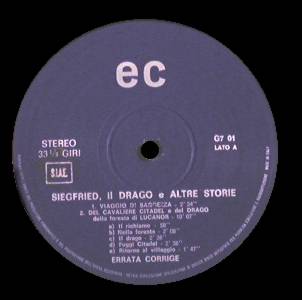 Siegfried, il drago e altre storie - front cover and label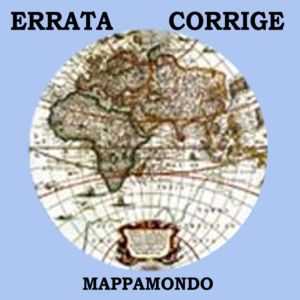 Mappamondo - CD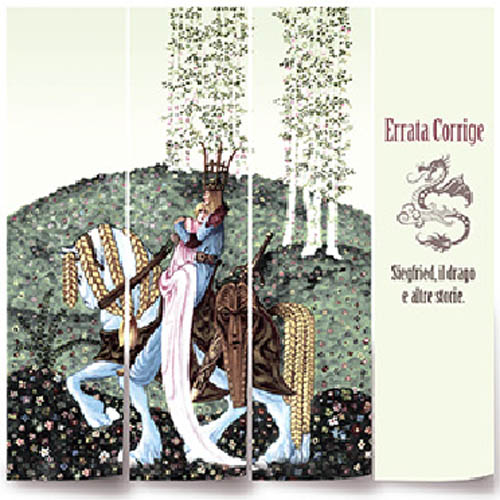 Siegfried, il drago e altre storie - CD/DVD version