Artist

FOREIGN ARTISTS
After the british invasion of the 60's, when many beat groups and artist from England (Sorrows, Renegades, Sopworth Camel, Doc Thomas Group, the V.I.P.'s) came to Italy and in some cases (The Rokes, Mal Ryder and the Primitives, The Trip) stayed there, in the early 70's Italy was not an attractive place for foreign musicians anymore. The social and political situation had changed, live music was now limited to open-air festivals often organized by political movements. Only in a few cases (Analogy and Brainticket) did foreign bands find in Italy a fertile terrain for their creativity.
Moreover, some foreign groups and artists have often been listed as Italian in books and record lists, this was due to the fact that they had recorded in Italy or included Italian musicians.
Below is a short listing of these artists.
This French-born composer came to Italy in the 60's forming the group I Pyranas, with two albums on Arc, his sister Evy having some popularity in the mid-60's as solo singer.
In the 70's Verrecchia mostly dedicated his interest to film soundtracks, among these Tecnica di un amore, also released on LP by the Naples label B.B.B. and later reissued on vinyl and CD, and the recently rediscovered Roma drogata: La polizia non puņ intervenire, from a 1975 movie but never released before on record.
Opposite from other soundtrack composers, Verrecchia used electric sounds rather than orchestral arrangements, and the recent CD contains some interesting tracks in rock and blues style, with some vague psychedelic influences. Among the musicians playing in this soundtrack are Cyan, Baba Yaga, Toni Esposito and singer Sammy Barbot.
LP (partial discography)
Tecnica di un amore
B.B.B. (BCLB 0003) - Italy
1973
laminated gatefold cover
Moving Image Ent. (MIE005 LP) - Italy
2000
reissue of the above


CD (partial discography)
Tecnica di un amore
Moving Image Ent. (MIE005CD) - Italy
2000
reissue of 1973 album in digipack cover
Roma drogata: La polizia non puņ intervenire
GDM (GDM 4011) - Italy
2007
unreleased soundtrack from a 1975 movie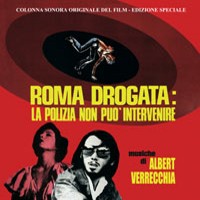 Thanks to Fabio Marchignoli for some information on this page