The full list
B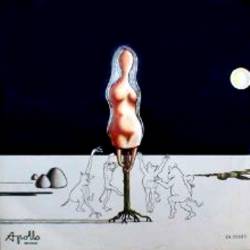 Discography:
45 - Good morning love/The man and the sparrow (Apollo ZA 50225 - 1972)
Only one single to mention, with tracks composed by Maurizio Bigio, for this female trio, whose career lasted until 1980. The style is rather commercial and can hardly be described as progressive.
Baba Yaga also played in the soundtrack composed by Albert Verrecchia for the movie Roma drogata: La polizia non può intervenire, from 1975, but only issued on CD in 2007.
Another single under the name Le Babayaga was issued in 1979, with Che gatta! (main theme of the TV show Discoring) and Flop, on the Disaster label (DIS 1501), and the same group released other singles with the names Le Camomilla and Le Sorelle Bandiera.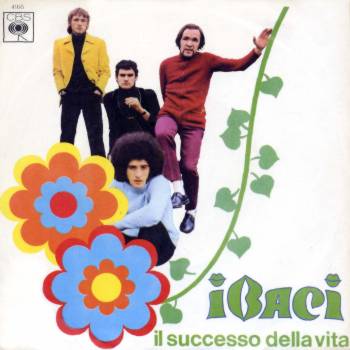 Line up:
Silver Soprani (vocals, guitar)
Marco "Jimmy" Villotti (guitar)
Claudio Golinelli (bass)
Gilberto "Attila" Rossi (drums)
Discography:
45 - Povero cane/Strada bianca (CBS 3838 - 1968)
45 - Il successo della vita/Torna (CBS 4168 - 1969)
45 - Cerco lei/Scende la notte (CBS 4772 - 1970)
I Baci, from Forlì, were formed in 1968 and only released three singles on CBS. The second one is the closest to the contents of this site, with great fuzz guitar work by Villotti.
The original name of the group was I Phedia, changed upon advice of their producer Checco Marsella (one of I Giganti). The early line-up included Soprani, drummer Luciano Tassinari and bassist Beppe Pippi, coming from I Lorenz and later with Forum Livii, but after a short time Tassinari was replaced by Gilberto Rossi and a second guitarist was added, Jimmy Villotti from I Meteors.
This line-up recorded the first single, Povero cane, that went unnoticed and only sold around 800 copies. Pippi decided to go back to his old group, I Lorenz, and was replaced with Claudio Golinelli, the new group was admitted to the Cantagiro 1969.
The second single, Il successo della vita, was the most successful one, with over 10,000 copies sold, but a road accident that stopped them for a few months and the disappointment for the lack of the huge expected success, moved Villotti to try a different way (with a group called Jimmy Mec), while the others went on as a trio.
The third and last single, from 1970, was unsuccessful and the group broke up when Golinelli was called up for his army duties.
Golinelli and Pippi later played in Reattori Caldi.
Soprani formed a new group called Silver e i Baci, including Enzo Vallicelli (drums), Gabriele Biondi (bass), Mario Valmori (keyboards) and Vanni Meleni (horns), which participated in the "Festival di Avanguardia e Nuove Tendenze di Viareggio" in June 1971, playing many times at the Altro Mondo in Rimini supporting the most important Italian groups. In 1971 they recorded various demos for Ricordi, which opted to release in 1972 a solo single by Silver (Soprani), Bella mia/L'erba bianca, that was selected for the Sanremo Festival. Soprani also issued a self-produced cassette album.
Vallicelli quit in November 1971 to form Hellza Poppin, replaced by Nicola Venditto, while the group broke up in 1975.
BALLETTIROSADIMACCHIA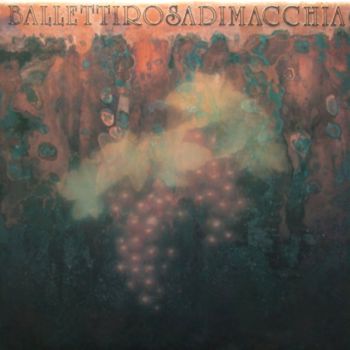 Discography:
LP - Ballettirosadimacchia (Rockit Enterprises RIES 74 - 198? - Canada)
Little is known about this mysterious group, whose only good album often changed hands for incredible prices before people started to realise it's not a real Italian 70's rarity. Even the year of recording is uncertain. Some say it is from 1974-75, and for this reason it's included here, but it seems more likely that it came out in the second half of the 80's or early 90's.
The album was printed in Canada with a German producer, the music is good organ and mellotron-led prog sung in Italian with a strong foreign accent and often incomprehensible lyrics: this is almost certainly a foreign group, probably Japanese, playing under fake Italian names, and even the incredibly high number of errors in the cover notes and lyrics confirms this impression.
The line-up mentioned on the cover includes Tonino Leo Ucchi (vocals, bass, acoustic guitar, flute, keyboards), Antonio Sassada (guitar), Gianni Mazzi (keyboards) and Marcello Taddeo Matteotti (drums, percussion, keyboards).
The LP has also been reissued in Japan or Korea with a plain white cover. The first CD reissue came out in 2008 on the Japanese Tachika label, with a mini-LP cover.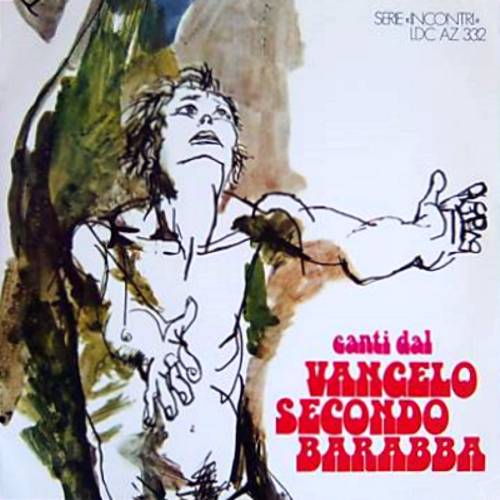 Discography:
LP - Il Vangelo secondo Barabba (Elledici AZ 332 - 1977)
A concept album, with lyrics written by young students based on Gospel themes, and music composed by former Circus 2000 guitarist Marcello "Spooky" Quartarone, released by a small label from Turin.
The LP is rather short, around 30 minutes, and many musicians from the Turin area play with Quartarone, among them Giovanni Vigliar and Arturo Vitale of Arti & Mestieri, Piercarlo Bettini, Sandro Gianotti and Gianni Bianco from Living Life, and Max Aimone from Venegoni & Co. The instrumental parts are on a good level, though not particularly elaborated, while the vocal parts are sung by different singers at the same time.
BARBARA E I FUNAMBOLI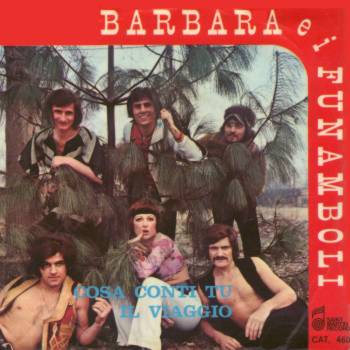 Discography:
45 - Cosa conti tu/Il viaggio (Saint Martin 460 - 1971)
+ others
I Funamboli, from Vigevano, issued many singles since 1966 in a beat style. In the last phase of their career, they issued three singles with singer Barbara Lory, among which this one, closer to a rock sound and with a voice that sometimes reminds Lydia e gli Hellua Xenium.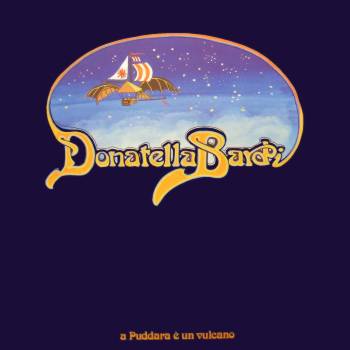 Discography:
LP - A' puddara è un vulcano (Elektra T 52028 - 1975)
CD - A' puddara è un vulcano (BTF/VoloLibero VM 146CD- 2010 - reissue of the above)
45 - Punto e a capo/Regina in questa età (Elektra T 12216 - 1975)
Born in Turin, Donatella Bardi was very active in the open-air festival circuit of the early 70's, collaborating with many musicians of the Milan scene, such as Il Pacco, Eugenio Finardi, Claudio Rocchi (with her voice on Volo magico n.1), Nino Tristano (on his LP Suonate suonatori).
Her LP from 1975 is a very good song album, Donatella's nice voice is supported by the help from important session musicians, her brother Lucio Bardi (guitar), Gianfranco "Pepè" Gagliardi (keyboards), Paolo Donnarumma (bass) and Antonello Vitale (drums). It was housed in a nice tri-fold cover.
After the album release, Donatella Bardi continued her musical and theatrical career. In 1980 she appeared on the B-side of the new wave band 451' s only single (Ho in mente te/New wave Rho) on Italian Records.
She was just 45 at the time of her death in 1999.
I BARONETTI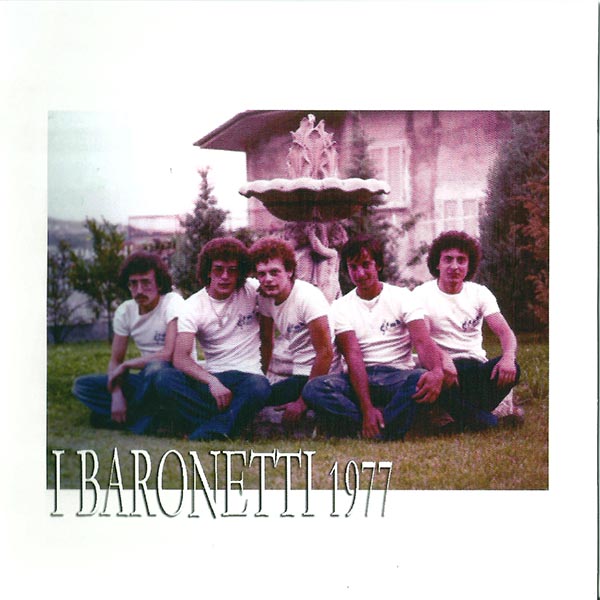 Line up:
Franco Cefalù (guitar, bass)
Roberto Isacco (keyboards)
Massimo Pedrazzoli (drums)
Discography:
CD - I Baronetti 1977 (Giallo Records MMM 119 - 2013)
I Baronetti was a very common name among the Italian bands, especially for the Beatles connection of this word [meaning The Sirs] and other groups that used that name are featured on these pages (one of them was also known as La Bottega del Fabbro, another as Cocai).
This particular band was formed near Lecco, in Lombardy by Franco Cefalù, coming from another group called Laboratorio Nuove Ricerche that had opened some concerts for Il Biglietto per l'Inferno.
The three-piece band (with guests Fulvio Vaccani on guitar and Piero Donato on vocals on a track each) only recorded some demos in 1977 that were released on CD in 2013. The shortlived group played a symphonic prog strongly iufluenced by the likes of The Nice and Emerson Lake and Palmer. The tracks on the CD are all instrumental except L'alba and show a good technique even if they suffer from bad recording quality and rough arrangements.
BEIA COME ABA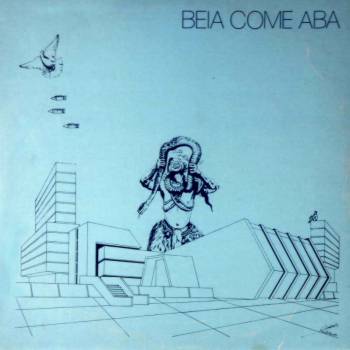 Line up:
Sergio De Francesco (keyboards)
Antonio Lombardi (guitar)
Giuseppe Massaglia (bass)
Antonio D'Ambrosio (drums, percussion)
Discography:
LP - Beia come Aba (Mu UM197 - 1979)
One of many jazz-rock groups from Turin, their one and only album was released in 1979.
The original quartet was formed in 1974 in the Barriera di Milano/Porta Palazzo area with Lombardi, Massaglia, D'Ambrosio and sax player Dino Bandini. The line-up was later enlarged with newcomers keyboardist Sergio Cardarelli and percussionist Raffaele Fontana, with a repertoire of originali rock tracks with jazz influences and a live activity in the Turin area.
After meeting some of the Arti & Mestieri components, the group had the chance of recording an album in Gigi Venegoni's studio, but musical differences emerged and Bandini,Cardarelli and Fontana quit, replaced by Sergio De Francesco.
The new line-up released the LP, published by the Mu label and produced by Marco Cimino (Errata Corrige), with mostly improvised compositions, and broke up soon afterwards.
The record was issued with two different covers, the one with a black&white picture (the art direction was by Marco Gallesi, former bassist with Arti & Mestieri) is more common and seems to be the second edition.
SUSI BELLUCCI
Discography:
LP - Nel paese di Susi (RCA PL 31407 - 1978)
Though the album mainly included children songs, it's interesting to mention it for its arrangements and the help from Arturo Stalteri of Pierrot Lunaire.
BELVE DENTRO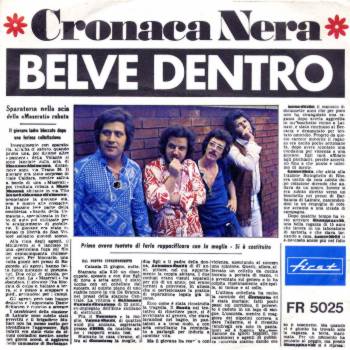 Line-up:
Peppe Muscio (guitar)
Gianni Sampaolo (keyboards)
Amedeo Muscio (bass)
Nando Russo (drums)
Discography:
45 - Cronaca nera/Subito dopo (First FR 5025 - 1970)
The group was formed in Foggia in 1967 as The Jewels, with saxophonist Gino Sannoner and Lino Marcantonio on drums. In 1969 these musicians left the group that changed its name to Belve Dentro, with new drummer Nando Russo. They had a good live activity throughout Italy and signed a recording deal with Ariston, only releasing a good single in the same year, with two songs composed by Bruno Lauzi and Claudio Rocchi. The A-side was also issued on a single by Giovanna (Cronaca nera/Un momento nella sera - Ariston AR 0372 - 1970), with Belve Dentro as backing band.
The group also played at 1970's Mostra Internazionale di Musica Leggera in Venice. In February 1971 Russo left the group for his military duties, replaced by Aldo Troisi, but they broke up after a few months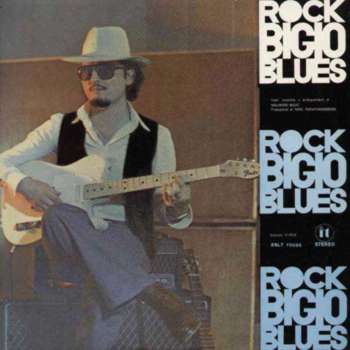 Discography:
LP - Rock Bigio blues (It ZSLT 70020 - 1973)
LP - Ma.Gi. (Iller IL 12 - 1975)
+ singles
The 1973 album by this talented guitarist from Perugia includes some commercial songs and others with rock and blues influences, as shown by the title. Prog lovers will find the nice instrumental track Rock evoluzione interesting, although it was broken in four parts by the producer's decision.
Ma.Gi., from 1975, is a library album, mostly instrumental and played by Bigio himself.
The musician collaborated with such artists as Francesco De Gregori and Edoardo De Angelis, and also appears on a single from 1977 by the group Motouniversale (E la mia musica sale in cielo/Se mi vuoi se ti vuoi - Dany Records DR 1007).
The Rai archives also include an album by Maurizio Bigio from 1972 issued by Apollo (ZSLA-55142).
BLACK BLOWING FLOWERS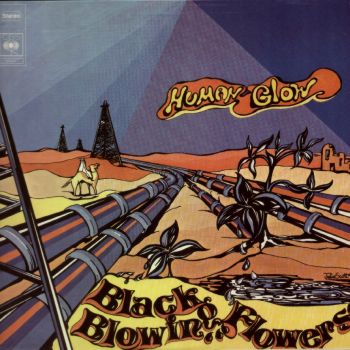 Discography:
LP - Human glow (CBS 69124 - 1975)
45 - Human glow/Uskudarra (CBS 3196 - 1975)
A mysterious band that only released a mediocre commercial album. The group featured Alberto Radius and Mario Lavezzi, both members of Il Volo and from that band's first album they covered Il calore umano that, with a funky arrangement and the new title Human glow, was also released as a single.
Human glow also appeared, in a live version, on the Concerto d'estate/Dal vivo alla Bussola compilation (CBS 69150, year 1975).
BLACK SOUND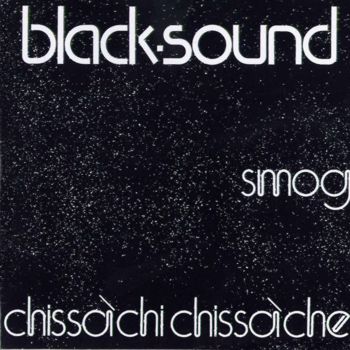 Line-up:
Adriano Gagno (vocals)
Silvio Rossi (guitar)
Donato Cuzzato (keyboards)
Bruno Schiavon (bass)
Gianfranco Pivato (drums)
Discography:
45 - Smog/Chissà chi, chissà che (Bang Bang BG 024 - 1974)
A group from the Treviso area, that only left a single with a good song on the A-side.
Their style brings to mind Fabio Celi & gli Infermieri, with a vaguely sixties sounds and protest lyrics. The B-side is a slow melodic song.
Among the band members bass player Bruno Schiavon, who made a single with the A & C Group in 1982 (also featuring Pippo Trentin from Duello Madre) and was later with the Turnover Country Band.
THE BLACK STONES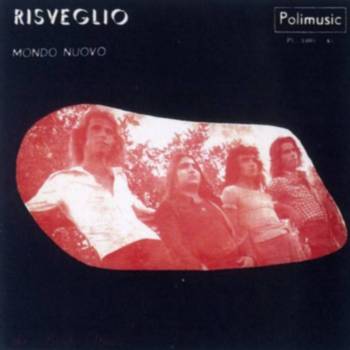 Line-up:
Mario Scano (guitar)
Gianni Veroni (guitar)
Vincenzo Palla (keyboards)
Pierpaolo Scano (bass, vocals)
Anselmo Masala (drums)
Discography:
45 - Risveglio/Mondo nuovo (Polimusic PL001 - 197?)
Coming from Cagliari, Sardinia, and not to be confused with a beat group of the same name who had issued the single Ho un quiz per voi (Discobolo DIS 52), The Black Stones moved to Rome to record their only record release, in 60's rock style with organ and fuzz guitar in the foreground. In 1972 they played at the Villa Pamphili Pop Festival in Rome, with a repertoire including original songs (like Sara and Jenni, both never recorded) and Deep Purple, Grand Funk Railroad and Led Zeppelin covers.
With various line-up changes they played until the mid 80's, then broke up and reunited again in 1990.
The group's leader, Pierpaolo Scano, died in 1998.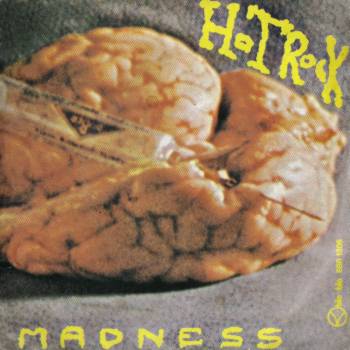 Discography:
45 - Hot rock/Madness (Bla Bla BBR 1308 - 1971)
Under this name there was Ghigo Agosti, popular singer in the 60's, with an original voice, who was often censored by the Italian radio for the outrageous contents of his songs.
This soul-styled single needs to be mentioned because it was released on Bla Bla and also included in the rare Tarzan compilation on that label. The A-side, Hot rock, was a remake of a 1965 song by Ghigo himself, Non voglio pietà.
During his career Ghigo has also used other nicknames like Mister Anima, Rico Agosti, Probus Harlem.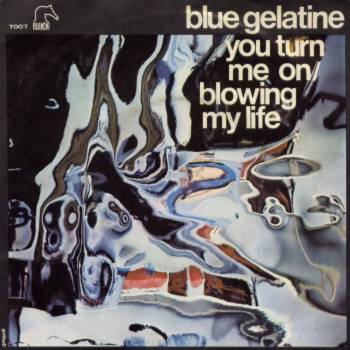 Discography:
45 - You turn me on/Blowing my life (Studio SM 7007 - 1973)
Similar to the sound of Osage Tribe, this single was released on the same label that issued Living Totem, and it's likely that the musicians were the same.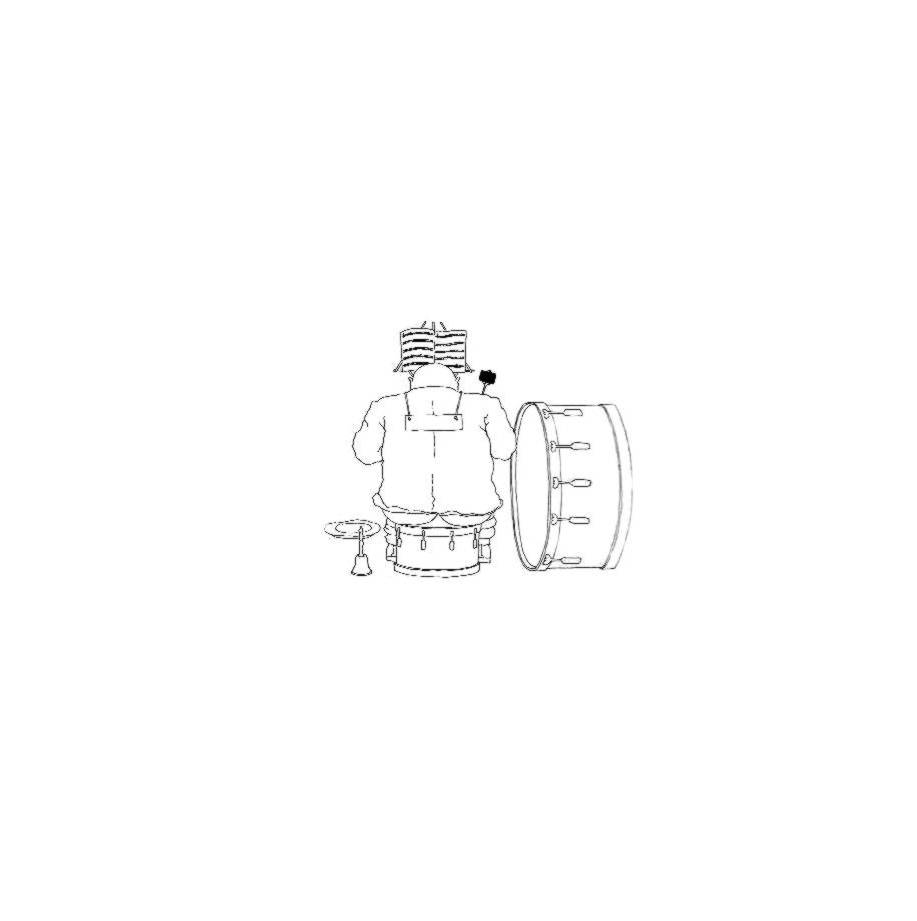 Line up:
Maurizio Giammarco (sax, flute, keyboards)
Roberto Ciotti ( guitar)
Sandro Ponzoni (bass)
Alfredo Minotti (drums)
Discography:
LP - Blue morning (Tomorrow ZSTOM 2000 - 1973)
Closer to jazz than to rock, this rare album was the only record release by Blue Morning, a Rome quartet that featured future solo blues guitarist Roberto Ciotti and well known jazz player Maurizio Giammarco. A fifth musician, percussionist Alvise Sacchi, collaborated playing in some of the album tracks, as well as designing its memorable cover.
The album includes five long compositions, some Soft Machine influences can be heard but it won't appeal to rock fans.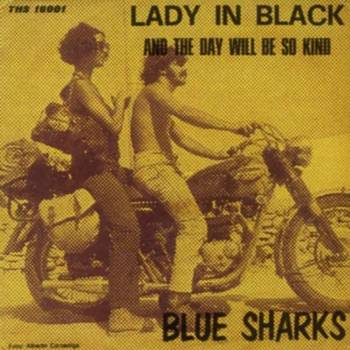 Discography:
45 - Chicago/Gipsy (Thuban Six CPI 7010 - 197?)
45 - Chicago/Toast and marmalade for tea (Gran Prix CPI 7010 - 197? - jukebox)
45 - Lady in black/And the day will be so kind (Thuban Six THS 16001 - 197?)
45 - Gipsy/Lady in black (Thuban Six THS 16001 - 197? - jukebox)
+ LP
Two singles (and two others probably only released as jukebox promo issues) appeared for this group, all covers of popular songs played rather well, and both were probably issued around 1971.
Among the songs they recorded, And the day will be so kind is an original, while there are two Uriah Heep's covers and one by Graham Nash. Their style is hard prog with a good use of organ.
Two instrumental LP's were also issued under the name Blue Sharks, and some say that behind this name hid the composer Stelvio Cipriani, as many of the tracks are credited to his nickname Ipcress. The albums are Funny walk (Leonardi L 20) and It became crystal (Leonardi SL 27), and both came out in the early 70's.
It's likely that Blue Sharks were the same musicians also known as Dirty, because the versions of And the day will be so kind made by these two bands are identical.
ANTONELLA BOTTAZZI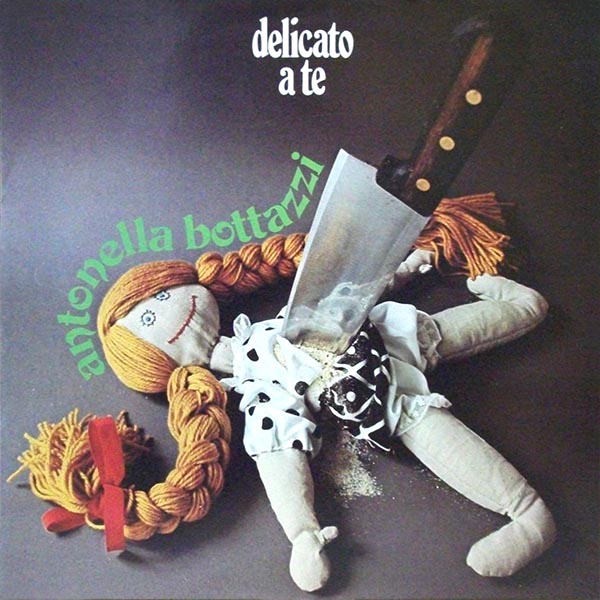 Discography:
LP - Delicato a te (Spark SRLP 260 LG - 1972)
+ others
Like the Donatella Bardi album mentioned above, this is a songs album, though more folky and less rock-inspired, and is notable for the strong cover design, conceived by Gianni Sassi, in Battiato's Fetus style.
This singer-songwriter from Piedmont also produced a second album in 1979 with children songs, and took part in many TV shows and a Sanremo festival. She died in 1997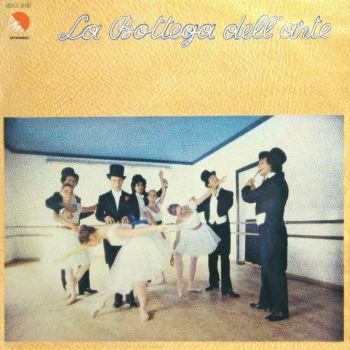 Line up:
Fernando Ciucci (vocals, guitar)
Piero Calabrese (keyboards, vocals)
Romano Musumarra (keyboards, flute, vocals)
Masimo Calabrese (bass, vocals)
Alberto Bartoli (drums)
Discography:
LP - La Bottega dell'arte (EMI 3C064-18106 - 1975)
CD - La Bottega dell'arte (On Sale Music 64OSM139 - 2021 - reissue of the above with two bonus tracks from the 1974 single)
LP - Dentro (EMI 3C064-18248 - 1977)
LP - L'avventura (EMI 3C064-18423 - 1979)
LP - Forza 4 (Sound NWLP1701 - 1984)
45 - Addio/Notturno per noi (Tomato ZZ999 - 1974)
+ many other singles
A group from Rome, that's often described as prog or soft-prog, but their large production of albums and singles is mainly in the commercial pop style.
On their rare 1974 debut single, Notturno per noi is a nice long instrumental track in classical progressive style. Their first album from 1975, the most interesting for progressive fans, contains some good instrumental parts though most tracks are in a melodic vein, like Come due bambini, their biggest hit single.
The rest of their production, that included 4 LP's and around ten singles, is in a commercial pop style.
Keyboardist Musumarra was involved in the Automat project.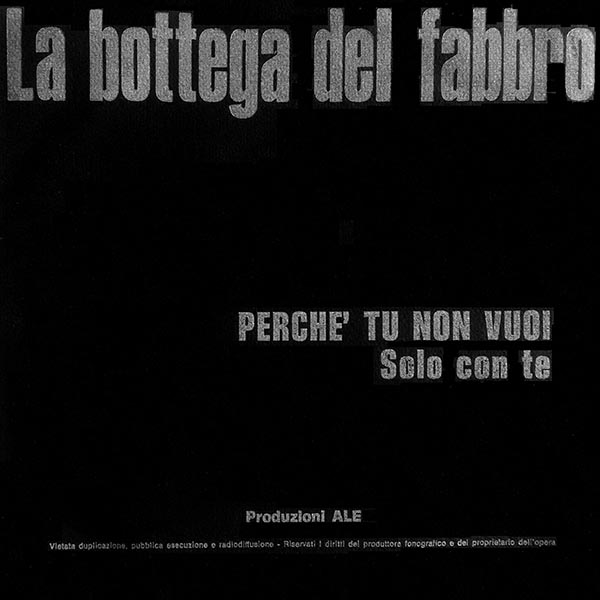 Formazione:
Luciano Binotti (vocals)
Tristano Giambelli (guitar, vocals)
Luciano Binatti (keyboards)
Tazio Minini (bass, vocals)
Aleardo Tommasi (drums, vocals)
Discography:
45 - Perché tu non vuoi/Solo con te (ALE 002 - 1973)
The beat group Luciano e i Baronetti, from Brescia, came to a stable line-up in 1970 with 17-year old guitarist Tristano Giambelli (from the group Il Mondo d'Acquerello) replacing Giacomo Fabbroni (who had previously replaced the original guitarist Sandro Cherubini). The five-piece band had an intense concert activity in Lombardy and Emilia, often supporting big names like Nomadi, Pooh, Nuovi Angeli and with a repertoire of Italian and international hits which was slowly improved with more complex compositions by English groups such as Curved Air, King Crimson, Uriah Heep. The new name La Bottega del Fabbro was chosen in late 1971.
Their sole single was recorded in 1972 by the original line-up, which later had a change with the entrance of new keyboardist Maurizio Manenti to replace Binatti. Issued a year later, this nice single contains good organ and guitar playing, with a late 60's/early 70's feeling.
In this period the group started composing original material to play alongside the usual cover versions, and this was built as complex suites which gave birth to a theatre piece entitled Le ombre cinesi.
In 1973 the original singer Luciano Binotti was replaced by Danilo Rigosa and the group followed its concert activity, often supporting Il Rovescio della Medaglia, The Trip, Brian Auger and playing in various open air festivals (the two Davoli Pop in Reggio Emilia in 1972 and 1973, the Be-In in Naples, the Pop Music Meeting in Castiglione delle Stiviere, Viterbo Pop Festival).
The ever growing commitment and some fruitless contacts for a recording deal led to Minini and Tommasi leaving the group towards the end of 1973, replaced by bassist Giorgio Moser and drummer Roberto Benedini, both coming from the JB Club group.
The group kept playing in the early months of 1974 with a new guitarist, Vincenzo Gardoni, then broke up.
Some of the members of the last line-up (Manenti, Rigosa and Benedini) joined the backing group of singer Marcella Bella, and even guitarist Tristano Giambelli briefly played with them. Benedini later played with Ash.
LA BOTTEGA DELLE VERITA'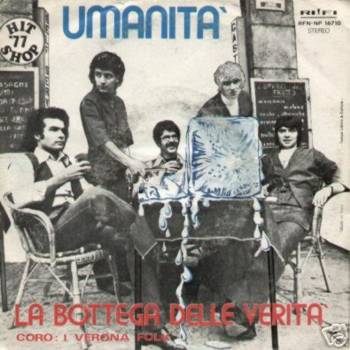 Discography:
45 - Un paese senza nome/Cosa sono io per te (RiFi RFN-NP 16632 - 1976)
45 - Umanità/A modo suo (RiFi RFN-NP 16710 - 1977)
La Bottega delle Verità from Verona released two singles for RiFi in a rather commercial style, and only Umanità from their second single has some progressive elements. The singer Paolo Tosi remained in the music field.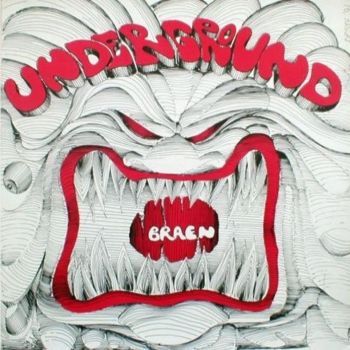 Discography:
LP - Underground (Liuto LRS 0044 - 1971)
LP - Temi ritmici e dinamici (Liuto LRS 0055 - 1973)
LP - Underground (Schema SCEB 913 LP - 2014 - reissue of 1971 album, includes as bonus the CD version)
CD - Underground (Schema SCEB 913 CD - 2014 - reissue of 1971 album)
A mysterious studio group, whose albums for the Liuto label, founded by composer Piero Umiliani, are incredibly sought-after and reach high prices.
The style is not far from other ghost-groups of the same period, instrumental music that could be used as a film soundtrack, with fuzz guitar and keyboards to the fore, and probably more psych-oriented than others.
It's certain that behind the name Braen's Machine hid Alessandro Alessandroni, who also appeared with the same nickname Braen as composer in the two Pawnshop singles. The other composer's nickname, Gisteri, was used by Rino De Filippi, who released under the name Complesso Gisteri in 1972 a rare library music LP entitled Mostra collettiva (Edimerc EC/00110) along with other albums in the same style.
Both original albums are very rare and sought-after, especially Underground, which was reissued for the first time in 2014 on vinyl and CD.
Another rare and expensive record including tracks by Alessandroni (Braen) and others by Giuliano Sorgini (Raskovich), entitled Quarta pagina and released in 1971 by Usignolo, was reissued in 2015 by Schema (SCEB 920) in LP+CD version.
Alessandroni, guitarist and composer, well known for many film scores, passed away in 2017.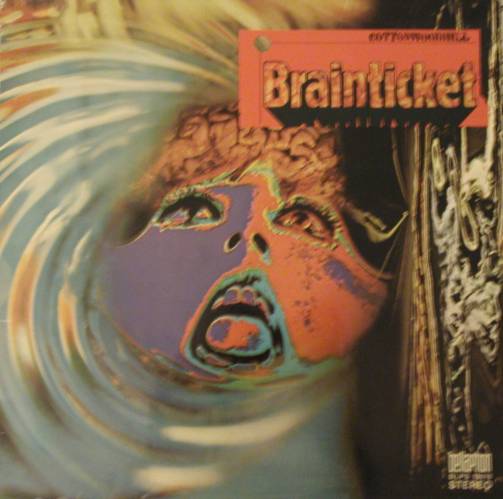 Discography (Italian issues):
LP - Cottonwoodhill (Hallelujah X 606 - 1971)
LP - Psychonaut (Durium 30-219 - 1972)
LP - Celestial ocean (RCA DLISP 34158 - 1973)
+ other records not released in Italy
Formed by Belgian-born Joel Vandroogenbroeck, this band was in fact a multinational group, including musicians from various countries.
For some years they were based in Italy, where their second album Psychonaut (with a nice cover by Living Music's Umberto Santucci) and the third, Celestial Ocean, were recorded. A track from this album was also included on the Free dimension compilation.
Vandroogenbroeck also collaborated with some Italian musicians during 1972-73 and he also played on Riccardo Cocciante's first album Mu.
Brainticket kept playing in the following years, and their later record releases came out in the 80's.
BRAVO REVERENDO REEBMAN
Line up:
Antonio De Laurentis (guitar)
Roberto Ciccone (flute)
Nino Marulli (bassoon)
Mauro Liberatore (keyboards, vocals)
Enrico Sconci (bass)
Enrico "Jeff" Gianforte (drums)
A group from L'Aquila, they played in some open-air festivals in 1972-73, and received some offers for a recording deal, but they sadly didn't opt for a professional musical career.
The original drummer was later replaced by Giancarlo Canelli, and the group broke up in 1974.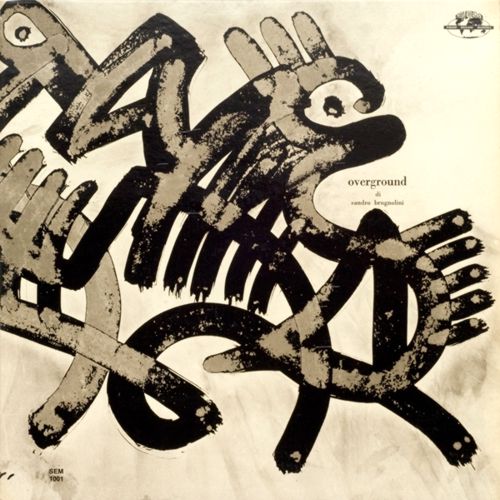 Discography:
LP - Underground (Record TV RT 104 - 1970)
LP - Overground (Sincro SEM 1001 - 1970)
LP - Underground (Record TV RT 16 - 1970 - second issue - B side contains compositions by Franco Goldani)
LP - Overground (Cinedelic CNPL 801 - 2008 - reissue of the second album)
LP - Underground (Sonor SME3 - 2014 - contains all the tracks included in the two Underground LP's from 1970)
CD - Overground (AMS 157CD- 2009 - as above)
A nice instrumental record not far from the style of Blue Phantom and The Psycheground Group, Overground had been recorded at Dirmaphon Studio (Rome) in March 1970 along with the first album Underground.
Brugnolini had composed it along with Luigi Malatesta. Among the musicians playing on the album were Silvano Chimenti (guitar), Giorgio Carnini (piano and organ) and future Perigeo bass player Giovanni Tommaso.
The rare LP has been finally reissued on vinyl by Cinedelic in 2008 and on CD by AMS in 2009, in a limited pressing of 500 copies.
Two versions exit of the first album Underground, both very rare, with different tracklist and covers; the second, released soon after Overground, contains 4 tracks by Brugnolini on the A-side (only one of which was also included in the first issue) and five by Franco Goldani on the B-side. The 2014 LP, once again entitled Underground and issued in 500 copies only and with a different cover, collects all the 11 tracks from the two 1970 albums of the same name.
Brugnolini also released other albums in the library and movie soundtrack field.

Thanks to Giuliano Semprucci, Claudio Checchi, Antonio Rosetti, Valerio D'Angelo, Matthias Scheller, Giampiero Colombo, Claudio Pescetelli, Giacomo Serreli, Tristano Giambelli, Ubaldo (Franco) Cibei, Domenico Vinci, Fabio Meini, Dino Bandini, Giacomo Beatrici, Irene Russo for some of the pictures and information on this page
Some of the information contained here are taken from Franco Brizi's book Volo Magico.
Other alphabetical index pages
A B C D E F G HIJK L M N O P QR S T UV WXYZ