Artist

FREE LOVE
KALEIDON

FREE LOVE
Tony Gizzarelli (vocals)
Steve Stogel (guitar, vocals)
Carl Stogel (bass)
Gianni Caia (drums)
KALEIDON
1973
Stefano Sabatini (keyboards)
Massimo Balla (sax, flute)
Franco Tallarita (bass)
Giovanni Liberti (drums)
1974
Stefano Sabatini (keyboards)
Francesco Bruno (guitar)
Massimo Balla (sax, flute)
Gianni Colaiacomo (bass)
Francesco Froggio Francica (drums)
Mandrake (percussion)

Despite strong differences in their musical style, these groups are often mentioned together because Kaleidon came out from the ashes of the promising Free Love after two of this band's members died in a car accident. One of the surviving members, Stefano Sabatini, formed the new group that dedicated their only album in 1973 to the old band.
Born at the end of the 60's in Rome, Free Love only released two good rock singles in their short career, one of which was used as soundtrack to a spaghetti-western film. The original line-up featured the US-born brothers Carl and Steve Stogel, Gianni Caia and singer Tony Gizzarelli, and it recorded both the band's singles, appearing on their cover photos. Later, towards the end of 1969, the group was joined by Canadian violinist John Picard and, for just a few months, singer/percussionist Ricky Cellini. In 1970, after Gizzarelli and Cellini had left, they played many concerts in Northern Italy, Switzerland and Sardinia, and participated in Rome's Caracalla Pop 1970 and 1971 festivals, with the entrance of keyboardist Stefano Sabatini, later replaced by Fabio Cammarata.
Picard quit after the summer, moving to France and the group broke up near the end of the year. Caia and Steve Stogel, along with bass player Mauro Montaldo, reunited with Stefano Sabatini to tour as backing band of Mia Martini. It was in February 1972, while coming back from a concert in Sicily, that the musicians' van was involved in a road accident: two of them, Gianni Caia and Steve Stogel, died while the others, Stefano Sabatini and Mauro Montaldo were severely injured.
A concert was held at Rome's Piper to commemorate the musicians and collect some money to support their families.
A new line-up with the namd Free Love was assembled in the summer, and this included Stefano Sabatini, Carl Stogel, drummer Giovanni Liberti and saxophonist Stefano Cesaroni, later replaced by Massimo Balla for the Caracalla-Wembley concert in Rome in Autumn 1972.
From this line-up, with newcomer bassist Franco Tallarita, derived the new group Kaleidon, whose only album in 1973 was in fact entitled Free love; totally instrumental, strongly veering toward jazz, it went unnoticed, with the band having a strong line-up change right after its release and splitting after the fourth edition of the "Festival d'Avanguardia e Nuove Tendenze" held in Rome in June 1974.
After leaving Kaleidon, bassist Franco Tallarita joined Ut. His replacement Gianni Colaiacomo later played with Banco del Mutuo Soccorso.
The last Kaleidon drummer, Francesco Froggio Francica, had previously played with Raccomandata con Ricevuta di Ritorno and shortly Procession.
Stefano Sabatini was involved in the short-lived Samadhi supergroup and later Mediterraneo (featuring some ex-Samadhi members), in 1978 he moved to Los Angeles where he played with many important jazz musicians, and after returning to Italy in 1982 he has had an intense activity in the jazz field, which lasts today.

FREE LOVE

SINGLES (with picture cover)
Sandy
Il tempo di pietra
Vedette (VVN 33190)
1970
Roy Colt
Dove
Cinevox (MDF 019)
1970
A-side from the soundtrack of the film Roy Colt e Winchester Jack


PROMOTIONAL AND JUKEBOX SINGLES (with blank cover)
Sandy
Il tempo di pietra
Vedette (VVN 33190)
1970
same as standard single, jukebox version with white label and blank cover
Dove
Cinevox (MDF JB023)
1971
jukebox single, backed with Augusto Martelli/Il dio serpente-Djamballà


VARIOUS ARTISTS COMPILATION ALBUMS
Roy Colt e Winchester Jack
(with Roy Colt)
Cinevox (MDF ???)
1970
soundtrack to the film of the same name, music by Piero Umiliani - existence unconfirmed
Cinevox (CD MDF 331)
2001
CD reissue of the above album
KALEIDON

LP
Free love
Fonit (LPQ 09074)
1973
laminated single cover
BTF/Vinyl Magic (VM 157LP)
2014
reissue of the above


CD
Free love
Mellow (MMP 250)
1996
reissue of 1973 album

Both singles by Free Love are rather rare.
It was impossible until now to confirm the existence of the original LP with the Roy Colt e Winchester Jack soundtrack.
A very rare album released on Fonit label, in the LPQ series, Free love by Kaleidon had a laminated single cover.
It was reissued for the first time on vinyl in 2014.
No counterfeits exist nor foreign vinyl issues.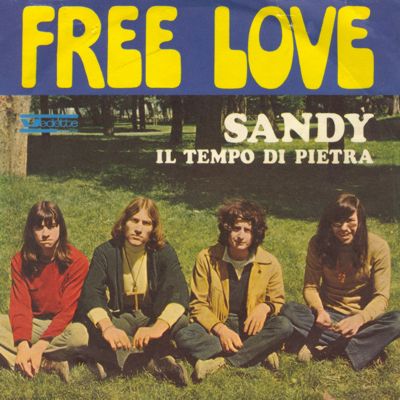 Free love / Sandy - 7" single cover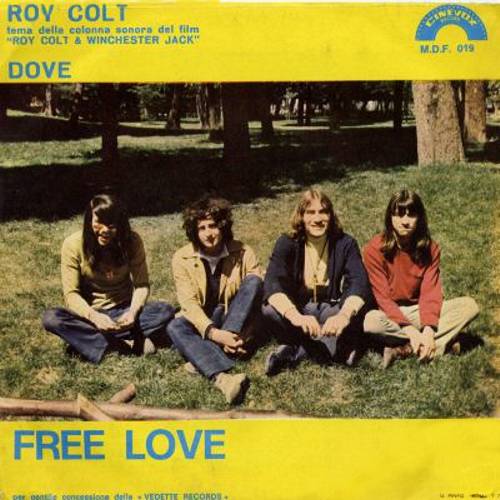 Free love / Roy Colt - 7" single cover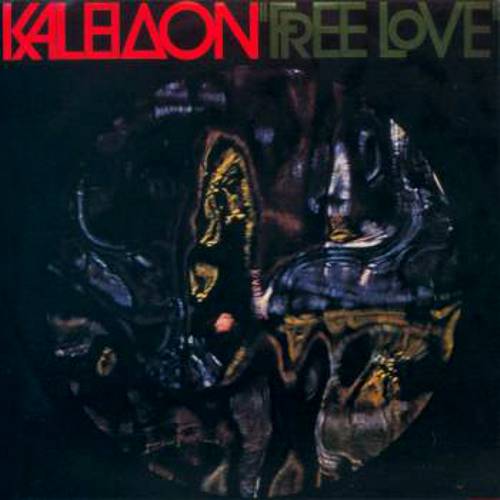 Kaleidon / Free love - LP



Click on pictures to enlarge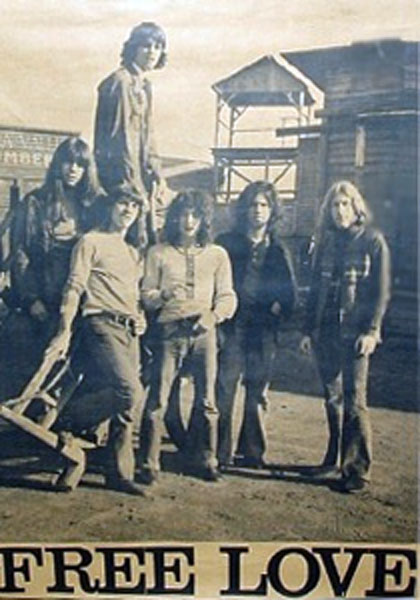 Free Love - poster 1969-70
bottom row: Carl Stogel, Steve Stogel, Gianni Caia, Ricky Cellini, Tony Gizzarelli
on top: John Picard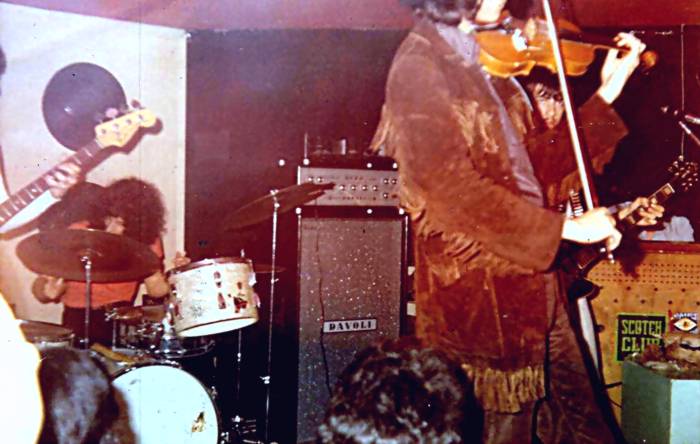 Free Love - live with violinist John Picard, 1971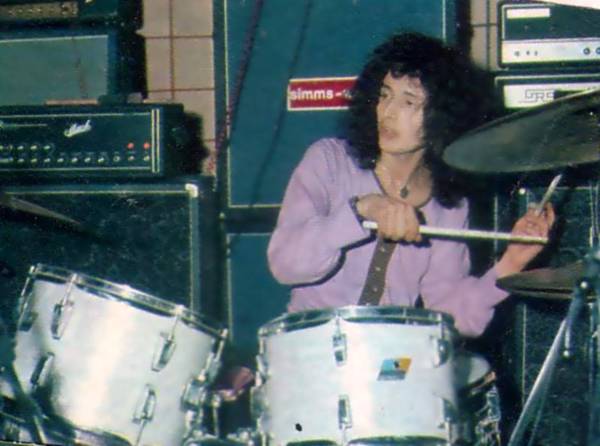 Free Love - Gianni Caia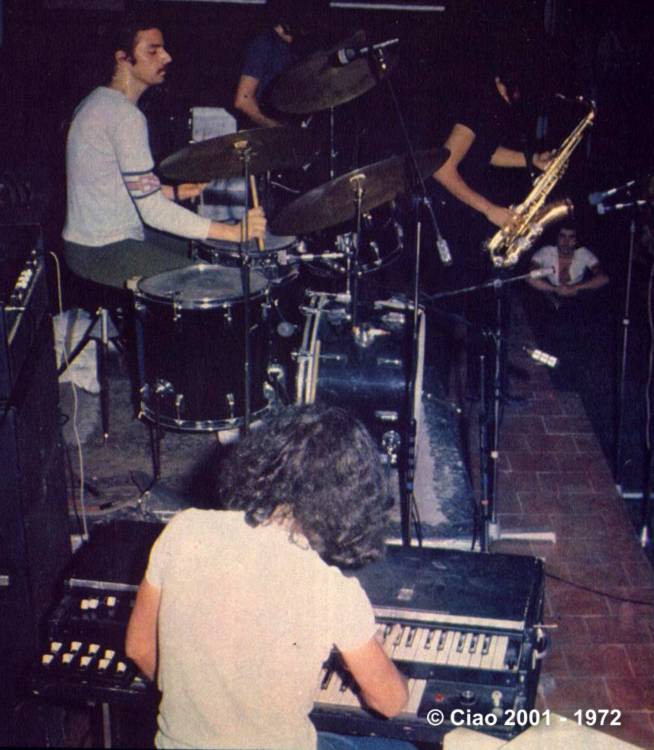 Free Love - live 1972
(from "Ciao 2001" magazine - July 1972)

Free Love and Kaleidon's keyboardist Stefano Sabatini has his own website at http://web.tiscali.it/stesabatini/index.htm

Thanks to Fabio Besani, Fabio Marchignoli, Nicola Di Staso, John Picard, J.J. Martin, for information and some pictures on this page