Artist

I TEOREMI

1971
Tito Gallo (vocals)
Mario Schilirò (guitar)
Aldo Bellanova (bass)
Claudio Mastracci (drums)
1972
Gallo replaced by
Vincenzo Massetti (Lord Enzo) (vocals)

I Teoremi were formed in Rome in autumn 1969, a group of teenagers featuring Tito Gallo, Aldo Bellanova, Claudio Mastracci with Lello Galano (guitar) and Stefano Sabatini (keyboards).
They played in many roman clubs, among which Titan, Kilt and Rendez Vous.
At the end of 1970 Stefano Sabatini (later with Free Love) and Galano left the band, with the guitarist role being taken for a few months by Valter Sabatini and then since early 1971 by Mario Schilirò, with which the quartet that released the first single was born.
The single was recorded in May 1971, with Sognare backed by a nice Italian version of Jethro Tull's With you there to help me called Tutte le cose. The group appeared in the TV program La freccia d'oro to promote the single and played at the Festival di Gualdo in August.
The LP was recorded near the end of 1971, but before it was completed Tito Gallo left the group, being replaced by Vincenzo "Lord Enzo" Massetti, an experienced singer from Campania that had a solo career since the 60's and also participated in the 1968 Festival degli Sconosciuti in Ariccia.
The album, simply called I Teoremi, is one of the rarest Italian prog-era albums, with a hard rock inspired sound in the same style as early Rovescio della Medaglia. It was issued in the spring of 1972 on the small Polaris label, that also produced the Alpha ralpha boulevard LP by I Numi, and contains seven self-penned tracks, mostly in the hard rock vein, with light prog influences as in the long Mare della tranquillità, the only track including piano. A very good album whose original copies are worth a fortune, but the group didn't last long, playing at Cantaestate during the summer and breaking up at the end of 1972.
Aldo Bellanova played for a short time with Il Punto, then formed Samadhi and a classy pop rock trio, Cliché (also featuring Claudio Mastracci and guitarist Franco Ventura) that only released an LP and a single in 1981. A highly talented and creative bass player, he passed away in 2013.
Even drummer Claudio Mastracci briefly played with Il Punto (also at Villa Pamphili festival in Rome with them) and was with Bellanova in Cliché, and later with popular artists like Donatella Rettore and Sergio Caputo, and in TV shows orchestras, also working as drum teacher.
Guitarist Mario Schilirò played with important Italian artists like Antonello Venditti and, still now since many years, Zucchero.
Vincenzo Massetti left Italy to Thailand where he has always lived, working as singer.
.

LP
I Teoremi
Polaris (POL/BP 711)
1972
gatefold cover with flap on right side
Vinyl Magic (VM LP 031)
1994
as above with textured cover + bonus 7" single - 300 numbered copies
Akarma (AK 1020)
1999
standard gatefold cover - 2 extra tracks
AMS/BTF (AMS 45LP)
2011
as above with textured cover - first 300 copies on white vinyl


CD
I Teoremi
Vinyl Magic (VM 031)
1993
reissue of 1972 album
Akarma (AK 1020)
1999
as above with mini gatefold cover - 2 extra tracks
AMS/BTF (AMS 214CD)
2015
new reissue with mini gatefold cover - 2 extra tracks


SINGLES (with picture cover)
Sognare
Tutte le cose
Polaris (FK2)
1971
both unreleased tracks - orange red label and picture sleeve


SINGOLI PROMOZIONALI E DA JUKEBOX (with blank cover)
Sognare
Tutte le cose
Polaris (701)
1971
same as FK2 but with black label, promotional single with blank cover
Sognare
Polaris (JP1)
1971
juke box single with white label - backed with Mauro Teani/La voglia di piangere

A terribly rare album, I Teoremi had a distinctive gatefold white cover with a flap on the right side.
The LP has been reissued three times: the first one by Vinyl Magic (who also issued it on CD) was in a numbered pressing of 300 copies with a textured gatefold cover having the same flap as the original; the band's only 7" release was included as a bonus single. This reissue is now rather difficult to find.
A new reissue was by Akarma, with a standard gatefold cover, adding the singles' tracks on the LP.
In 2011 the album has been reissued again by AMS with the same textured gatefold cover with flap as the original and a limited early pressing of 300 white vinyl copies.
Both the Akarma reissues, on CD and LP, have the tracks of the two original sides in reverse order compared with the other versions.
At least one original LP copy is documented having the text on the flap printed upside down; other copies like this may exist, this was quite probably of the earliest covers printed which were soon replaced with the correct ones.
No counterfeits exist.
The band's only single, almost as rare and expensive as the LP, was issued with two different catalogue numbers and label designs, one with Polaris' classic red/orange background and the other with a black label. The last one was a promo, probably distributed without the picture cover.

I Teoremi - LP

I Teoremi - gatefold inner

Original LP label

I Teoremi - LP, misprinted cover with text on the flap printed upside down

Sognare - 7" single cover

Sognare - 7" Vinyl Magic reissue single

Sognare - 7" single labels - standard, promo, jukebox issues

Lord Enzo
official photo
Mario Schilirò
official photo
Aldo Bellanova
official photo
Claudio Mastracci
official photo
Lord Enzo - Polaris label official picture



Click on the pictures to enlarge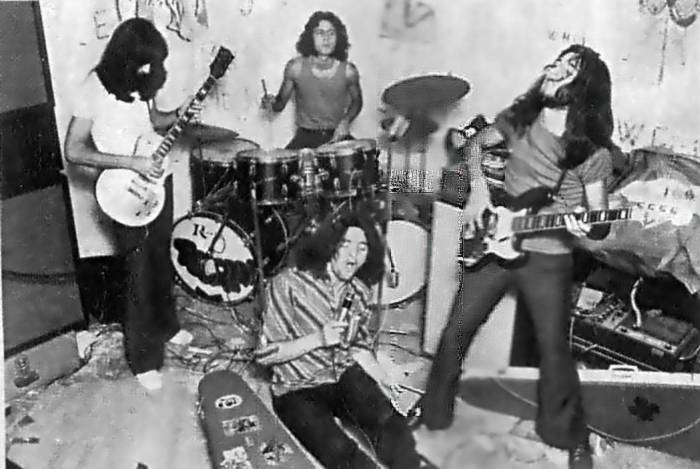 Teoremi - official picture

Many thanks for precious information to Tito Gallo and Vincenzo Massetti (also for the promo pictures)
Also thanks to Rockground (www.rockground.it), Nicola Di Staso and Pavol Husarik for some of the pictures.