Artist

QUELLA VECCHIA LOCANDA

1970-71:
Giorgio Giorgi (vocals, flute)
Raimondo Maria Cocco (guitar, vocals, clarinet)
Massimo Roselli (keyboards, vocals)
Romualdo Coletta (bass)
Patrick Traina (drums, percussioni)
1972:
enters
Donald Lax (violin)
1974:
Lax and Coletta replaced by
Claudio Filice (violin)
Massimo Giorgi (bass, vocals)

Like Procession this band from Rome released their debut LP with the small Help label (an RCA subsidiary), then after two years and with a new line-up changed record company, this time going to RCA.
Quella Vecchia Locanda were formed around 1970 as a quintet, with a successful live activity.
The only remaining results of their beginnings are a pop-oriented song on the Progressive voyage CD compilation, and a live recording from late 1971 has been released on CD by Mellow. The Live CD contains 12 tracks, mostly covers of English and American rock songs, but the three original compositions include some traces of what was to become their debut album a year later. The quality is good, though the original recording was probably on cassette.
The first album came out in 1972, one of the classics of the Italian prog, with an original fusion of classical influences and the use of flute and electric violin in evidence. The entrance of a sixth member, American violinist Donald Lax, gave the group a richer and more original sound and one of their peculiar aspects. The album starts with the nice Prologo, and though some foreign bands' influences are clear (like Jethro Tull in some flute passages), there are some great moments like in Un villaggio, un'illusione. In Dialogo there is a nice clarinet solo, played by Peter Z.Lax, Donald's brother (prematurely died just a few years later), not mentioned in the liner notes.
Second album Il tempo della gioia came after two years and a line-up change, with the eclectic Lax replaced by violinist Claudio Filice and new bass player Massimo Giorgi that had previously played with Il Ritratto di Dorian Gray.
The album has a better production than the first, though it probably lacks its sheer enthusiasm, but is a very good album indeed with nice tracks such as the title track.
The group sadly disbanded soon after the second album, leaving us with two more Italian progressive gems, both with beautiful covers.

LP
Quella Vecchia Locanda
Help (ZSLH 55091)
1972
gatefold cover with top opening
Help/Contempo (NL 74528)
1988
gatefold cover with side opening
BTF/Vinyl Magic (VMLP 054)
2007
reissue with gatefold cover - black vinyl, later released on splattered vinyl in 100 copies and then yellow, red and green vinyl
Help/De Agostini (VMLP 054)
2018
gatefold cover with 8-page insert - no.34 in the De Agostini "Prog Rock Italiano" series
Help/Sony Music (19658 70433 1)
2022
gatefold cover - splatter vinyl - 500 numbered copies
Il tempo della gioia
RCA (TPL-1 1015)
1974
gatefold cover
RCA/Contempo (NL 74113)
1988
as above
Sony Music (88875 12129 1)
2015
as above
Sony Music (19439 88571 1)
2021
new reissue with red vinyl


CD
Quella Vecchia Locanda
Help/BMG (ND 74528)
1988
reissue of 1972 album - now deleted
Vinyl Magic (VM 054)
1995
as above - now deleted
BMG (74321-98329-2)
2003
as above - mini-LP gatefold cover - now deleted
BTF/Vinyl Magic (VM 054)
2006
reissue with mini gatefold cover
Sony/BMG (88697-34366-2)
2008
new reissue with standard cover
Numero Uno/Mondadori (23)
2019
mini-LP gatefold cover with booklet - no.23 in the Mondadori "Prog Italia" series
Live
Mellow (MMP 159)
1993
recorded live in 1971 at Voom Voom club in Rome
Il tempo della gioia
RCA/BMG (74321-26544-2)
90's
reissue of 1974 album - now deleted
BMG (74321-98073-2)
2003
as above - mini-LP gatefold cover - now deleted
Sony/BMG (88697-34367-2)
2008
new reissue with standard cover
BMG (88697-85367-2)
2011
new reissue with mini-LP gatefold cover


PROMO-ONLY AND JUKEBOX SINGLES (with blank cover)
Villa Doria Pamphili
A forma di...
RCA (TPBO 1031)
1974
promo white label - no cover
both tracks from Il tempo della gioia


PARTECIPAZIONE A RACCOLTE DI ARTISTI VARI
Progressive voyage
(with Io ti amo)
Mellow (MMP 164)
1993
CD compilation also including Il Giro Strano, Corte dei Miracoli, Dietro Noi Deserto, Zauber and others

Both QVL albums are very rare in their original form but have been reissued in late 80's by RCA with Contempo distribution, keeping the same covers as the first pressings. No counterfeits exist.
Quella Vecchia Locanda had a thin gatefold cover with the record inserted from the top. The reissues have a standard gatefold cover with side opening. The album was reissued on CD in March 2003 by BMG with mini-LP gatefold cover and obi, as part of their "Dei di un perduto rock" series, and later repressed in October of the same year when a second batch of those CD's came out (this included a reissue of Il tempo della gioia).
The same CD was announced by BMG as being also available with standard jewel case (cat.no. 74321-98325-2) but was probably never issued in this form.
The albums also exist in Japanese edition (Edison ERS 29025 and ERS 28007) and Korean issue (Il tempo della gioia only, Si Wan SRML 1001).
An old Korean bootleg reissue also exists of the second album, with single cover and cat.no 78 (unknown label reproduced RCA design).
A CD edition of Il tempo della gioia was released in Korea by Sony Music (S30781C) in 500 numbered copies with mini-LP gatefold cover with poster and insert.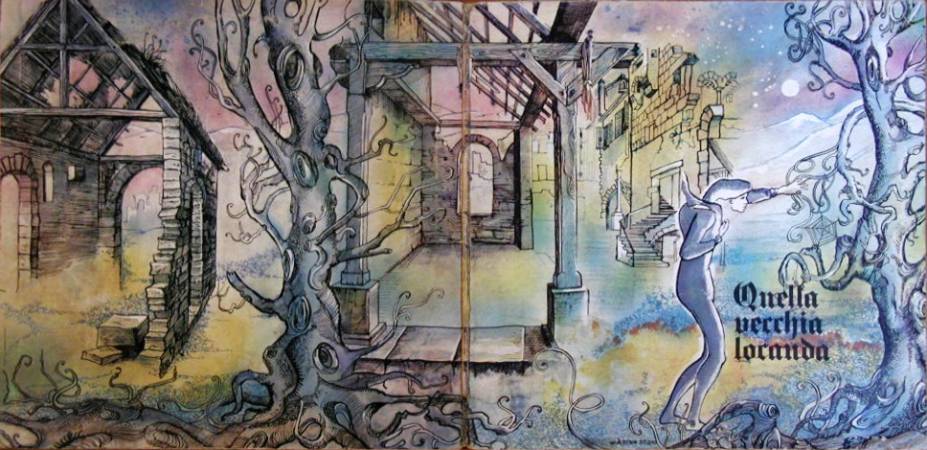 Quella Vecchia Locanda - gatefold cover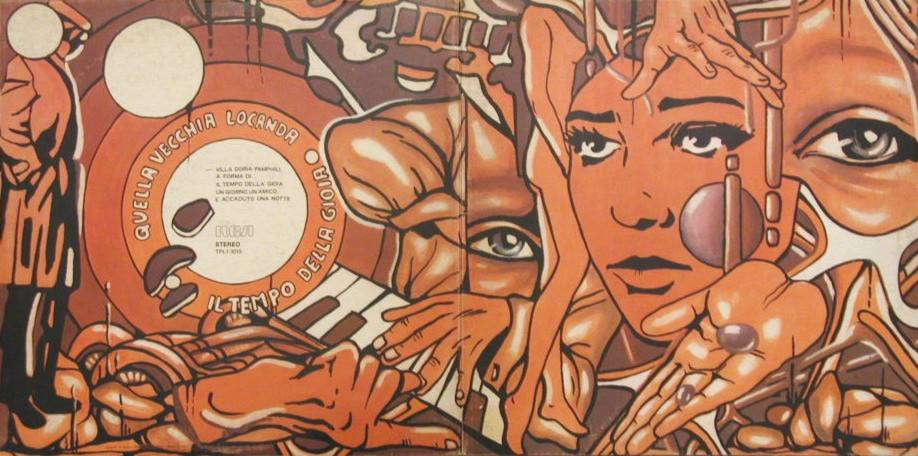 Il tempo della gioia - gatefold cover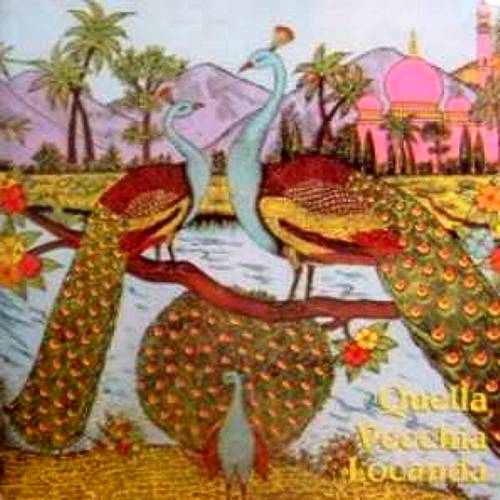 Live - CD cover

An interview with former QVL violinist Don V.Lax, by Augusto Croce, February 2004
1-How did you come to Italy?
I came to Italy after finishing High School a year early in America, as my father had been assigned to the US Embassy in Rome, and I had the opportunity to attend the Conservatory of Santa Cecilia, in Rome. I had previously attended the Conservatoire de Musique in Versailles, France, when I lived there with my family in 1966-69. So when this chance came, I sent application to the Conservatory in Rome, and was accepted, after an audition. I was fortunate to study with a great musician, Alphonse Ghedin, who changed the way I thought about the violin.
2-How was QVL formed? Did you join an existing group or was it newly formed?
QVL had formed before my arrival. The Live CD was recorded before I joined the group. I heard them playing at a concert outside Rome, and was immediately interested. After the concert, I approached the band, and asked them if they wanted a violinist. I had never played anything but classical music up until that point, but I always, since I started playing at age 5, made up songs and improvised in my own way. They said "Yes, as a matter of fact, we're looking for a violinist". We made an appointment to meet at their next rehearsal out in the country in an empty house. When I arrived, they played a blues-rock song, and invited me to join in. I started improvising, and knew that this was what I was born to do. We started collaborating. They would give me lyrics and maybe a simple chord structure and I would find some Bach or Brahms or Corelli and weave it into the music so we were making a classical-rock "fusion.
3-What do you remember of the 70's Italian prog scene?
It was a very exciting time. There was so much creativity, sharing new ideas, inseminating a new kind of music. At the big concerts, all the bands would hang out together and there was not a feeling of competition, but cooperation.
4-How was your live activity, open-air or club concerts?
Some of both. Playing at Villa Pamphili for 150,000 people was the most memorable, but we also played for other huge outdoor concerts, on Television, and at clubs in Rome and on the coast.
5-Did you have any relations with other Italian groups/artists of the time?
My favorite musicians besides QVL were in PFM and Banco del Mutuo Soccorso. These were all great musicians and good people, too.
6-Why did you decide to leave the group?
I didn't want to go, but we weren't making much money, the albums weren't really getting distribution. The record companies were treating us very badly- and still are... we never made a single lira from those albums- and when I found the reissues on the internet, I called Milan to order them and had to pay for my own albums.
None of us even knew they were reissued- I found out by an internet search... And everyone, even in the band, was telling me to go to America and get rich playing music... I have always regretted leaving... I hated the lack of culture in America and its small-mindedness and missed Italy and my friends with a physical ache.
7-Have you had other experiences in the prog rock field?
When I first came back to the US I lived in Washington, DC, and played in bands ranging from all-black disco bands (I played violin in the horn section and did all the moves with the other horn players) to avant-garde Latin jazz fusion. This was a time of expansion and learning for me...
Later I moved to the West Coast, and played with many different types of bands, including some very interesting Prog Rock. The most exciting was Prince Gabriel's Fleet, with the cellist who wrote the string parts for the Moody Blues. Tim Tompkins was a genius musician, and the band included guitars, female vocals, drums, tablas and violin. I later moved more towards jazz and ethnic fusion, what became known as "world beat".
More recently I recorded in California with two bands, Anjali, playing acoustic fusion, and Dresden, a more prog-rock-art music band that was very creative. But I've recorded and played with many, many bands, from jazz and world-beat to Avant-garde rock. I recorded 8 out of ten tracks for Camper van Beethoven's last CD on Virgin, Key Lime Pie.
8-What have you been doing as a musician?
I've been living on Maui, body-surfing 20-ft. waves, and recording and performing with a great classical guitarist, Vance Koenig, in a duo called Apassionata. We have two CD's out, not at all in the prog-rock field... more lyrical romantic music geared towards the people we play for every night at Four Seasons Resort...
At the same time I'm working with other creative musicians, like Daniel Paul, a world-class tabla player with whom I recorded two fusion CD's, and Govi, a "nouveau flamenco" guitarist for whom I recorded tracks on his last four CD's.
My latest project is a "trance beat" CD featuring violin and world-beat drums, working with Kris Thomas, the drummer for Willie K. and Willie Nelson... I started a Gypsy kings- style band called Zingaro when I first moved here, with drums, two flamenco guitars, bass and violin... lots of fun! I also continue to compose a lot of music, from tangos to rock ballads and jazz waltzes.

Many thanks to Don V.Lax for the help and interview. Don lives now in Hawaii, where he plays as a professional musician; you can visit his site at http://www.mauiviolin.com