Artist

RICORDI D'INFANZIA

Emilio Mondelli (vocals)
Franco Cassina (guitar, vocals)
Maurizio Vergani (keyboards, vocals)
Tino Fontanella (bass)
Antonio Sartori (drums, percussion)

A five-piece from Brianza, I Ricordi d'Infanzia only released an album and a couple of singles in 1973. They had previously played under the name of Gli Aspidi and were also present on the Fonit compilation Nuovi complessi d'avanguardia da Radio Montecarlo.
With the new name I Ricordi d'Infanzia, since 1972, they played as support band with I Pooh and Le Orme.
Io uomo contains a very good progressive sound, based on mediocre lyrics on the creation of mankind (a recurring theme in many Italian prog bands' concept albums). The eight tracks album has its best moments in Morire e non morire and the opening Caos, one of the few tracks with keyboards to the fore.
After the demise of the album, totally unnoticed due to the lack of promotion from the record company, the group had a line-up change, with newcomers Gianni Bari (sax) and Ugo Biondi (keyboards) replacing Cassina and Vergani, and they played until 1976.

LP
Io uomo
Cetra (LPP 227)
1973
textured gatefold cover
Cetra blue/silver label
Fonit/Vinyl Magic (LPP 426)
1991
single cover
BTF/Vinyl Magic (VM 143)
2009
new reissue with gatefold cover


CD
Io uomo
Fonit/Vinyl Magic (CDLP 426)
1991
reissue of 1973 album
Warner/Fonit (3984 27122-2)
1999
as above
BTF/Vinyl Magic (VM 143CD)
2012
new reissue with mini-LP gatefold cover and 2 bonus tracks


SINGLES (with picture sleeve)
Mani fredde
Latte e rhum
Cetra (SP 1497)
1973
both unreleased tracks


PROMOTIONAL AND JUKEBOX SINGLES (with blank sleeve)
Duemila anni prima
Creazione
Cetra (SP 1530)
1973
promotional single with black label - both tracks from Io uomo

An ultrarare album, one of the rarest on Fonit-Cetra, Io uomo originally had a textured gatefold cover that included the lyrics but no details on the band.
The album was issued in the LPP series that included mostly popular music records and oddly didn't include the group name on the cover, just a mention in the liner notes in the inner gatefold.
It has been reissued in the Fonit-Cetra/Vinyl Magic series in 1991 with a smooth single cover and again in 2009 by BTF/Vinyl Magic.
Both tracks from the first single by Ricordi d'Infanzia, Mani fredde and Latte e rhum, appear on a Japanese 9-track promo compilation on Nexus, called Nexus International Italian Rock Special (cat.no.SSY-17) that also includes singles' tracks by Hunka Munka, New Trolls, Krel (pre-PFM) and Patrizio Alluminio (Alluminogeni).
A second single containing two cuts from the LP was only released as a promo with company sleeve.
No counterfeit exists, nor foreign vinyl reissues.
A Japanese CD exists, on Warner/Fonit (WAS 1007), with a mini-LP textured gatefold cover faithfully reproducing the original.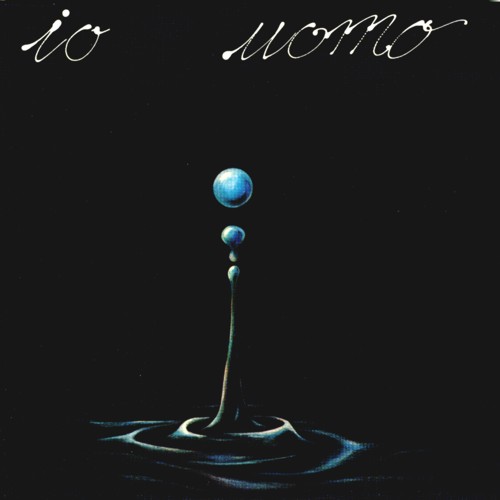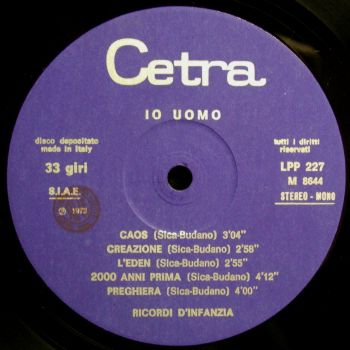 Io uomo - LP and label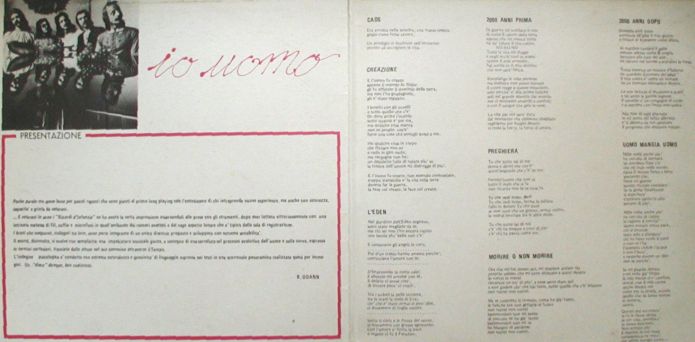 Io uomo - original inner gatefold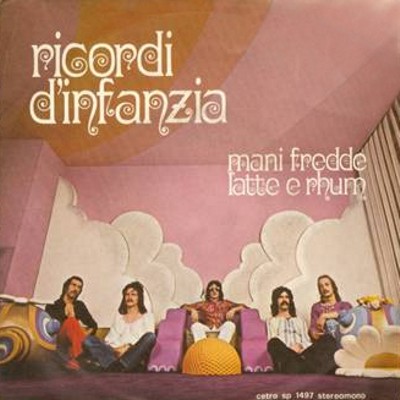 Mani fredde - 7" single cover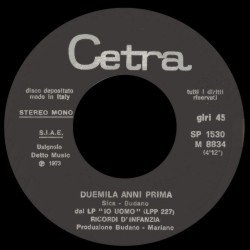 Duemila anni prima - promo 7" single label



Click on pictures to enlarge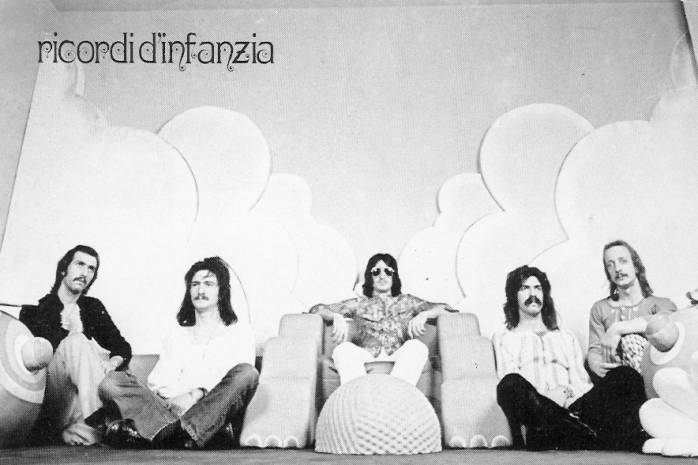 Ricordi d'Infanzia - promo picture

Thanks to Giorgio Meloni of Metrodora for precious information, to Maurizio Fulvi for the 7" single scan, to Giovanni Ottone for the promo picture.
Also thanks to Alessandro Pomponi from Rockground (www.rockground.it) for the scan of the promo single.