The full list
A
ABISSI INFINITI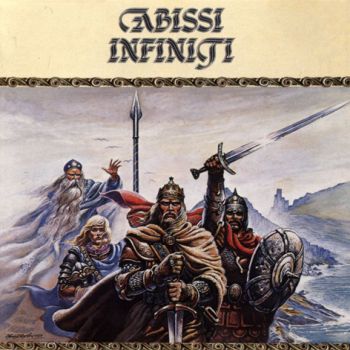 Line up:
Claudio Liotto (vocals, piano)
Andrea Zanatta (guitar)
Alberto Cazzola (keyboards)
Enrico K÷tterl (keyboards)
Lucio Negretto (bass)
Paolo Fin (drums)
Discography:
LP - Tunnel (Knights KNR 001 - 1981)
CD - Tunnel (Mellow MMP 206 - 1994 - reissue of 1981 LP)
A group from Vicenza, previously known as Black Magic and Stregoni, that only released this rare album in 1981, though the tracks had been composed between 1975 and 1980.
The sound is mainly pop-oriented, with few prog elements, the cover is very nice.
The group was composed by young musicians, helped by the older Enrico K÷tterl that wrote the lyrics for all their songs. He was, and still is, a film director and graphic designer and collaborated with another group from Vicenza, Apostholi, writing the lyrics of a song on their LP Un'isola senza sole.
ACID GROUP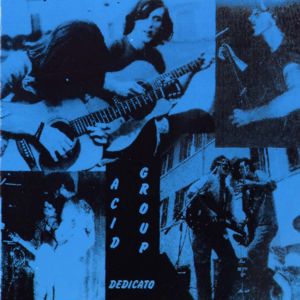 Line-up:
Antonio Mandelli (vocals)
Attilio Piazzi (electric guitar)
Riccardo Bolis (acoustic guitar, vocals)
Discography:
CD - Dedicato (Giallo SAF030 - 1998)
A group from the Bergamo area, formed in 1974 as a trio, they later became a quintet for a short time with the entrance of bass player Mauro Capitani and drummer Sergio Marchesi.
The CD dedicated to this group by the Giallo Records label contains recordings made between 1975 and 1977, live, from rehearsals or in the studio, with some demos prepared for CGD. Their style is mostly based on improvisation, long jams built on a repetitive acoustic guitar pattern with lead guitar solos, and vocal parts not always complete.
The group broke up in 1979, having had a good live activity with the likes of Franco Battiato, Eugenio Finardi, Perdio, Madrugada.
ACROAMA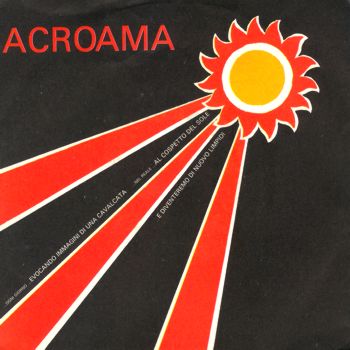 Line-up:
Emanuele D'Angelo (vocals, guitar, bass)
Giulio Gerardo (guitar)
Emilio Riccardi (keyboards)
Graziano Capponago Del Monte (keyboards)
Marco Canevari (drums, percussion)
Discography:
45 - Evocando immagini di una cavalcata..../E diventeremo di nuovo limpidi (Laltrosuono 001 - 1981)
Formed in 1979 in Pavia, but their leader Emanuele D'Angelo was active since 1974, Acroama have been sometimes mentioned close to Janus, but they were in fact a totally different group, despite sharing the same political position.
The group had a limited live activity and only released a 33rpm single in 1981, containing two long tracks in a slightly progressive style, issued with two different label colours, light blue and orange.
ALBATROS
A melodic pop group, their Volo AZ 504 single was a chart hit in 1976.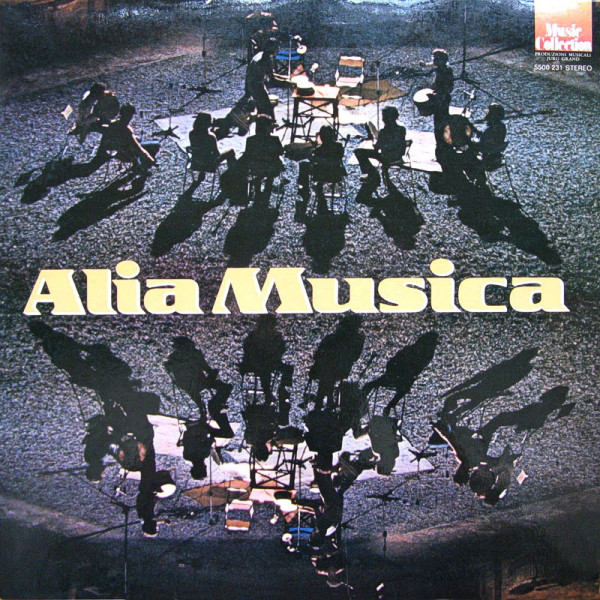 Discography:
LP - Alia Musica (Music Collection/Jurg Grand 5500 231 - 1979)
LP - Cantigas de Santa Maria (Ricordi RCL 27085 - 1979 - same album as above)
With no less than 12 musicians involved, including Mauro Pagani as guest and producer, this group only released in 1979 a rare album of Spanish religious tunes from the 13th century, played with traditional instruments. Despite being far from this site's contents, the album is much sought-after by the Italian prog collectors; it had a deluxe laminated cover and a booklet with notes and lyrics.
The same album was issued with the title Cantigas de Santa Maria and a different single cover by Ricordi.
LE ALI DEL VENTO
Line up:
Anna Serena (vocals, guitar)
Angelo Presti (keyboards, vocals)
Terry Fanelli (bass, guitar)
Vito Salice (drums)
Starting with the name of Gli Astrali and after a line-up change (with Anna Serena replacing singer/guitarist Dante Menotti), this quartet from Turin recorded an album in 1970, but this was never released.
Reputedly this included prog-influenced tracks along with a keyboard-led 15-minute suite. An interesting LP by Gli Astrali exixts in psych/beat style, Viaggio allucinogeno, recorded in 1967 and only issued in 1995 on Destination X.
GLI ALISEI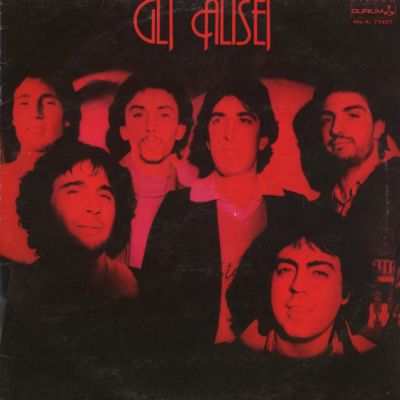 Line up:
Carmelo LucÓ (vocals, keyboards)
Salvo Papale (keyboards)
Tony Miosi (guitar, vocals)
Michele Sidoti (flute, sax, vocals)
Enzo Ranieri (bass)
Enzo Guagliardo (drums, vocals)
Discography:
LP - Gli Alisei (Durium MS AL 77407 - 1979)
+ many singles
A group from Palermo that is often described as soft prog, gli Alisei were formed by Carmelo LucÓ in 1969, with various musicians around the original nucleus and were active until the mid 90's. They released some commercial singles (one of which, L'amore non ha etÓ, sold around 300,000 copies) and an LP at the end of the 70's.
The group also backed the popular actor Franco Franchi in his tours, and appeared in two of his films.
Carmelo Lucà reformed the group with a new line-up in 2012.

ALPHA CENTAURI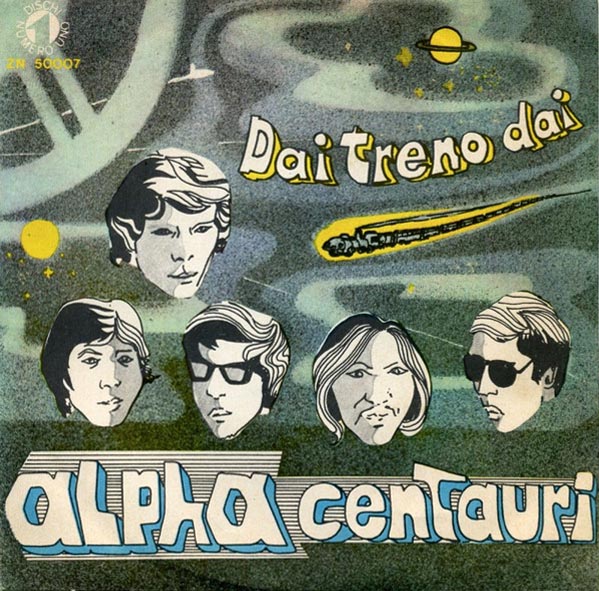 Discography:
45 - Dai treno dai/Immagine bianca (Numero Uno ZN 50007 - 1969)
45 - Deserti di creta/Stasera che si fa (Erre RR 3060 - 1973)
Alpha Centauri, from Verona, released a single on Numero Uno in 1969, in a similar style to Formula Tre. Both tracks are cover versions, the A-side was originally The train by 1910 Fruitgum Co., on the other side Throw down the line by Cliff Richard. Some say that Lucio Battisti played on these tracks, as he was recording at the same time in that studio.
The group was formed by the members of I Tornados, a beat group active since the early 60's and the line-up included, at the time of release of the single, Mario Poletti (vocals), Piero Messina (guitar), Gianmaria Mingoni (keyboards), Luciano Benedetti Vallenari (bass) and Francesco Casale (drums).
Another softer single exists by a group with the same name, but it's likely that this was a different band.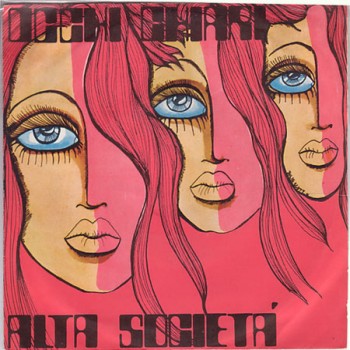 Discography:
45 - Occhi chiari/Non hai capito (Ventotto PRV 28001 - 1971)
A group that only released a nice single in New Trolls style. Some of the group members, including singer Ice, issued, again in 1971 a single under the name Ice & High Society Selection, featuring two cover versions: Uriah Heep's Bird of prey and Pretty woman by Juicy Lucy (Cooper CPI 7002). In the same year Ice recorded another single along with the singer from Analogy, Jutta Nienhaus, issued as Juta & Ice, containing a remake of the Sacco & Vanzetti film soundtrack, Here's to you and a T.Rex cover, Hot love (Cooper CPI7008).
L'ALTRO MONDO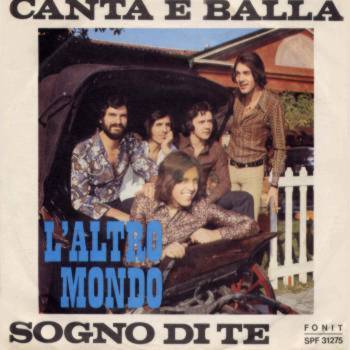 Line-up:
Gigi Carosone (vocals)
Bartolomeo Messina (guitar)
Renato Rosset (keyboards)
Luigi Ogno (bass)
Giorgio Tani (drums)
Discography:
45 - Canta e balla/Sogno di te (Fonit SPF 31275 - 1970)
L'Altro Mondo only released this single, halfway between sixties and seventies rock styles.
The group was formed by two musicians from Liguria (Ogno and Tani), one from Turin (future keyboardist with New Trolls and Nova, Renato Rosset), one from Milan (Carosone) and one from Sicily (Messina).
Discography:
LP - Dove era lei a quell'ora (Produttori Associati PA/ LPS 38 - 1972)
LP - ...e mi manchi tanto (Produttori Associati PA/LP 50 - 1973)
+ many other LP's and singles
A melodic pop quartet from Naples, only notable for the long title track of their debut album, a 14-minute ballad structured like a progressive suite, and some soft-prog influences in their vast production.
In 2015 a CD was released with the original unreleased version of the album recorded at the time by the group leader Paolo Morelli (Produttori Associati PA/LP 201), who died in 2013.
The group has been active until the present. Since 1978 their drummer was Ruggero Stefani (from Fholks, L'Uovo di Colombo, Samadhi, Mediterraneo), while more recently keyboardist Enrico Olivieri (Metamorfosi) and guitarist Gianfranco Coletta (Chetro & Co., Banco del Mutuo Soccorso) joined the line-up.
AMLETI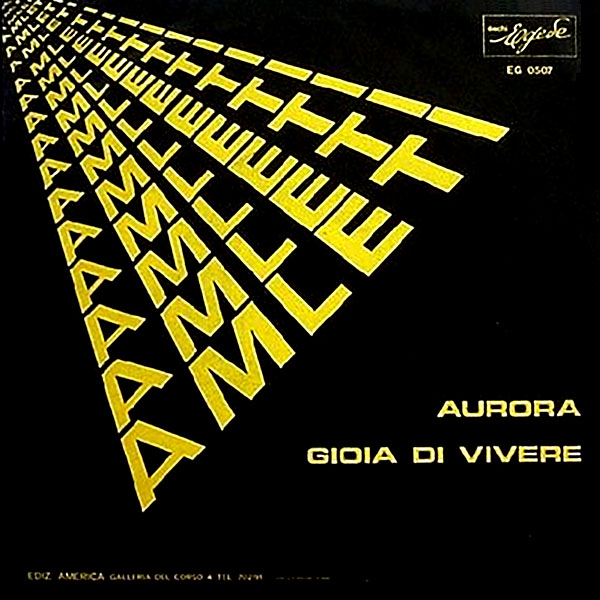 Line-up:
Tonino Famiglietti (guitar, vocals)
Onofrio Giuliano (keyboards)
Rosario Seccia (piano)
Franco Lemma (flute)
Enzo Buttiglione (bass)
Gianni Affaitato (drums)
Discography:
45 - Aurora/Gioia di vivere (Egede EG 0507 - 1973)
A group from Cerignola (Apulia), Amleti issued this rare and pleasant single in 1973. The A-side is a ballad with flute and organ to the fore, the B-side also has the keyboards in evidence.
Another single from 1968 exists, I ricordi/Dubbio, credited to Gli Amleti and issued on the Neapolitan label Eterfon (CN 357/358), that was recorded by a line-up including Famiglietti and others.
ANAWIM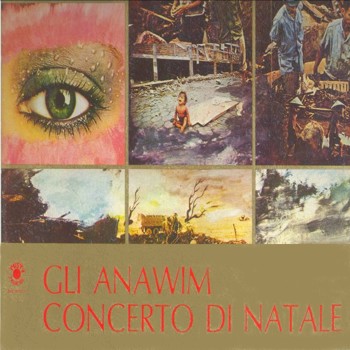 Discography:
LP - Quattro cristiani in giro per il mondo (Rusty RRS 303319 - 1976)
LP - Missione: uomo (Rusty RRS 303321 - 1977)
LP - Concerto di Natale (Rusty RRS 303325 - 1978)
One of many groups that, in the 70's, mixed Christian-inspired lyrics with a rock musical background, Anawim recorded at least three albums for the Rusty label, all with multi-vocal parts (sometimes embarrassingly out of tune, especially in the first LP) and large use of flute and organ. Probably the most interesting for the prog fans is the third one, containing a side-long 20+ minutes Concerto di Natale. The group was from Abbiategrasso, near Milan, and is not to be confused with the similarly named Gruppo Musicale Anawim, active in the same period.
Line-up:
Gianfranco Mentil (guitar, bass, vocals)
Eddy Meola (sax, flute)
Gianfry Lugano (keyboards)
Gianpiero Morsut (drums, percussion)
Discography:
LP - Andromeda (S.R.M. DA/L 33010 - 1978)
A group from Friuli, whose 1978 LP was produced by a recording studio from Udine.
Even if it suffers from bad recording and performing quality, the album has some interesting moments, and contains original tracks along with two covers.
There's a guest appearance in the album by bassist Piero Pocecco, who also played in concert with the band even if he was not a real member.
Of the band members, Meola and Lugano followed their career as musicians, the latter also played in the Nascita della Sfera album.
Meola also collaborated on the Mister Paperrock Orchestra album on the same label.
L'ANGOLO BUIO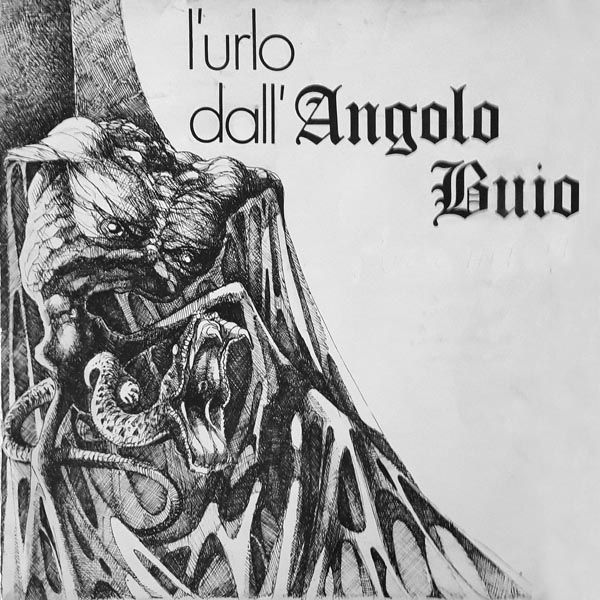 Line-up:
Luciano Menzio (guitar, keyboards)
Pierpaolo Zuppardo (guitar)
Tonino Farsaci (sax, flute)
Salvatore Marino (trumpet)
Francesco Vannucchi (bass, vocals)
Alberto Rubbo (drums)
Discography:
LP - L'urlo dall'angolo buio (Prince LPB 20043 - 1972)
An obscure group from Turin that only released an incredibily rare album for the small Prince label, that had mainly produced Piedmont folk artists
The LP was pressed in just a few hundred copies, only a handful of which had a grim-looking black & white proof cover. It contained ten tracks between rhythm & blues and brass rock, with some post-beat melodic influences.
The group played in the Turin area and broke up in 1974.

ANSELMO E GLI ANEMONI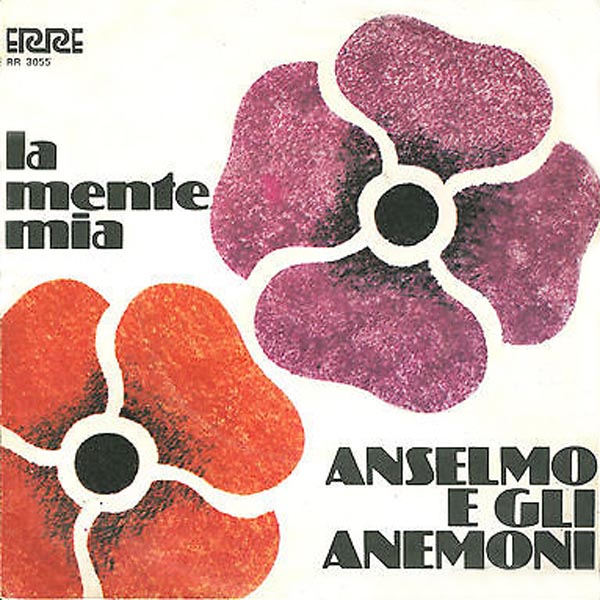 Discography:
45 - La mente mia/L'organista (Erre RR 3055 - 1973)
Just a single for this group, probably coming from near Rome, on the same label as Ut. Their style is halfway between melodic pop and prog, with the A-side better than the other track.
APOLOGIA LUPI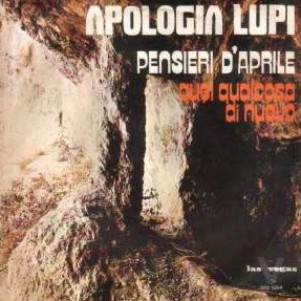 Line up:
Rosario Brancati (vocals, flute)
Rocco Tolve ( guitar)
Enzo Cammarota (keyboards)
Stefano Rubino (bass)
Franco Sileo (drums)
Filippo Parisi (percussion, vocals)
Discography:
45 - Pensieri d'aprile/Quel qualcosa di nuovo (Las Vegas 5001 064 - 1974)
A group from Potenza (Basilicata) that only released a good single in 1974. For the use of flute they have been compared with Osanna.
Some of the musicians came from I Lupi, active since the 60's that had released a single, Cercare una donna in 1969.
Bass player Stefano Rubino had a solo career in the late 70's, with many singles and LP's, the first two of which on Radio Records.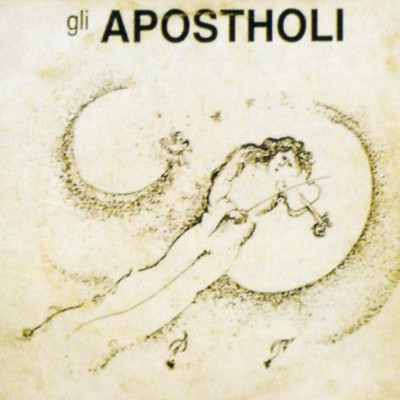 Line up:
Walter Bottazzi (vocals)
Tullio Mazzaretto (guitar)
Gigi Terzo (keyboards)
Ivano Aldighieri (bass)
Roberto Trentin (drums)
Discography:
LP - Ho smesso di vivere (Delfino DF 01 - 1979)
LP - Un'isola senza sole (Casedil RGRLP 003 - 1981)
CD - Ho smesso di vivere (MP MPRCD 042 - 2002 - reissue of first LP)
CD - Un'isola senza sole (MP MPRCD 051 - 2007 - reissue of second LP)
A beat group from Vicenza, together since 1964, Gli Apostholi broke up at the end of the Sixties, to reform as a trio in 1970 with just one of the original members, bassist and singer Walter Bottazzi, along with keyboardist Gigi Terzo and drummer Roberto Trentin.
Their live repertoire included self-penned songs and covers of British and American artists, but their albums, released in 1979 and 1981 are in pop style with very light prog influences (especially Un'isola senza sole); both are very rare and expensive.
On the first LP, Ho smesso di vivere, the three musicians were helped by guitarist Franco Marchiori, who had been in the group in the 60's. The line-up was expanded for the following album with newcomers Tullio Mazzaretto and Ivano Aldighieri.
The group is still active with a five-piece line-up, featuring Paolo Savegnago (vocals, already in the band during the Sixties), Walter Bottazzi (guitar, vocals), Alcide Ronzani (guitar), Gigi Terzo (keyboards) and Roberto Trentin (drums, vocals).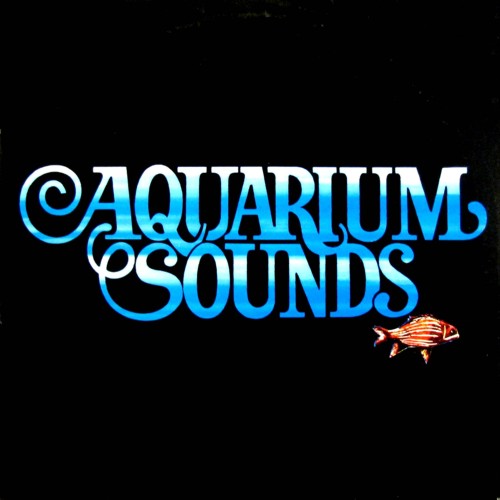 Discography:
LP - Aquarium Sounds (RCA SP 10075 - 1979)
+ singles
With only a very rare LP, probably only issued in promotional form, and two singles, Aquarium Sounds were a studio group assembled by Filippo Trecca, a film and TV music composer, with the musicians of La Bocca della Verità, a quartet from Rome active since 1970 that played in many festivals.
The album includes 10 short instrumental tracks, mostly based on keyboards and closer to pop than to prog.
Line-up:
Roberto Marini (vocals, guitar)
Arnaldo Biondi (keyboards, vocals)
Giorgio Merli (bass, vocals)
Antonio Merli (drums, vocals)
Discography:
45 - Sonia/E lei (Pony X 3005 - 1971)
45 - Il tuo splendido amore/Agnus Dei (Picci LG 3016 - 1973)
After a first melodic pop debut with the original line-up featuring drummer Bruno Bizzi, this group from Sorano, near Grosseto released a second good single on the collectible Picci label. Their style is not far from Blocco Mentale, with organ-led sound and melodic vocals. The group disbanded soon after the release of the second single.
MAURIZIO ARCIERI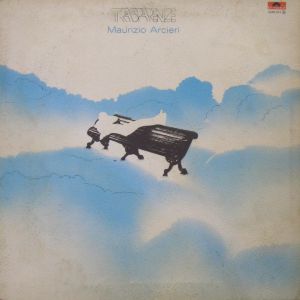 Discography:
LP - Trasparenze (Polydor 2448 014 - 1973)
+ many others LP's and singles.
The former leader of I New Dada, a very popular beat group that even supported The Beatles in their legendary Italian tour, Arcieri left his old band for a highly successful solo career, and even had an interesting progressive release with the Trasparenze LP from 1973, an album with good instrumental parts.
Subsequently he formed in 1976 the Chrisma (later Krisma) duo with his wife Christina Moser, influenced by the punk image and veering toward electronic pop music.
After leaving the scenes, Arcieri passed away in January 2015.
Trasparenze has been reissued on CD in 2010 by Universal as part of the Progressive Italia - Gli anni '70 vol.5 box set.
ARIES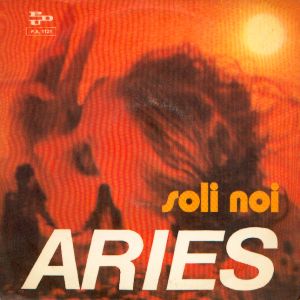 Line-up:
Massimo Vita (vocals, drums)
Giorgio Casartelli (guitar)
Valter Azzollini (keyboards)
Dario Baserga (bass)
Discography:
45 - Soli noi/Donna straniera (PDU PA 1121 - 1977)
45 - Vivere come noi/Io adesso (PDU PA 1127 - 1978)
A pop group active in Como (Lombardy) in the late 70's, they only released some singles on the PDU label, in a melodic prog style not far from Odissea (with a voice similar to that group's singer). The line-up included singer Massimo Vita, Valter Azzollini, Giorgio Casartelli and Dario Baserga.
ARS NOVA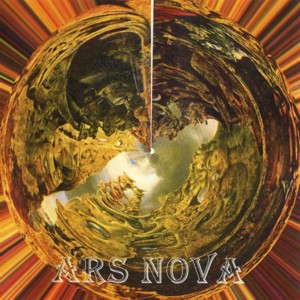 Line-up:
Luigi Piergiovanni (vocals)
Pietro Eugeni (guitar)
Stefano Piergiovanni (bass)
Stefano Riccioni (drums)
Discography:
45 - Who are you kidding?/A virgin case (Mia M1518 - 1977)
45 - Due corpi in armonia/Moquette (Mia M1530 - 1978)
CD - Ars Nova (Mellow MMP317 - 2002)
Quartet from Rome, formed in 1974 by the Piergiovanni brothers, coming from Cassa del Comune Accordo, Ars Nova only recorded two singles during their career, which has been documented by Mellow with a posthumous CD, which includes studio and live tracks and a cover inspired from the legendary Picci LP's. Musically the group is often compared with Officina Meccanica, with progressive-inspired tracks along with more pop-oriented songs.
Since the end of 1978, when the original guitarist and drummer left, the group became a six-piece, with brothers Luigi and Stefano Piergiovanni joined by the guitarist Romano Carboni, twin keyboardists Riccardo Gnerucci and Pasquale del Duca, drummer Stefano Falcone, and this line-up survived until the break up at the end of 1980.
Luigi Piergiovanni still works in the record business with the independent label Interbeat created with his brother, sadly passed away in 2001.
ARTE 2000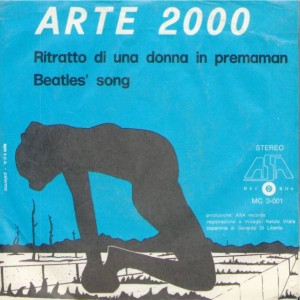 Discography:
45 - Ritratto di una donna in premaman/Beatles' song (ASA MC 3-001 - 197?)
45 - Vuoi proprio me/SerenitÓ (ZIZ ZZ 1002 - 1978)
A Sicilian group that released at least two singles around the end of the 70's, the first one being in a Ping Pong style with very light progressive influences. One of the songs is sung in Italian, the other in English.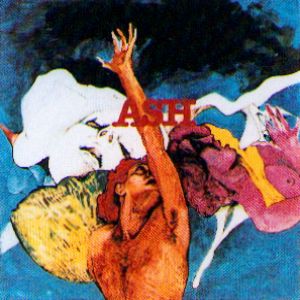 Line up:
Monica (vocals)
Guitar Duck (guitar, vocals)
Mike Arge (keyboards, vocals)
Emil Horse (bass)
Roby Benedini (drums)
Discography:
LP - Ash (Lasapa LSP 85002 - 1979)
45 - Lei cittÓ/Foto di gruppo (Jezabel OR 1465 - 19??)
An obscure Italian group that only released an inconsistent English-sung rock album with strong foreign influences under false names.
A rare single credited to Ash, sung in Italian but without a release date. also exists.
Drummer Benedini, from Brescia, had been in La Bottega del Fabbro and also played with singers Marcella and Gianni Bella.
Line up:
Emilio Mondelli (vocals)
Franco Cassina (guitar)
Maurizio Vergani (keyboards)
Tino Fontanella (bass)
Glauco (drums)
A group from Lombardia which included most of the future members of I Ricordi d'Infanzia. They were formed in 1970 and played together as Gli Aspidi until 1972 when they changed name after the entrance of the new drummer Antonio Sartori. They only appeared with Forse amore non Ŕ on the Fonit compilation LP Nuovi complessi d'avanguardia da Radio Montecarlo, and as backing band of the singer Graziella Ciaiolo on Svegliarsi una mattina (B-side of the 1972 single Lontano vicino, Cetra SP-1472).
A beat group named Gli Aspidi released a single, around 1967, containing Una chiesa vuota and Cerco l'amore for the Z Records label (Z COM 517), but it's unknown if they were the same musicians as these.
Line up:
Giampiero Alloisio (vocals, guitar)
Enzo Cingano (keyboards)
Gianni Martini (guitar)
Bruno Biggi (bass)
Mauro Arena (percussion, vocals)
Alberto Canepa (percussion, vocals)
Discography:
LP - Dietro le sbarre (Dischi dello Zodiaco VPA 8325 - 1976)
LP - Marylin (ALT 001 - 1977)
LP - Il sogno di Alice (EMI 3C064 18424 - 1979)
CD - La rivoluzione c'Ŕ giÓ stata (L'Alternativa - 2002)
More progressive in its intentions than in its record production, this group from Genova was created to mix music and image giving their concerts a strong theatrical appearance. Musically speaking their LP's are rather thin and far from the rock-inspired taste.
ASTERIX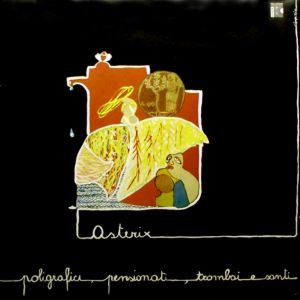 Discography:
LP - Poligrafici, pensionati, trombai e santi (Tickle TLPS 5014 - 1977)
Though its title, cover and label (the same as Antonius Rex's Zora album) can give the impression of a progressive record, this is in fact the work of a singer-songwriter, mainly based on voice and guitar and with socially committed lyrics. Behind the name Asterix hid Ferrante Anguissola D'Altoè, who released two other albums only in recent years (Anima e vento in 2018 and A occhi aperti in 2020).
ASUMA RIMNA
Line up:
Giorgio Di Paolo (bass, flute)
Mario D'Amicodatri (keyboards)
Armando Gasbarri (violin, viola)
Maurizio Toto (drums)
Asuma Rimna from Chieti were formed in 1973 and played together until 1978 with an intense live activity mainly in their area. Their style was strongly inspired by the Canterbury groups.
AUTO DRIVE SYSTEM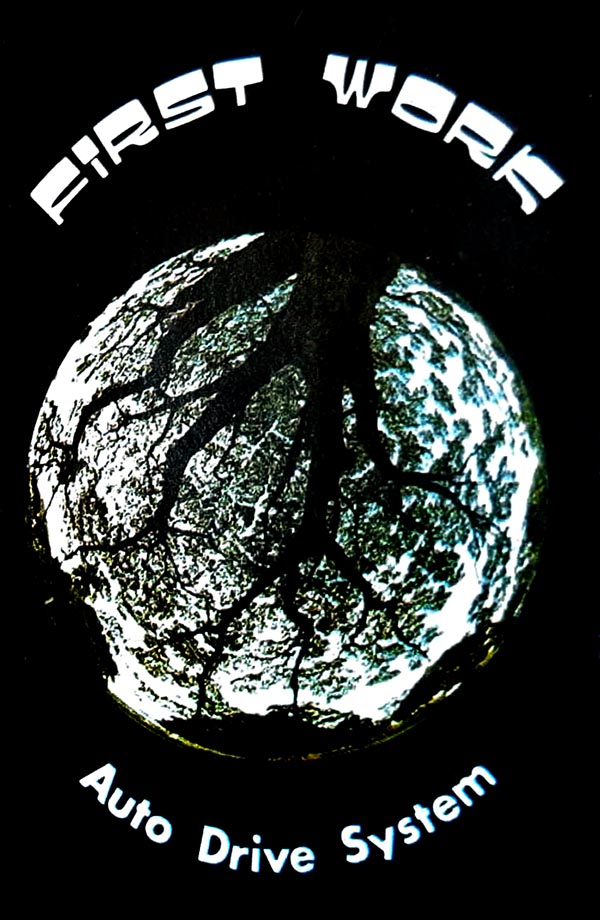 Line-up:
Edoardo Bernardi (keyboards)
Sandro Bordato (guitar)
Marcello Facchin (drums)
Discography:
MC - First work (Selenia EB 0201 - 197?)
Only a cassette, released by the small Selenia label (that had already reissued the Santoni album), for this trio from Verona. Their debut cassette came out in 1975-76, with five instrumental tracks and a total length of 35 minutes, long jams that may bring to mind Pink Floyd or early Sensations' Fix with a good use of keyboards.

Thanks to Salvo Papale, Luigi Papi, Fabio Zuffanti, Fabio Marchignoli, Luigi Piergiovanni, Rocco Trezza, Alesssandro Lentini, Daniele Sabatucci, Stefano Rizzo, Federico Bordo, Franco Sciscio, Valerio D'Angelo, Claudio Ponti, Michele D'Alvano and Alessandro Cristini for information and pictures included in this page.
The story of the group L'Angolo Buio was reconstructed by Paolo Barotto in an article on the Prog Italia magazine.
Other alphabetical index pages
A B C D E F G HIJK L M N O P QR S T UV WXYZ