Artist

METAMORFOSI

1972
Davide "Jimmy" Spitaleri (vocals, flute)
Enrico Olivieri (keyboards, vocals, flute)
Luciano Tamburro (guitar)
Roberto Turbitosi (bass, vocals)
Mario Natali (drums, percussion)
1973
Natali and Tamburro replaced by:
Jean-Luc (Gianluca) Herygers (drums, percussion)

A band based in Rome, though their singer Jimmy Spitaleri was from Sicily, Metamorfosi have released with Inferno another of those album that any Italian prog fan should have.
The group was formed in 1969 when Spitaleri joined the musicians of I Frammenti, a group specialized in the "beat mass" typical of those years.
Their first album, ...e fu il sesto giorno, contains seven songs, the main elements of the band's music are already there, with the almost operatic voice of Jimmy Spitaleri in great evidence and the nice classical influenced playing of keyboards player Enrico Olivieri on a strong rhythm section, but the album is still fragmented and not particularly imaginative, and some 60's influences can still be heard.
The group had a five-piece line-up at that point but kept playing as a quartet with no guitar for the second LP.
Second album, Inferno, is their masterpiece, with two long suites (there are 16 titles on the cover but these are only the small pieces forming the Inferno suite) and the majestic voice of Spitaleri perfectly mixed with Olivieri's keyboards to form a highly original and exciting result. Tracks like Caronte are among the best of the Italian prog!
A third album, that was to be called Paradiso as a prosecution to the previous one, was written but never recorded and released, and the band split.
Singer Spitaleri went to the USA and later, coming back to Italy, released two solo albums in 1979 and 1980, the first under the name of Thor, the second with his real name Davide Spitaleri.
The band made some reunion concerts in the 90's around the leading duo of Spitaleri and Olivieri, and the long waited Paradiso project emerged again. The CD was finally released in the summer of 2004, a vibrant album that took again where Inferno had ended, the sound being not so different though less dark than before. The group included on the CD Jimmy Spitaleri, Enrico Olivieri and a very solid rhythm section of newcomers Leonardo Gallucci (bass and classical guitar) and Fabio Moresco (drums). The band presented the new CD with concerts in Italy and in the USA playing at the NearFest in Philadelphia.
The recording of another concert held in Rome in December 2004, in the church of S.Galla using the pipe organ and acoustic instruments, was issued in 2011 on the CD La chiesa delle stelle.
The same line-up as on previous album issued in 2016 the last chapter of the trilogy, Purgatorio, released both on LP and on CD with bonus tracks.
Singer Spitaleri joined Le Orme in 2010-11 and appeared on two of their latest albums, Progfiles - Live in Rome and La via della seta.

LP
..e fu il sesto giorno
Vedette (VPA 8168)
1972
gatefold cover
BTF/Vinyl Magic (VMLP 003)
2007
reissue with gatefold cover - later issued with red vinyl
Inferno
Vedette (VPA 8162)
1973
gatefold cover
BTF/Vinyl Magic (VMLP 002)
2005
reissue with gatefold cover - black or orange vinyl - reissued again in 2013 with white splattered vinyl (100 copies) and in 2020 on red vinyl
Purgatorio
Sony/BMG (88985 36753 19)
2016
new studio album - contains 12 tracks
Paradiso
Progressivamente/De Agostini (57)
2019
reissue of the 2004 CD with different artwork and 10 tracks only - gatefold cover with 8-page insert - no.57 in the De Agostini "Prog Rock Italiano" series


CD
Inferno
Vinyl Magic (VM 002)
1989
reissue of 1973 album - reissued in 2000 with same catalogue number and new label name VM2000 - now deleted
BTF/Vinyl Magic (VM 002)
2007
as above with mini-LP gatefold cover
BTF/Vinyl Magic (VMCD 002)
2023
as above with standard jewelcase
..e fu il sesto giorno
Vinyl Magic (VM 003)
1989
reissue of 1972 album
BTF/Vinyl Magic (VM 003)
2015
as above with mini-LP gatefold cover
Paradiso
Progressivamente (GMP 003)
2004
new studio album
Progressivamente/Mondadori (25)
2019
reissue with new artwork and 2 live bonus tracks - mini-LP gatefold cover with booklet - no.25 in the Mondadori "Prog Italia" series
La chiesa delle stelle
Progressivamente/Suono (SR 010)
2011
live recording from 2004
Purgatorio
Sony/BMG (88985 36753 26)
2016
digipack cover - contains 19 tracks, seven more than on the vinyl version


VARIOUS ARTISTS COMPILATION ALBUMS
Progressivamente 1973-2003
(with Porta dell'inferno, Caronte, Spacciatore di droga and Mururoa)
Progressivamente (GMP 002)
2004
CD compilation of unreleased recordings, also includes Gianni Leone/Leo Nero, Osanna, Alberomotore, Semiramis and others
Progressivamente 1974-2019
(with Porta dell'inferno, Caronte, Spacciatore di droga and Mururoa)
Progressivamente/Mondadori (GMP 004)
2019
CD compilation of unreleased recordings, also includes Gianni Leone/Leo Nero, Saint Just, Il Rovescio della Medaglia and others - no.26 in the Mondadori "Prog Italia" series


PROMO-ONLY AND JUKEBOX SINGLES (with blank cover)
Inno di gloria
Sogno e realtą
Vedette (VVN 33243)
1972
promo white label - no cover
both tracks from ...e fu il sesto giorno
Spacciatore di droga
Razzisti
Vedette (VVN 33249)
1973
promo white label - no cover
both tracks from Inferno
Violenti
Limbo
Vedette (VVN 33250)
1973
promo white label - no cover
both tracks from Inferno

Two great rarities, the Metamorfosi albums both have gatefold covers and are on the black/silver Vedette label.
They probably had a limited distribution at the time, as the label was not particularly interested in rock groups. Around 10,000 copies were sold of Inferno, much less for ...e fu il sesto giorno.
They have a strange numbering, as ...e fu il sesto giorno has catalogue number VPA 8168 and year 1972 on the label (matrix carries date 29 May, 1972), while Inferno has number VPA 8162, year 1973 on label and the stamped date 30 January, 1973. While without doubt this is a later album, it was probably assigned an unused lower number in Vedette catalogue.
The first LP ...e fu il sesto giorno exists with two different label variations, one of them having the name Metamorfosi in small type followed by the musicians' names. The other version has the name of the group il large type and no line-up. It's impossible to understand which of these has been released first, but from the paper and vinyl details it seems likely that they are both originals and released in a very short time span.
A counterfeit exists of Inferno that was very common in Italy until four-five years ago, probably all the copies have been now sold as originals!! This reissue is very well made and can give some experts a few doubts, but can be easily identified by the usual elements (see the Vedette and Trident label pages for details, and look for machine stamped matrix numbers and date on vinyl!). The cover has slightly out-of-focus images and writings, otherwise is almost identical.
In 2005 BTF/Vinyl Magic released an official vinyl reissue of Inferno with the same gatefold cover as the original but different catalogue number (though not present on the label). First issued on black vinyl and then on orange vinyl, the album was reissued again in 2013 in a limited 100 copies pressing on white splattered vinyl and in 2020 on red wax.
Even ...e fu il sesto giorno was reissued on vinyl by the same label in 2007. The reissue label can be confused with an original, but it's smoother and contains an error in the title of one of the tracks, Crepuscolo, written Crespuscolo. The reissue LP was also released, along with the standard black vinyl version, in a limited 24 numbered copies pressing on brown/black splattered vinyl.
No foreign vinyl issues exist.
The Japanese label Belle Antique reissued on CD in 2009 ...e fu il sesto giorno (cat.BELLE 091628) and Inferno (cat.BELLE 091602), both with a mini-LP gatefold cover. A new reissue of Inferno came out in 2020 with cat.BELLE 203257. The Korean label M2U reissued on CD Inferno with mini-LP thick gatefold cover ( cat.M2U 1017).
Paradiso was originally only issued on CD by the Progressivamente label. It was only reissued in 2019 on CD and LP with different cover artwork. The CD version contains two live bonus tracks, the vinyl version, with gatefold cover, includes 10 of the original 14 tracks.
Purgatorio was originally issued on CD in 2014 by Enrico Olivieri's label, Unica Meta (UM 001) in a limited pressing. It had an official release in 2016 by Sony Music with the Cramps logo. Olivieri also issued in 2016 the illustrated lyric book Purgatorio, accompanied by the numbered and signed CD.
No official singles were released at the time, but at least three promos exist, all of them being very rare.

...e fu il sesto giorno - LP

...e fu il sesto giorno - two label variations

Inferno - gatefold cover



Inferno - views of the original label

Inferno - bootleg LP label, on smooth paper with raised edge

Inferno - BTF reissue label, with smooth paper and no catalogue number

Inno di gloria - promo 7" single

Spacciatore di droga - promo 7" single

Violenti - promo 7" single

Paradiso - CD

La chiesa delle stelle - CD

Purgatorio - LP/CD

Paradiso - 2019 reissue LP/CD

Purgatorio - book + CD



Click on pictures to enlarge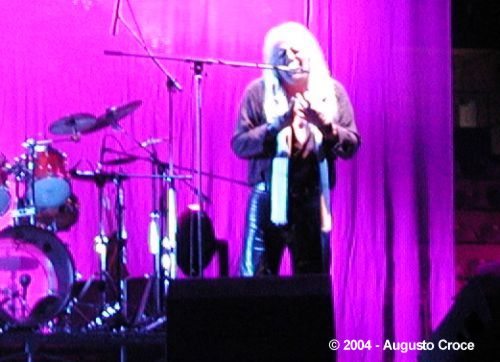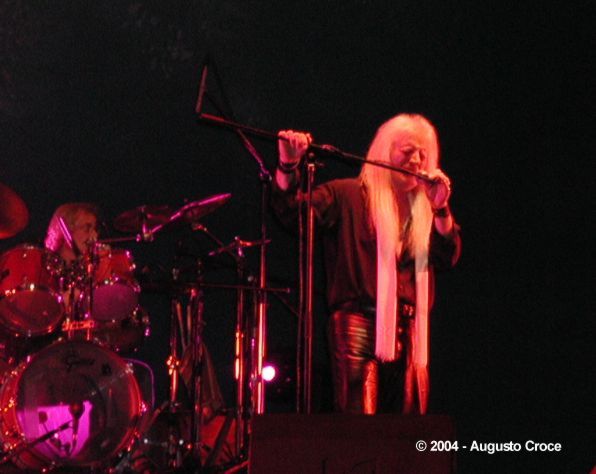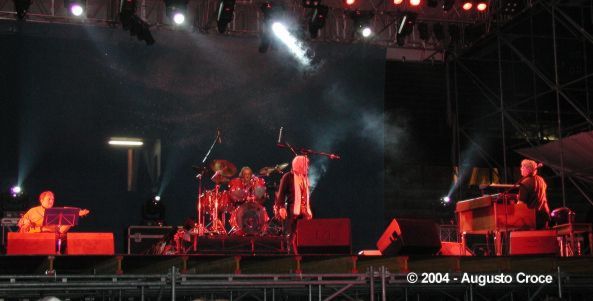 Live in Rome, Foro Italico
10-jun-2004

A website dedicated to Metamorfosi is at http://www.metamorfosi.org/

Thanks to Juan Carlos Lopez and Massimo Santoni for some of the scans in this page