Artist

SAINT JUST
JENNY SORRENTI

SAINT JUST
1973
Jane Sorrenti (vocals)
Antonio Verde (guitar, bass, vocals)
Robert Fix (sax)
1974
Fix replaced by:
Tito Rinesi (guitar, vocals)
Andrea Faccenda (guitar, keyboards)
Fulvio Maras (drums, percussion)

Sister of well known artist Alan Sorrenti, Jenny (or Jane, as she was called in her early releases) was born in Naples from welsh mother, and formed there the acid folk trio Saint Just. With this band she released two albums before embarking in a solo career that only produced two more albums in the 70's.
Saint Just began as a trio mainly using acoustic instruments and mixing together folk, psychedelia and classical influences. The very good results are demonstrated in their first album, released in 1973 on Harvest. The soft prog atmospheres are dreamy and enchanting, like in the opening Quando nel mondo distrutto incomincị la vita, and Alan Sorrenti also sang on a track, but the group failed to render the delicate sound on stage.
The second album is more in a rock direction, with sax player Robert Fix being replaced by two electric guitarists and a stable drummer. The result is less acoustic and more rhythm based, always on a very good level.
The band split after La casa del lago, with Jane starting a solo career under the name of Jenny Sorrenti.
Jenny's style as a solo artist is far from her previous band's, being much closer to the song format. Both albums being mainly built on Jenny's delicate voice, Suspiro is the best of the two, with help from experienced musicians like Peter Kaukonen (brother of Jorma, Jefferson Airplane's guitarist), drummer Francesco Froggio Francica (from Raccomandata con Ricevuta di Ritorno and Procession), guitarist Pino Daniele (later a well known solo artist), violinist Lucio Fabbri (PFM) and long cohort Toni Verde from the Saint Just days.
After many subsequent collaborations with other artists, Jenny Sorrenti has returned with a new CD, Medieval zone, in 2001, trying to mix the mediterranean folk tradition with her celtic roots, and again in 2004 with Com'è grande enfermidade.
In 2011 Jenny Sorrenti used the old Saint Just moniker again for an album issued in limited pressing, entitled Prog explosion. A good record that mixes the sound of her solo albums with more typical progressive atmospheres. This album was issued on CD for the first time in 2018 with the addition of four bonus tracks, two of which with Alan Sorrenti on vocals.
In 2017 Jenny Sorrenti took part in a project conceived by Lodovico Ellena (Effervescent Elephants) also featuring many musicians from the Italian psychedelic scene, that produced the LP Sinfonia psichedelica.

SAINT JUST

LP
Saint Just
Harvest (3C064-17870)
1973
gatefold textured cover
Akarma (AK 1045)
2006
reissue of the above with gatefold cover - 250 signed copies in white vinyl also exist
AMS/BTF (AMS 21LP)
2010
new reissue of the above with gatefold textured cover
BTF/Vinyl Magic (VM LP 182)
2016
new reissue of the above with gatefold cover and green vinyl
La casa del lago
Harvest (3C064-18033)
1974
single cover with inner
Akarma (AK 1046)
2006
reissue of the above
BTF/Vinyl Magic (VM LP 183)
2016
new reissue with single cover with inner and blue vinyl
Prog explosion
Raro (RR6)
2011
numbered gatefold cover - exists on black, orange and brown marbled vinyl - credited to "Saint Just Again"


CD
Saint Just
Mellow/EMI (MMP 193)
1994
reissue of 1973 album - now deleted
Akarma (AK 1045)
2006
as above with digipack cover
La casa del lago
Mellow/EMI (MMP 194 - 72434 79469 29)
1994
reissue of 1974 album - now deleted
Vinyl Magic (VM 073)
2000
as above - now deleted
Prog explosion and other stories
MaRaCash (MRC 071)
2018
reissue of the 2011 album with 4 bonus tracks recorded in 2017


SINGLES (with picture sleeve)
Dolci momenti
Saint Just
Harvest (1C006-17871)
1973
both tracks from Saint Just


PROMOTIONAL AND JUKEBOX SINGLES (with blank cover)
Dolci momenti
Harvest (3C000-60033)
1973
jukebox single - backed with Deep Purple/Woman from Tokyo
JENNY SORRENTI

LP
Suspiro
Harvest (3C064-18174)
1976
single cover with inner
AMS/BTF (AMS 20LP)
2010
reissue of the above
Jenny Sorrenti
RCA (PL 31425)
1979
laminated gatefold cover
Com'è grande enfermidade
Polosud (PS054)
2006
single textured cover with 8-page booklet - first 250 copies signed


CD
Suspiro
Mellow/EMI (MMP 252)
1995
reissue of 1976 album - now deleted
Medieval zone
Celtica Napoletana (CN 001)
2001
Com'è grande enfermidade
Polosud (PS054)
2004
digipack cover


PROMOTIONAL AND JUKEBOX SINGLES (with blank cover)
Compagni d'avventura
Sorridi
RCA (PB 6285)
1979
both tracks from Jenny Sorrenti - promotional single with RCA standard sleeve

The first two albums of Saint Just are rare and hard to find. Both on Harvest, the first one had a heavy textured gatefold cover, the second one a single cover with inner.
Both were reissued on vinyl by Akarma in 2006 (the first exists on standard black vinyl and in a white vinyl limited pressing of 250 copies signed by Jenny Sorrenti), and again by AMS (the first aLP only) and by BTF (both LP's on coloured vinyl).
These albums have been issued in Japan on vinyl (Edison European Rock nos. ERS28029 and ERS28026) and CD (King/Crime 292E 2064 and 292E 2027), and on CD in Korea (first by Si-Wan, nos.SRMC-6014 and SRMC-6017, then by Media Arte, nos.MI-0019 and MA-0025).
The only single by Saint Just includes two cuts from the first album, but it's interesting to notice that it says on the back cover "l'unico ed autentico progressive italiano" (the only real Italian progressive), maybe the first time that the word "progressive" is used in Italy instead of "pop" during the 70's!
The 2011 album, Prog explosion, was issued under the name Saint Just Again in a limited pressing of 750 numbered copies, 200 of which were on orange vinyl and 44 (with an autographed insert) on brown/black marbled vinyl, only sold through the site of the Raro magazine.
Jenny Sorrenti's solo albums are not particularly rare, but Suspiro has recently reached high values due to the interest by many foreign collectors in her production.
This album on Harvest came with a delicate silver coloured single sleeve and lyric inner, the second one on RCA had a laminated gatefold cover.
The 2004 album, Com'è grande enfermidade, issued by the small Naples label Polosud, has been reissued on vinyl in a limited pressing in 2006, and the first 250 copies are signed from Jenny and drummer/percussionist Marcello Vento (ex-Alberomotore e Canzoniere del Lazio).
No counterfeits exist.
The 2017 LP Sinfonia psichedelica, that features Jenny Sorrenti on two tracks, was issued in 300 numbered copies by the Psych-Out label (cat. PO-33037).

Saint Just/Saint Just- LP

Saint Just/La casa del lago - LP

Saint Just/Dolci momenti - single, front and back cover

Saint Just Again/Prog explosion- LP

Saint Just/Prog explosion and other stories - CD

Jenny Sorrenti/Suspiro - LP

Jenny Sorrenti/Jenny Sorrenti - LP

Jenny Sorrenti/Sorridi - promotional 7" single

Jenny Sorrenti/Medieval zone - CD

Jenny Sorrenti/Com'è grande enfermidade - CD



Click on the pictures to enlarge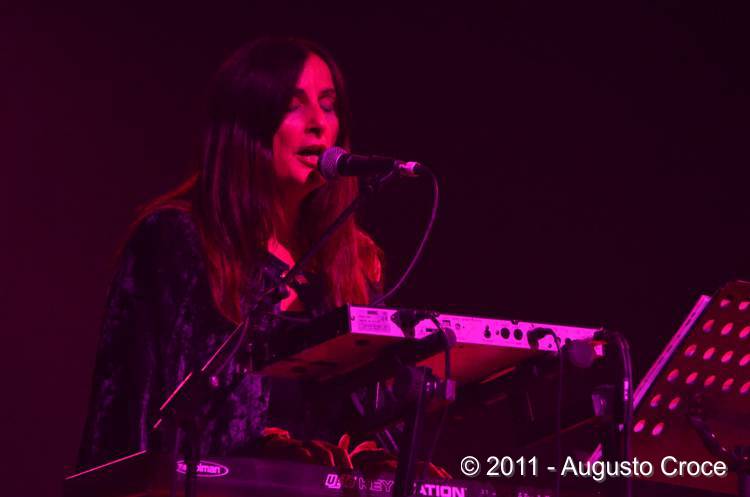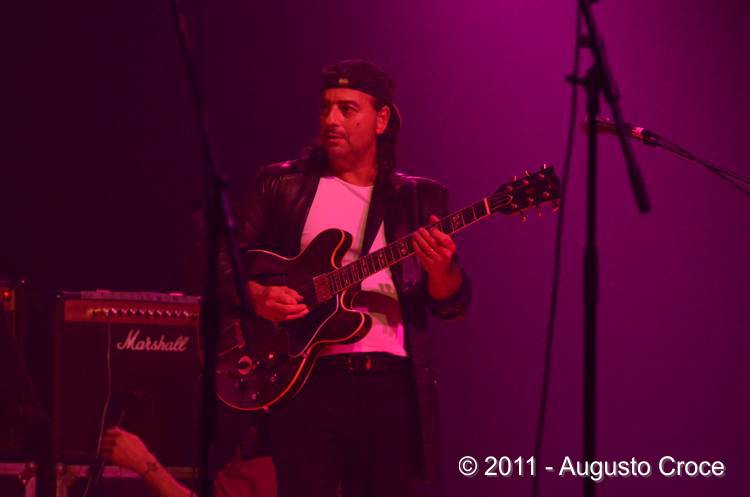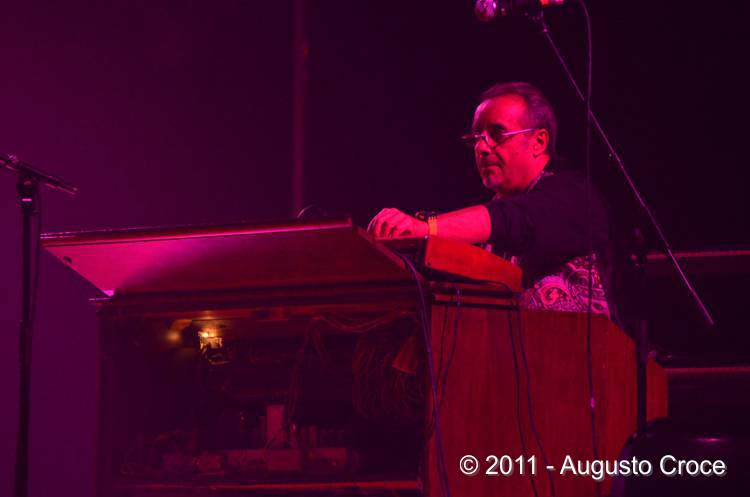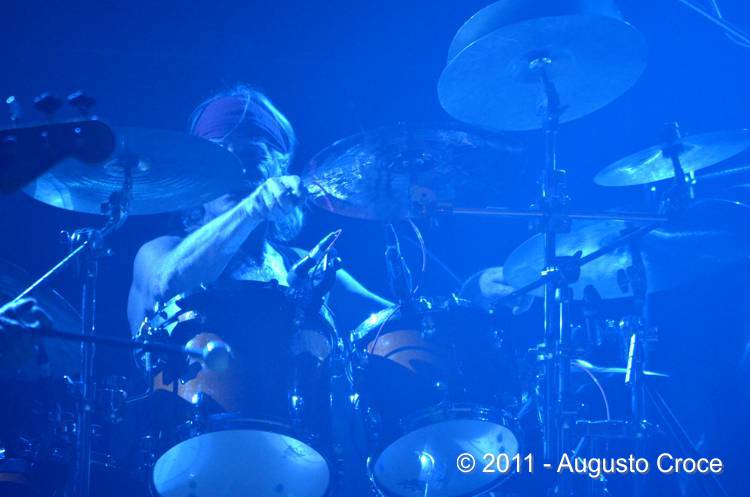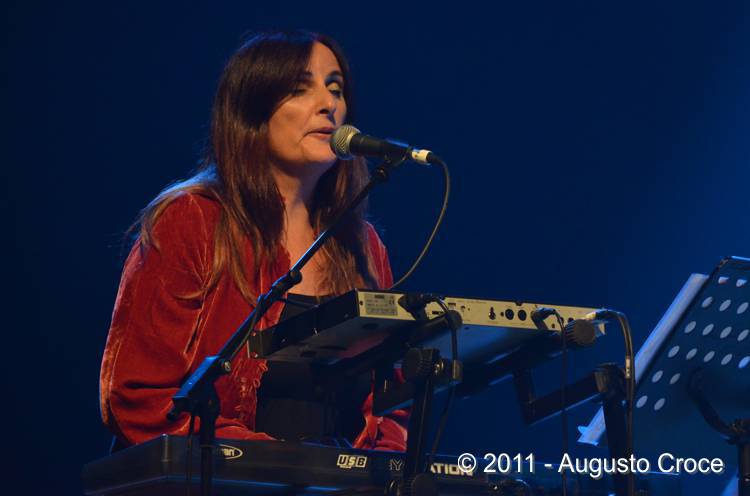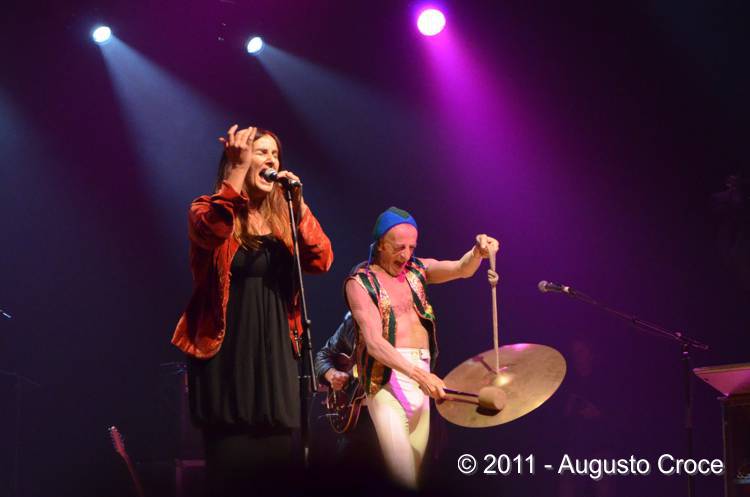 Saint Just Again
Prog Exhibition 2011 - Rome 21-Oct-2011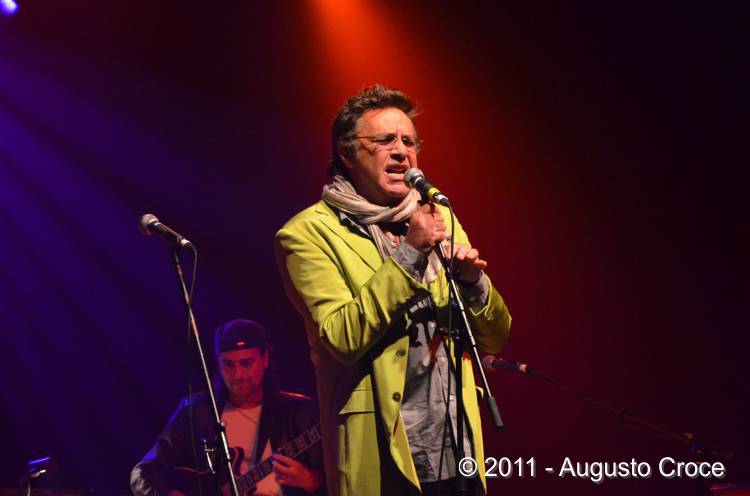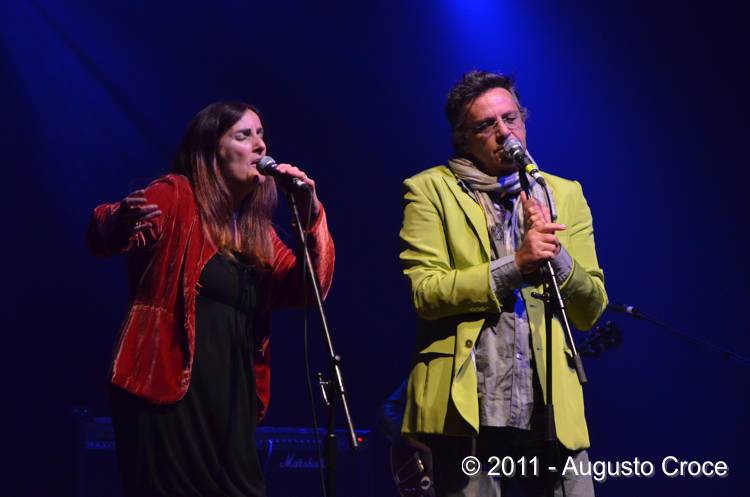 Saint Just Again & Alan Sorrenti
Prog Exhibition 2011 - Rome 21-Oct-2011

Find information and discography on Jenny Sorrenti's own website at http://www.jennysorrenti.it

Thanks to Valerio D'Angelo and Riccardo Maccari for some information and pictures in this page