The full list
S

Discography:
LP - Emancipated (RCA LISP 34162 - 1972)
Often described with the term "Italian progressive", this album from 1972 actually represented the attempt made by RCA to give a more modern look to a classic Rhythm & Blues band popular in Italy, the Four Kents. The vocal quartet, now including after many line-up variations George Chandler, Charles Cannon, Rudy Rollins and Stanley Evans, had been formed in 1966 by NATO soldiers based in Northern Italy and was helped on this record by the band Stump: Tony Ollard (guitar), Alberto Barisano (keyboards), Dino Cappa (bass, later with Libra) and Franco Di Stefano (drums).
The album, containing seven tracks with an average length of four minutes, is well played and based on multivocal parts and horn arrangements, but only in some instrumental parts and for the complexity of the compositions can resemble some less conventional progressive rock, with interesting results. It's likely that the LP was only released in promotional form with a white RCA Victor label.
It's worth mentioning the cover design by Up & Down Studio, that also produced some distinctive images of the Italian prog (Mu by Richard Cocciante, Atlantide by The Trip, the debut LP's by Quella Vecchia Locanda and Raccomandata con Ricevuta di Ritorno).
SANDEMAN

Discography:
LP - Love and dance (Tickle TLPS 5004 - 1972)
The duo of Sacchi and Giordano only released this instrumental and commercial album, but this came on the Tickle label, that also released Antonius Rex's Zora album. The LP exists in two slightly different versions: the export issue has a front laminated cover and some differences in the label design (the italian issue can be identified by a lemon logo on the label).
ROBERTO SANESI

Discography:
LP - Viaggio verso il nord (Rare RAR LP 55020 - 1972)
Much sought after by many serious Italian prog collectors because it features some important guest musicians, Viaggio verso il nord is in fact a poetry album, read by the author, the poet Roberto Sanesi, from Milan, on a gloomy musical background mostly based on keyboards. Among the collaborators of Sanesi on the record were keyboardist Gianni Leone and drummer "Gianchi" Stinga from Il Balletto di Bronzo, guitarist Ronnie Jackson, bass player Danny Besquet.
SANGI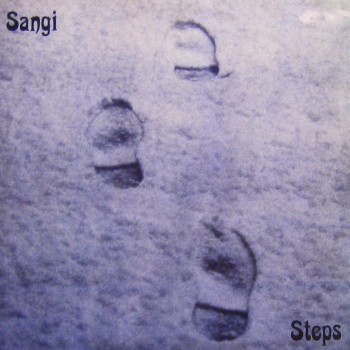 Discography:
LP - Steps (Sun 01 - 1978)
This artists has not to be confused with Sangiuliano: the guitarist from Vicenza Maurizio Sangineto only released a rare album in 1978 under the name Sangi, totally instrumental and mostly in a commercial fusion style. Among the musicians featured on the LP, there's a guest appearance by violinist Lucio Fabbri. With his nickname changed to Sangy, he has had a long career as record producer, film maker and creative designer, still going on today.
SBRANCO E LE PURGHE ELETTRICHE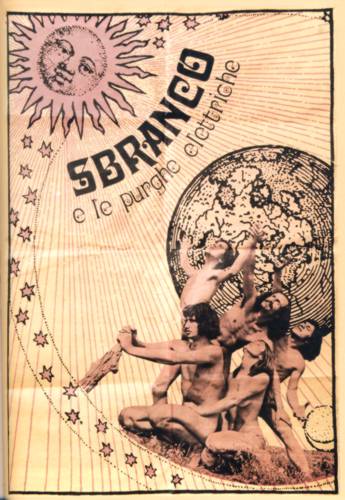 Line-up:
Sbranco (Augusto Guidi - guitar, sax, vocals)
Carmen Angeli (flute, vocals)
Elio Succi (keyboards)
Paolo Ricci (bass, vocals)
Claudio Balducci (drums)
Led by the talented Sbranco, this group was formed in 1968 and played until 1974 with various line-up changes. Their music was strongly influenced by Frank Zappa and other British and American groups, with a strong image and a powerful live act.
They were well-known in their area, having an intense concert activity and often opening for bigger names such as Premiata Forneria Marconi, Banco del Mutuo Soccorso, Osage Tribe, and even recorded a single in Milan in 1974, sadly never issued.
After the break-up Guidi kept playing under the name Sbranco Live Concert since 1975 for a couple of years, while his former wife Carmen Angeli went on with Le Purghe Elettriche until 1977, and with the new name Music Power until 1979, playing on cruising ships and in the night clubs.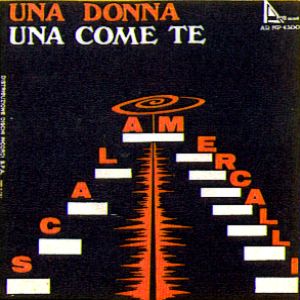 Line-up:
Graziano Alfieri (guitar, vocals)
Beppe Sanna (guitar, vocals)
Maurizio Babini (keyboards)
Carmelo Mauro (bass)
Antonio Cecchetti (drums)
Discography:
45 - Stasera qui/Due ricordi (Gevox 1948/45-1949/45 - 1970)
45 - Una come te/Una donna (Area ARNP 43001 - 1973)
One of many Italian groups mixing pop and rock sounds, Scala Mercalli originated in Genova. The line-up during their career was always the same, although bassist Mauro was not present and replaced by another musician for the recording of their debut single.
Of their two singles, the first is much rarer as it was privately produced and had a limited distribution. The A side is pop oriented with some touches of hard rock, while the B side is a nice ballad with some prog influences. The record was recorded in 1970 in Fonit-Cetra studios in Turin and issued in the same year or at the beginning of 1971.
The second single has good use of guitar and moog, but a strong orchestral arrangement in the chorus, the B side veers more toward commercial pop in Cugini di Campagna style. Recorded in Milan, this single was produced by former Rokes leader Shel Shapiro and issued on the Area label.
Line-up:
Claudio Simonetti (keyboards)
Stefano Cerri (bass)
Walter Martino (drums)
Formed by Claudio Simonetti and Walter Martino after the split of Il Ritratto di Dorian Gray, this trio had a short life but even had a national TV appearance, despite the lack of record releases. Simonetti and Martino went on to form Goblin, while Cerri later reappeared in Crisalide and had a successful career as session musician.
SEGNI DI VITA

Discography:
45 - Perdonami amore/Marks of life (Arlecchino D473A - 197?)
Only a single is known for this group with voice/organ/bass/drums, issued in the early 70's, but the record doesn't mention the year. The style is rather melodic, but the track on the B-side is an odd instrumental with the organ in evidence and a drum machine!
The only information on the musicians are the name of singer Deny on the A-side and organist An Van Evan on the back.
IL SEGNO DELLO ZODIACO

Line-up:
Gianni Borra (vocals, flute)
Luciano Borra (guitar)
Luigi Borra (bass)
Loris Borra (drums)
Discography:
LP - Il segno dello zodiaco (RiFi RDZ ST 14237 - 1974)
LP - Parlami sotto le stelle (RiFi RDZ ST 14284 - 1977)
+ singles
Formed by the four brothers Borra, this group from Vercelli was initially called I Fratelli, and changed its name to Il Segno dello Zodiaco around 1972, producing some singles and a debut album in 1974. Their style was mostly melodic pop but there are some tracks with rock and progressive influences (Mio padre, Dormi cara and Odio, amore, italian version of Geordie's Black cat woman).
A second album in 1977 was much lighter than their first.

Discography:
LP - Bio feed back (Emmebi MBL 1001 - 197?)
Guitarist Angelo "India" Serighelli continued his musical career after the end of his group I Raminghi until his death in May 2008.
His only solo album was released in the second half of the 70's and shows the good guitar-style of India, though most part of the LP is in ballad-style.
The same label from Bergamo, Emmebi, also issued a single by Mussi & India, recorded with the Raminghi guitarist Franco Mussita.
SESTO SENSO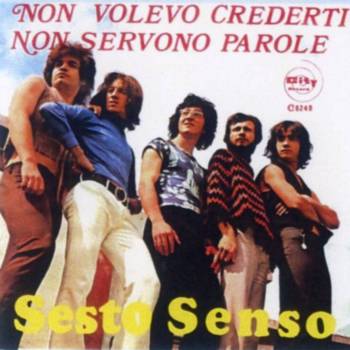 Line-up:
Lucio Iafisco (vocals)
Lino Garruto (guitar)
Aldo Ciavarella (keyboards)
Costantino Rana (bass)
Giovanni De Stefano (drums)
Discography:
45 - Non volevo crederti/Non servono parole (City C6248 - 1971)
45 - Non volevo crederti/Non servono parole (Queen City ME 5006 - 197?)
45 - Una rosa/E poi di nuovo (GDR 12100 - 1978)
This group came from Foggia. The 1971 single was released with two covers for different labels. It has a fuzz guitar in evidence but a melodic style especially in the vocal parts. After the record release the keyboardist and bass player were replaced by Angelo Palazzo and Franco De Matteis.
The group was later reformed by the singer Lucio Iafisco with a different line-up for another single.
SEZIONE FRENANTE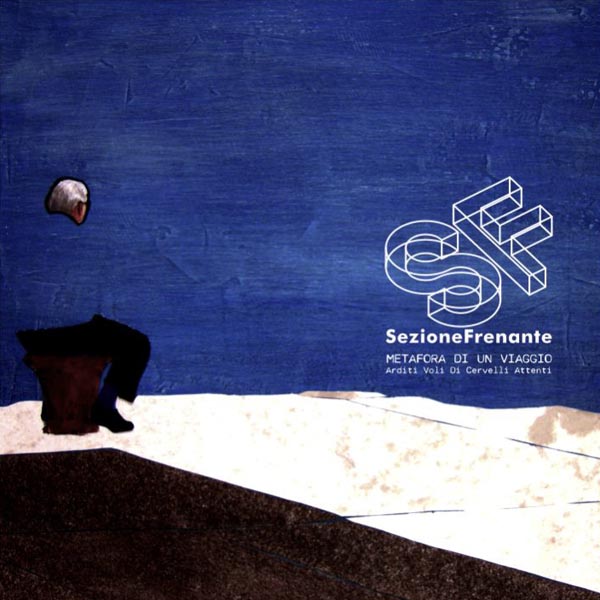 Line-up:
Luciano Degli Alimari (vocals)
Doriano Mestriner (guitar)
Mirco De Marchi (keyboards, vocals)
Moreno Favaretto (bass)
Alessandro Casagrande (drums)
Discography:
CD - Metafora di un viaggio (Ma.Ra.Cash MRC 041 - 2014)
Formed in 1974 as a quartet and playing briefly under the name Nuove Dimensioni, the group came to this line-up in 1976. Coming from Venice, they had a good career, opening for many important groups of the time (Le Orme, Biglietto per l'Inferno, Ibis, Perigeo, Tito Schipa Jr.), until the break in 1978.
In 2006 three original members (Mestriner, De Marchi, Casagrande) reunited with bassist Sandro Bellemo and singer Francesco Nardo, rearranging the suite inspired from Dante's Divine Comedy that had been composed many years earlier. After a self-produced CD EP in 2011, they released their debut CD in 2014, with reworking of old tracks and new compositions, all strongly influenced by the classic 70's Italian prog. Immediately after the CD release, the original singer Luciano Degli Alimari, who was in the band since 1976 rejoned the old cohorts replacing Nardo.
Websites:
Sezione Frenante - www.sezionefrenante.eu
SIAMO

Line-up:
Pinuccio (vocals, keyboards)
Giancarlo (guitar)
Gino (guitar)
Andrea Guenna (keyboards)
Giorgio (keyboards)
Vittorio (bass)
Vittorio (drums)
Discography:
LP - Siamo (Phantom LP 009 - 1979)
A seven-piece group from near Alessandria, Siamo only released a self-produced album in 1979. The LP includes eight tracks, all in a pop vein, sometime with good use of keyboards that give a slight symphonic touch.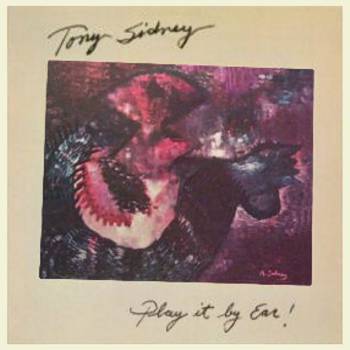 Discography:
LP - Play it by ear (RCA PL 31431 - 1979)
+ others
The half American guitarist of Perigeo, who had played with Florence group Le Madri at the start of his career, also released some solo albums since 1979. The first one, Play it by ear, though always in the jazz-rock style of his group strongly demonstrates the great technique of Sidney, especially in the use of acoustic guitar.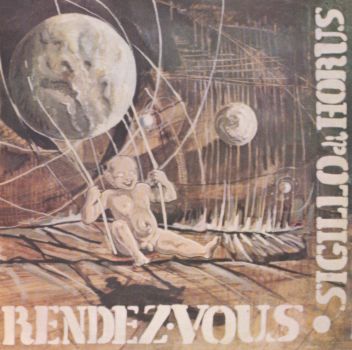 Line-up:
Michele Carlone (keyboards)
Maurizio Barbarisi (guitar)
Angelo Godone (bass)
Beppe Aleo (drums, percussion)
Discography:
LP - Rendez-vous (Grog GRL 05 - 1977)
LP - Effimera (Black Widow BWR 203 - 2018)
45 - Sei davanti a me/Tu che sei tra gli angeli (Picnic SH1001 - 1975)
45 - Stringimi forte/Hot dance (Kansas K531 - 1976)
45 - Tu sei il mio uomo/Io e te (Kansas 5100 426 - 1976)
45 - Antares/Samba di Horus (Grog GR 07 - 1977)
45 - Colorado/Carillon (Grog GR 010 - 1977)
45 - Ranch/Ritratto di un viso (Grog GR 012 - 1977)
Unusual addition to the Grog label catalogue, this group from Savona (Liguria) played a sort of electronic funky-disco very far from the other albums released by that label.
Il Sigillo di Horus started its career in 1973 with a strongly progressive sound and a five-piece line-up with singer Ivana Costi and keyboardist Diego Bertone (later replaced by Michele Carlone), but after a change of personnel they turned to a much more commercial style. Their prog-oriented period has been finally documented by the Effimera LP, issued in 2018 and containing old recordings by the early line-up.
The ten tracks included in their 1977 LP Rendez-vous had previously appeared on an album on the Magma label, Musiche stellari, credited to Gianni e i Suoi Solisti and probably issued a year before, in 1976.
Drummer Beppe Aleo later played with I Signori della Galassia and stayed in the music business founding the Videoradio label.
The band's original keyboardist, Diego Bertone, collaborated in recent years with another group from Savona, Il Cerchio d'Oro.

Line-up:
Franco Delfino (keyboards, vocals)
Gigi Mosello (keyboards, vocals)
Manuel Gustavino (guitar)
Bruno Govone (guitar)
Sergio Babboni (bass)
Beppe Aleo (drums)
Discography:
LP - Qualcosa si crea nulla si distrugge (Magic MRLP 1004 - 1978)
LP - Iceman (RiFi RDZ ST 14311 - 1979)
LP - Iceman (6T3 22003 - 2021 - reissue of the above - 500 copies)
45 - Creazione/Terza fila (Bang Bang BG 042 - 1976)
45 - Mamma/Peggio che bambina (Magic NPA 36 - 1978)
45 - Domenica con volpe/Illustrazione antica (Magic MRNP 1005 - 1978)
45 - Mamma/Ed ora vai via (Durium LDAI 8201 - 1978)
45 - Archeopterix/Vulcano (RiFi RFN NP 16773 - 1979)
45 - Iceman/Proxima centauri (Out MIX 23504 - 1979)
45 - Luce/Eliana (RiFi RFN NP 16822 - 1980)
Formed by past members of Le Volpi Blu and Il Sigillo di Horus, this group from Savona released two albums and some singles in an electronic disco style, with the musicians dressed in a "star wars" look. Their last single came in 1980, then the group disappeared.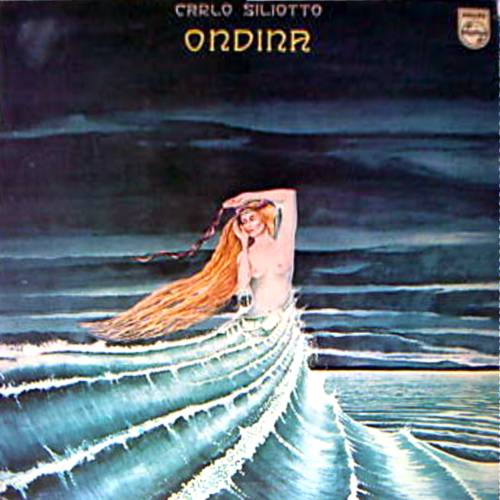 Discography:
LP - Ondina (Philips 6323 083 - 1979)
45 - C'è una donna/L'isola di Lamu (Philips 6025 237 - 1979)
One of the founder member of Canzoniere del Lazio, Siliotto mixed in his solo album the traditional folk influences of his past group together with a song-based pop style.
The album has been reissued on CD in 2010 by Universal as part of the Progressive Italia - Gli anni '70 vol.6 box set.
Discography:
45 - Bugie/Tempo di sole (RiFi RFN NP 16536 - 1973)
45 - Manie/Tempo di sole (RiFi RFN NP 16554 - 1974)
45 - Madre/Baby (RiFi RFN NP 16577 - 1974)
After the end of Circus 2000 the RiFi record company tried to launch the talented singer Silvana Aliotta as a more commercial-styled solo artist, but she didn't have a successful career.
On the second single, Manie is a cover of Long train running by the Doobie Brothers, while Baby, on the following single, is a remake of Be my baby by Phil Spector.
After three singles she left the scenes, to reappear later in the all-female group Le Streghe.
LA SIMBIOSI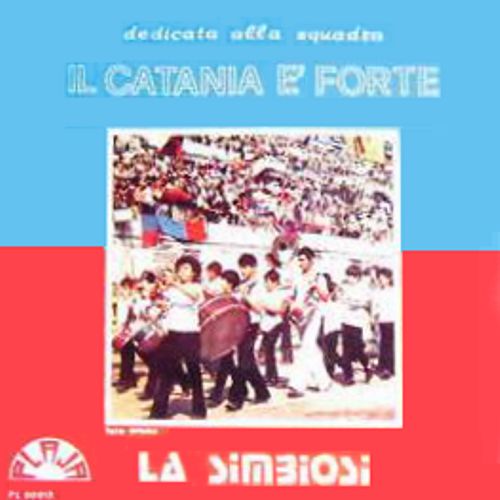 Line-up:
Sebastiano Panebianco (vocals, acoustic and electric guitar)
Antonino Anastasio (guitar)
Giuseppe Tricomi (keyboards)
Franco Garaffo (bass, acoustic guitar)
Giuseppe Anastasio (drums)
A sicilian group, from San Gregorio di Catania, formed in 1968 around the nucleus of drummer Anastasio, bass player Garaffo and original guitarist Armando Pacino, La Simbiosi played many concerts in their area until their split in 1977, with a style inspired by the likes of PFM, Le Orme and the New Trolls of Concerto grosso.
In 1974 they played in a pop festival held in Belpasso (CT) before Il Rovescio della Medaglia. In concert the group was often helped by a flutist, known as Gianni "the Postman". The group composed the tracks for an album called L'angelo della morte which was never released, though it was played live by the band.
Their only record release was a 1975 single dedicated to Catania football team, issued on the Playa label (PL00012), entitled Il Catania è forte. The B-side was Cantari Catania, composed and played by the group with the voice of local folk singer Salvo Tropea.
GIACOMO SIMONELLI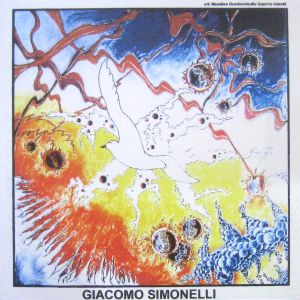 Discography:
LP - In discoteca (Bella BRLP 10027 - 1975)
LP - Inferno e paradiso (Cetra LPX 78 - 1979)
+ singles
Simonelli was credited as writer for all the tracks in Sirio 2222 by Il Balletto di Bronzo, and was probably from Naples as that group.
His album from 1975 is notable for his cover, designed by Massimo Guarino and Lino Vairetti from Osanna. The album has two different sides, one of these with commercial pop music with orchestral arrangements, the other with the long All'improvviso suite, more progressive-inclined. Guitarist Fausto Mesolella, later with Mediterranea and Avion Travel, plays on the album.
GIANNI SIVIERO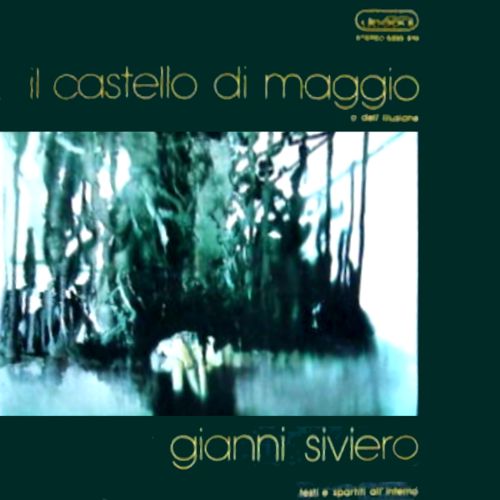 Discography:
LP - Il castello di maggio o dell'illusione (Divergo DVAE 010 - 1976)
+ others
Singer-songwriter born in Turin, Siviero released three LP's between 1972 and 1977, the last of which, Il castello di maggio, is often described as close to progressive sound.
It is in fact a song album containing nine compositions based on acoustic guitar, with some keyboards and flute arrangements that give a slight prog touch.
Websites:
Gianni Siviero - www.giannisiviero.it

Discography:
CD - Assalto alle nuvole (Mellow MMP 152 - 1994)
Formed by Ciro Perrino after Compagnia Digitale this group had much in common with that one, though their blend of space rock was a bit more psychedelic. Their only posthumous CD, including unreleased recordings from late 70's, has been released by Mellow in 1994 and doesn't have a great recording quality.
LA SORGENTE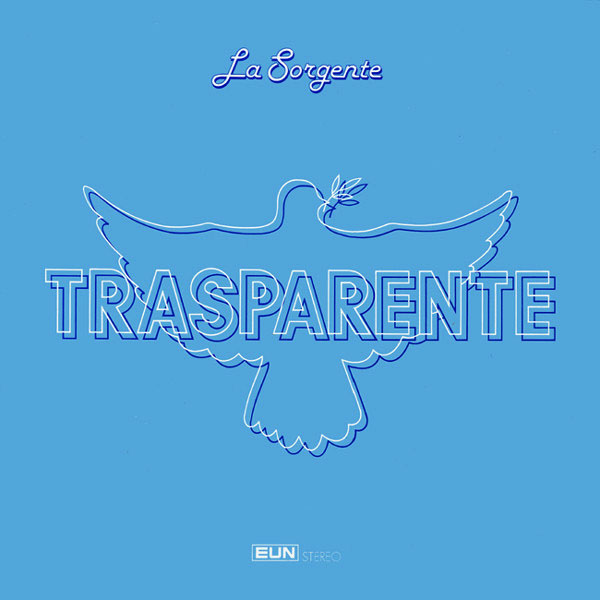 Line-up:
Pino Carella (vocals, keyboards)
Bruno Raia (vocals, guitar)
Daniele Giuliani (violin, viola)
Raffaele Giuliani (flute)
Stefano Martinelli (piccolo, percussion)
Walter Destri (bass)
Franco Rossetti (drums)
Discography:
LP - Trasparente (EUN 3316 LP - 1981)
A very rare album, never reissued on CD, which is part of the religious-inspired Italian pop. Some say it was from 1979 (and this is why it's included here), but the album was actually released in 1981.
The group La Sorgente was formed by composer and keyboardist Pino Carella with Bruno Raia, Daniele and Raffaele Giuliani, who were helped, for the recording of the LP Trasparente, by guest musicians Martinelli, Destri and Rossetti.
Including ten tracks, the album is acoustic with multi-vocal parts and religious inspired lyrics. The starting Prologo, the only instrumental, has a medieval folk atmosphere, the others are songs between folk and symphonic pop.
SPAVENTAPASSERI

Line-up:
Alberto Valli (guitar, vocals)
Maurizio Valli (bass, vocals)
Gerard De Vincenzo (drums, vocals)
Discography:
45 - Volere bene a tutti/Bu-Ga-Boo (Equipe EQ0126 - 1970)
The only single by this group from Milan has been discovered in recent years and is now highly sought-after. It's definitely hard rock-styled, with psych (the lead guitar part on Bu-Ga-Boo) and late beat influences (the refrain on Volere bene a tutti).
The initial name of the band, Gruppo Uno, was changed to Spaventapasseri on the suggestion of the TV host Pippo Baudo when the trio took part for more than a year in his program Settevoci.
After the group's demise, guitarist Alberto Valli joined Equipe 84 around 1972 for their live activity, then played with Simon Luca and Flora Fauna Cemento on their 1975 album Disamore. He also released a solo single in 1977.

Line-up:
Corrado Nofri (keyboards)
Gaetano Delfini (trumpet, vocals)
Giancarlo Maurino (sax, flute)
Peppe Caporello (bass, guitar)
Giampaolo Ascolese (drums)
Discography:
LP - Spirale (King NLP 112 - 1974)
LP - Spirale (Dialogo DIALP 922 - 2021 - reissue of the above)
CD - Live inside (Lake - 2011)
CD - Spirale (Dialogo DIACD 922 - 2022 - reissue of the 1974 album)
A group from Rome, Spirale only released a good jazz rock album, little known among collectors and incredibly rare. Among the influences that can be heard in their music there are Nucleus and Soft Machine, mixed with a Mediterranean feel.
Four of the five musicans then formed Folk Magic Band, that released the Jazz al Folkstudio LP in 1976.
Spirale reformed with a live album in 2011 with the original line-up featuring Michele Ascolese (chitarra) replacing the late Corrado Nofri. Ascolese was in the early line-up of the band but had to join the army and was replaced by Nofri for the recording of the LP.
The first official reissue came out in 2021 for the Dialogo label (on LP, later also on CD), but there were two other reissues, probably unofficial: a 2020 CD with gatefolc mini-LP cover and an LP version with marbled blue vinyl (Magnet Musikverlag label) also from 2021.

Discography:
LP - Thor (Delta ZPLDE 34054 - 1979 - as "Thor")
LP - Uomo irregolare (Ciao CIA 1004 - 1980)
+ singles
The Metamorfosi singer tried a solo career at the end of the 70's. Despite his talent as singer and his powerful voice, both albums failed to recreate the atmospheres of his old group, being more in a song style.
Under the name Davide a rare single was issued in 1983 containing ...e lasciala cantare/Marylisa (Mio 003).

Discography:
45 - Love/Soldier (Bla Bla BBR 1334 - 1973)
An unknown group that only released a single on Bla Bla, just worth mentioning because it features Franco Battiato on vocals.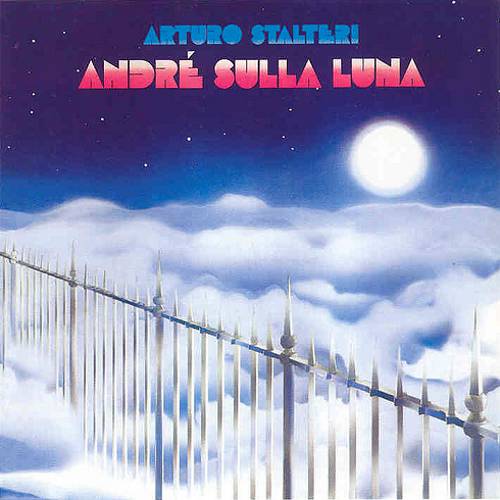 Discography:
LP - André sulla luna (It ZPLT 34062 - 1979)
LP - E il pavone parlò alla luna (Lynx Z 00565 - 1987 - copies exported to Japan had an additional obi)
LP - André sulla luna (Sony Music 88691 98900 1- 2012 - reissue of 1979 album)
LP - E il pavone parlò alla luna (Soave SV 06 - 2017 - reissue of 1987 album with different cover - 500 copies, 100 of which on clear vinyl)
LP - From Ajanta to Lhasa (Soave SV 26 - 2020 - recorded in 1979 - 300 copies, 100 of which on red vinyl)
CD - André sulla luna (MP Records MPRCD 006 - 1997 - reissue of 1979 album)
CD - E il pavone parlò alla luna (MP Records MPRCD 045 - 2005 - reissue of 1987 album)
+ others
The talented Pierrot Lunaire keyboardist also tried a solo career after the split of his group. The first album is totally instrumental, sometime it reminds of his old group's atmospheres though the keyboard parts can be a little boring at times. A second album followed in 1987, and others again in the 90's, more in a new age style.
The album From Ajanta to Lhasa released in 2020 was recorded by Stalteri in 1979 after a trip to India and is influenced by composers such as Terry Riley and Philip Glass.

Line-up:
Stefano Palladino (vocals, classical guitar)
Nazario Gargano (vocals, classical guitar)
Giampaolo Belardinelli (vocals, acoustic guitar)
Ettore De Carolis (acoustic and electric guitar)
Franco Coletta (bass, acoustic and electric guitar)
Nicola Samale (flute)
Adriano Giordanella (percussion)
Discography:
LP - La stanza della musica (Philips 6323 060 - 1978)
Founded by Stefano Palladino and Nazario Gargano, who had already released two albums in 1975 and 1976, this group took on the attempt of the authors to mix poetry with a folk-rock background. Among the 11 tracks included in the LP there are compositions by Italian and foreign poets, from Belli to Machiavelli, from Rimbaud to Lorenzo De' Medici.
Among the musicians featured in the album are Ettore De Carolis and Franco Coletta, past members of Chetro & Co.
The album has been reissued on CD in 2010 by Universal as part of the Progressive Italia - Gli anni '70 vol.8 box set.
LA STORIA VERA

Discography:
45 - Lei era il mio sorriso/R.A.S. (City C6297 - 1977)
Just a single for this band, in a melodic style on the A side, while the B side is a faster rhythm & blues. Both tracks are included in the CD Alto Volume 4 1975-1982 - Atmosphere by Giallo Records (FS 1018/2), and according to the liner notes the single was issued in 1977, though it sounds more dated.

Line-up:
Nicola Scarano (vocals, various instruments)
Sonia Milan (vocals, various instruments)
Discography:
LP - La natura è musica (L'Orchestra OLPS 55008 - 1979)
LP - Lo strumento fa concerto (Karamelle KG334 - 1980)
LP - Lo strumento fa concerto (L'Orchestra OLPS 55015 - 1980)
Strumentoconcerto was an atypical group, formed as a vehicle to demonstrate the interest of Nicola Scarano and Sonia Milan for music instruments of all kind, conventional or ethnic.
Active since the early 70's the two musicians joined Cooperativa L'Orchestra with which they issued their 2 LP's, and at the same time played in the original line-up of Mamma Non Piangere, playing on that group's debut album.
On their first LP, La natura è musica, Lorenzo Leddi, multiinstrumentalist and leader of Mamma Non Piangere collaborated with them, the album being a sort of children's tale based on the voices of the many instruments used. Second album, Lo strumento fa concerto, self-produced by the duo in 1980 and then issued on L'Orchestra, is more mature and also contains some folk/rock tracks from the european tradition.
The two musicians created the Strumentoteca d'Arte Musicale in Birago di Lentate (near Milan), an interesting museum of ethnic instruments including more than 13,000 items.
Sonia Milan plays now in a duo called Ameritalian with American guitarist Greg Patton, and they have played in USA, Italy and other european countries, and produced a CD in 2006.
Websites:
Sonia Milan/Ameritalian - www.ameritalian.com

Line-up:
Ciro Perrino (keyboards, drums)
Alex Magazzino (guitar, bass, vocals)
Lady Mantide (vocals)
Giorgio Battaglia (bass)
Silvano Cecchini (bass)
Francesco Di Masi (drums)
Enzo Cioffi (drums)
Mimmo Di Leo (drums)
Discography:
CD - Icarus (Mellow MMP 105 - 1992)
CD - Icarus (Mellow MMP 550 - 2021 - reissue of the above with a bonus track)
LP - Icarus (Mellow MMLP 109 - 2021 - 2 LP reissue of the above with two bonus tracks - limited edition on coloured vinyl)
One of many groups formed by Ciro Perrino after Celeste and before his solo album in the 80's. Bass player Giorgio Battaglia also came from Celeste. The style of the group was a space rock that brings to memory Gong or similar groups, but they didn't release anything during their short lifespan.
The Icarus CD contains unreleased studio recordings from 1977-78. All the CD's 10 tracks have been included in the Celeste box set 1969-1977 - The complete recordings.
Perrino, Magazzino and singer Lady Mantide later formed another shortlived group called Compagnia Digitale.
The album was reissued in 2021 on CD (with a bonus track) and double LP (with two bonus tracks).
SUONOFFICINA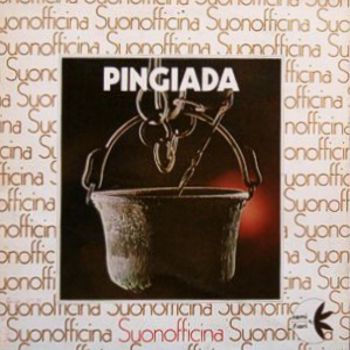 Discography:
LP - Pingiada (Cetra LPP385 - 1978)
LP - Iandimironnai (Key KE 1002 - 1982)
A group from Cagliari, Suonofficina were formed in 1977 by brothers Roberto and Mauro Palmas and recorded two albums which included reworkings of folk music from Sardinia and the mediterranean area, played with traditional and modern instruments.

Line-up:
Ricky Gianco (vocals)
Mino Di Martino (vocals, guitar)
Pietruccio Montalbetti (vocals, guitar)
Victor Sogliani (bass)
Gianni Dall'Aglio (drums)
Discography:
LP - Il Supergruppo (Ricordi SMRL 6069 - 1970)
+ singles
As their name clearly explains, Il Supergruppo was created with some members of late 60's popular groups, Giganti, Dik Dik, Equipe 84, Ribelli, under the guidance of Ricky Gianco. The group only lasted about a year, taking part in the 1970 Sanremo Festival with Accidenti, also recorded by Il Balletto di Bronzo, and their only album is rather commercial.

Thanks to Marco Catellani, Fabio Marchignoli, Giuliano Semprucci, Antonino Anastasio, Fabio Locatelli, Antonio Rosetti, Federico Bordo, Alessandro Chiotti, Ubaldo (Franco) Cibei, Claudio Ponti, Franco Garaffo, Valerio D'Angelo, Marco Silvestrini, Pino Carella, for pictures and information on this page
Other alphabetical index pages
A B C D E F G HIJK L M N O P QR S T UV WXYZ