Artist

THE BLUES RIGHT OFF

Claes Cornelius (vocals, guitar)
Giancarlo Salvador (bass)
Fuffi Panciera (drums)
Paolo Zanella (flute, guitar)

+ Ermanno Velludo (sound engineer)

A very little known group from Venice, but their only album, released in a very limited pressing, is among the rarest of the Italian 70's rock.
Not really a progressive rock album, this is surely a progressive work, starting from its odd jute sack cover. It was also one of the first (or possibly THE first) LP's by an Italian blues band, as the blues was considered in Italy as a music only reserved to foreign musicians during the 60's.
The band's leader, guitarist Claes Cornelius, was in fact a foreigner, from Denmark, that had moved to Italy in the mid-60's and soon played an important role in the beat era and afterwards.
He had founded with sound engineer Ermanno Velludo the Suono Recording Studio.
The album, Our blues bag, contains seven tracks, all sung in English and in the best blues tradition, based on electric lead guitar solos and high-pitched voice. All the tracks are original.
Some Canned Heat similarities can be heard in the vocal parts or the use of a flute (like in Rushing wind), but generally the group has a personal sound.
The band had been formed at the end of the 60's, and after its demise Cornelius kept as a session player, moving to the USA for a year, and then, back in Venice, contributing to Venetian Power's The arid land. He moved back to Denmark in 1974 and has stayed in the music biz since then, as a producer and musician.

LP
Our blues bag
Paplirnaplano (MLP 004)
1970
500 copies, housed in a hessian bag silkscreened with the group's name and LP title - some copies include a print


CD
Our blues bag
AMS/BTF (AMS 137CD)
2009
500 copies numbered reissue of the 1970 album - mini-LP cover and booklet

An incredibly rare album, Our blues bag changes hands for princely sums.
It was privately pressed in 500 copies and housed in a hessian bag silkscreened with the band's and record name, and also contained a lithographic print by venetian artist Vittorio Basaglia. The original print is hand numbered stating a total number of 150 copies and signed by the artist, hence not all the albums issued did contain it. Even the hessian bag was not probably present in all the copies sold or distributed.
Despite the low number of copies pressed, there are three different variants of the non-gatefold cover: along with the standard version with right-side opening there are copies that have the record inserted from the left-side and others which have the cover made by a single sheet folded in half and not glued.
No counterfeit exists.
The album has been reissued for the first time in 2009 on CD by AMS, it was the first chance for many collectors to hear it. This reissue, made with help from Claes Cornelius and Ermanno Velludo, comes in a hand-numbered 500 copies pressing, housed in a mini-LP cover and includes a booklet with notes in italian and english.
In 2012 the first vinyl reissue ever made for this record came out in England, produced by the Portuguese label Golden Pavilion Records (GP 1015LP) in 500 copies with a gatefold cover.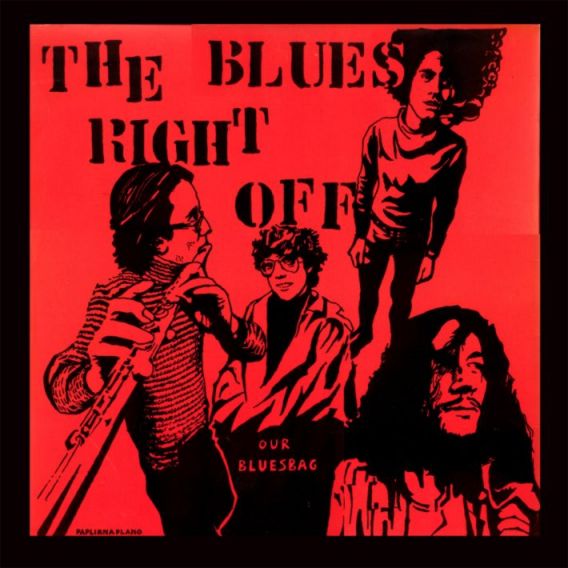 Our blues bag - LP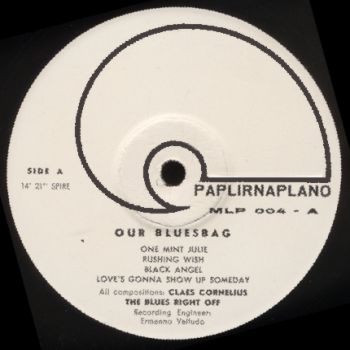 Our blues bag - LP label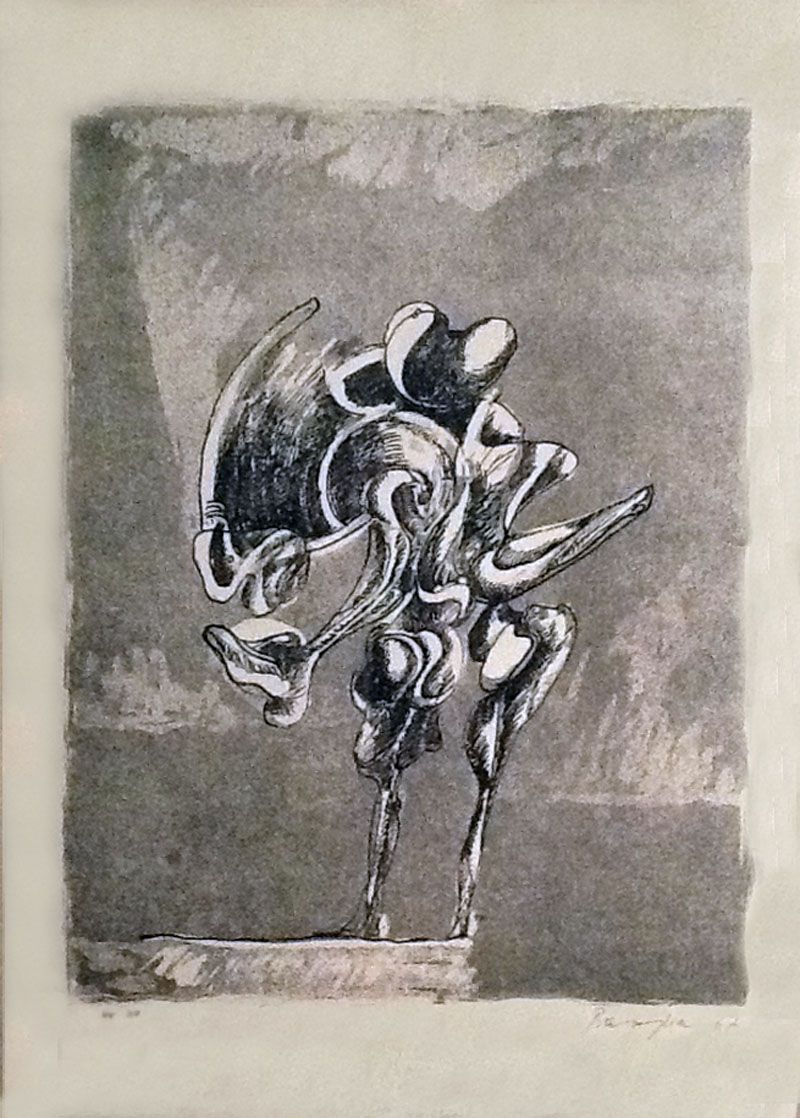 Our blues bag - original lithography by Vittorio Basaglia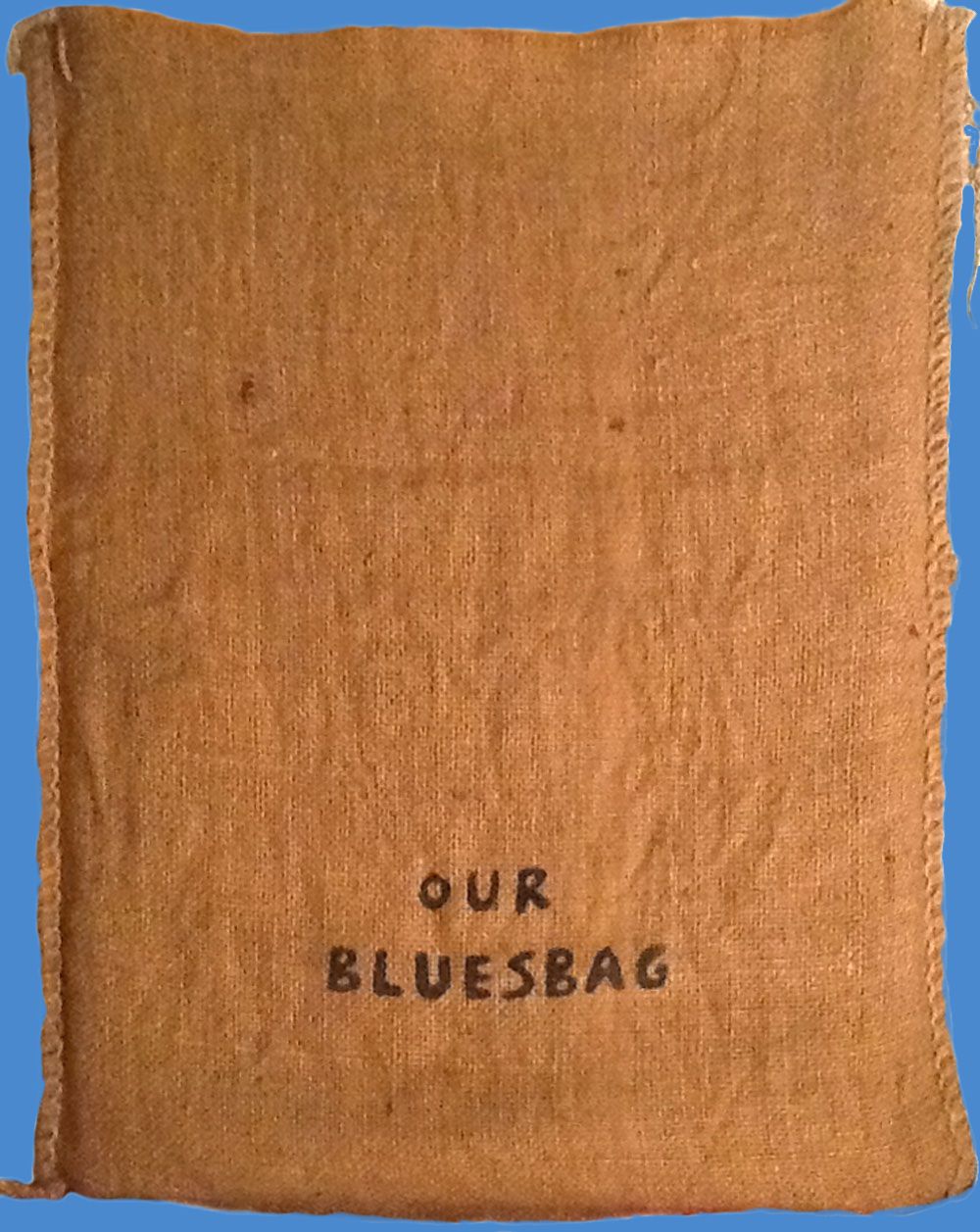 Our blues bag - original bag

Asked for information on his musical activity in Italy, guitarist Claes Cornelius has kindly contributed with a long and detailed description of his experience in Italy, since his early days as a young musician in Venice until his work with top names of the Italian rock and prog scene of the 70's.
The memories of Claes Cornelius, June 2003
THE MUSIC SCENE IN VENICE DURING THE MID-SIXTIES
Venice qualifies as a musical city - from the "Oé" of a gondoliere making his way through the narrow canals of the city admonishing someone behind a blind canal corner that "I'm here" to Luigi Nono, a modern classical music giant in Italy. Tourists taking an evening romantic gondola ride are serenaded to the tune of Fascination (a US evergreen), O Sole Mio (from Napoli) with Gondola' Gondola' (a Pop hit from the San Remo festival) seemingly the only truly Venetian contribution. There is of course the classical music section, starting with San Michele's old non-tempered organ via its Gregorian choir tradition on to the Benedetto Marcello music conservatory and its care for the restoration of ancient music forms and instruments as well as modern avant-garde. It also houses the La Fenice opera house, severely damaged some years ago by a fire.
In Pop terms, the Doge of Venice in the mid-60s was Pino Donaggio, a Pop singer participating to likes of the San Remo festival but mainly, as was to be shown later, a brilliant composer whose songs were translated in many other languages, notably in English as for example "You Don't Have To Say You Love Me". Folk singer Lino Toffolo also had his moments of glory back then.
Giandomenico Crescentini [later in Le Stelle di Mario Schifano] also got some notoriety for joining in as a bass player for the then-hot teen and Milano-based idol group New Dada while local group Le Orme started out with an impressive debut album.
The advent of what was termed "the Beat music generation" started out in earnest with The Beatles, The Rolling Stones and a deluge of British similar-minded bands. San Remo, Cantagiro and so on strictly ruled music in Italy, and if not domestic, the hits were sourced abroad and translated to Italian in cover versions. Groups like Equipe 84 or the UK expatriates The Rokes starting to write own music instead of recording covers and new bands sprouted forth in their wake all over the country, including Venice. Compared to their mainland counterparts, bands in Venice had a tough time in terms of logistics and transportation, few opportunities to perform within Venice itself and abnormal difficulties in having decent rehearsal facilities. The only moneymaking musicians back then were those playing in nightclubs, or during the summer season at beach resorts nearby. Another viable possibility for Venetian musicians was to get a job on one of the many cruise ships crisscrossing the Mediterranean and inevitably having a nightclub of sorts on board needing a live band to execute any possible customer song request.
Incredibly, the Catholic Church embraced this new Beat music and started to have mass featuring bands now introducing electric organs rather than the usual church ones - the churches also gave alternative venues and rehearsal facilities for bands, that in principle, were not bent on a Christian message. It must have been a case of "if you can't beat them, join them"!
In a talent competition mad-happy Italy known for its fever pitch for the San Remo song festival, there were also several battle of the bands-like competitions taking place in Venice. The usual comment afterwards was "it's been fixed - it's a scandal!"… That is basically what every football team manager also states after every loss on the field… Anyway, I remember one such talent competition back then, where half of the bands presented the same song, La bambolina che fa no no no (a cover of Michel Polnareff's La Poupée Qui Fait Non). I really and now can't remember exactly what song we did, but it was one of those heavy bluesy things in English that landed us at the bottom of the list - last!
A DAY IN THE LIFE OF THE AVERAGE VENETIAN BAND:
Venice is basically some hundreds of propped-up barren sand islands in an ever-shifting lagoon landscape. It cannot expand in size like modern cities can, the land reclaimed in Monaco being an example of what is ecologically not possible in the case of Venice. The city and lagoon islands are also at the mercy of the high tide "acqua alta" phenomenon recurring punctually every year in the winter or spring season. The typical struggling band in Venice would have ground level rehearsal space - in Venice, ground level in a building is a mere inches from water level, and when the acqua alta comes, ground level space is invaded by water! The humidity factor is also severe, with a constant danger of getting electrical shocks and facing an early electrocution. Rats are endemic to Venice, so I won't even bother to mention their presence.
In terms of schlepping heavy band equipment about, Venice offers only waterways for a band en route to wherever a gig May be. So a day in a band might entail the following:
- getting up early in the morning, walk a kilometer or two to get to San Trovaso, where a "peata" (Venetian water van boat) can be rented. From San Trovaso you go through a meander of canals to wherever your rehearsal space is to pick up amps, guitars, drums, and so forth. - move everything to Piazzale Roma, the front line of the automotive civilization in terms of the car-less Venice. - load everything aboard a rented minivan and drive on destination. - after having set up, played and packed down everything again, the above applies in reverse… all the way getting everything back again with the "peata".
The typical equipment back then:
Only the very well off could afford a Fender or a Gibson guitar in those days - they were scarce in shops while ultra-cheap Eko guitars were all over the place. The Galanti brand was then regarded as being slightly more up-market while impromptu names like Bigson were producing clones of the Gibson ES-335 - I've had a couple of examples of Ekos and one 335-type Bigson along the way: they were workable but quirky and hard to play also due to the primitive amplification of those days. However, Stanzani & Tomassone [luthiers in Bologna] produced some stunning Les Paul clones that probably sound better than the real deal still to this day while also fixing and fine-adjusting the guitars of the stars - at a price, mind you.
In terms of imported brands back then, Framus and Höfner were among the leading in terms of "bang-per-buck" guitars, but I ended up buying a battered Gibson SG Special (the one with two P-90 pick-ups), left over by a US soldier in a Verona shop and missing a pick-up. Rumors of a "Gibson for sale" reached Venice, eventually, and I went to Verona a couple of times to look at the beast before summing up money (Lit. 150,000 - you could get 10 Eko guitars for that amount) and courage to buy what basically looked as a wreck. It served me well until finally destroyed in a recording studio accident in Denmark, in the late 70s.
Amps were the likes of Steelphon and Eko low-watters for those on a budget while the Vox AC30 and its 50W or 100W Foundation Bass incarnations were the choice for the professionals. On the PA front, Semprini and Davoli reigned supreme while Binson was the echo machine of choice. Within a few years, more upmarket amps came with the likes of FBT, Montarbo, Lombardi, LEM while Marshall, Hiwatt and Sound City makes were imported from the UK.
No mention of the scene in Venice would be complete without a reference to music shops like Ivo Regazzo's music instrument store or the Brancaleon record shop. The Gasparini high street shop also merits a mention for having a Fender Esquire (a cheaper version of a Telecaster) unsold for years in its window display, as nobody could really afford it.
ERMANNO VELLUDO & THE SUONO RECORDING STUDIO
Passing by and having heard a concert going on, I checked in to see what the racket was all about. It turned out to be the Venice cast of the US Up With People show. I had at that point previoulsy spent a year touring with UWP in Italy, the US and Zaire (now Congo) whose star at the time was none other than the very excellent singer-turned-actress Glenn Close. So, I stayed to watch the show and noticed the engineer at the mixer as being your typical Einstein, brainy and totally committed. He looked a bit like Albert E., with a wave of unruly hair flowing about and he also had a distinct audio nerd aura. I stayed after the show, hoping to meet him, which I did. We made friends easily and started right away to talk about sound, microphones and tape recorders, a passion for both of us. I grew up with several tape machines in the household and got to get the hand-me-downs to tinker with. Within short, I was the family sound man, managing the levels of the recorders and looking after that magic eye level meter used back then.
We started out by bundling our equipment and having a makeshift studio in Ermanno's attic with some mikes and a Binson tube preamp. Occasional live gigs were also recorded, a musical soundtrack was done and used for theatrical performances ("The Arid Land" by Claudio Ambrosini's Venetian Power), an own produced album with The Blues Right Off and things developed into a "let's make a studio" plan. We decided against even trying to find something workable in Venice and eventually found an old cow stable at Tre Garofoli, right next to a posh Fürstenberg mansion. The place had been available for rent for some time, but nobody was willing to clean up all of the dirt - until Ermanno and myself came into the picture.
We hired a skilled worker to help us out, and we became his slaves to the tune of "do this, do that" as none of us had any practical knowledge as to building materials and so on. We thus cleaned the dirt out, chalked up the walls and after two months of toiling we were finally ready for the next steps. A huge studio room window was installed to allow unrestricted view of the studio area from the control room. All along we had been shopping for affordable equipment and ended up having a quite nice set-up.
We found out that the Milano Recording / CBS Studio had an old mixer for sale - a Neumann, no less! It had recorded countless Italian hits but was now passé, as the developing multitracks going from 4 to 8 to 16 and onwards to 24 tracks had rendered obsolete a mixer intended for 2-track stereo recordings at the very most (mono was king until the mid-60s). The enterprising Ermanno redesigned it totally, ripping it apart, re-cabling everything in a larger frame. Off went the old Ruwido faders and in came new Penny & Giles units, the very best possible. We got blueprints for the very first available Siemens parametric equalizer, a sensational development back in the late 60s and made a series of these, permanently wired up in the mixer. Sends and returns were expanded to accomodate more echo or special FX to be used when recording or mixing and the whole shebang was configured as a 4-track mixer.
The recorder was a heavily souped-up and modified Revox A77, with a Pabst drive replacing the original. The heads were also ditched, to install 4-track heads while the electronics for the channel inputs were of course doubled up. The tape went from ¼" to ½" and the tape speed doubled to 15 ips, gaining a varispeed control as well.
The name Suono came from manager/musical editor Toni Tasinato, who had a music shop with that name in Mestre. Me and Ermanno were young novices in the music biz, and hoped to have important customers in our studio by using the Suono name. In the end the most part of the customers came from our own work and acquaintances.
Tasinato was then working with Franco Mamone, Francesco Sanavio and other managers, organizing concerts for the Italian groups and even international artists. They have been criticized by many, but it has to be said that they have made an incredible work for love of the music, launching a lot of alternative groups that couldn't have any other chance.
After the birth of record companies like Bla Bla, Numero Uno, Cramps, even Suono began releasing records (other than being a publishing company), but this happened after my return back to Denmark.
THE BLUES RIGHT OFF
Our blues bag is a white blues record very primitive in terms of sound quality, as it was recorded on a semiprofessional Tandberg two-track machine, with two old Binson tube mixers and the microphones we had at the time, all in mono! All the tracks were self-penned and we didn't try to imitate the US bluesmen.
The cover was born out of the collaboration between the group, engineer Ermanno Velludo and venetian painter Vittorio Basaglia. A lithography made by him was inserted in a jute sack that had the band's name and the title Our blues bag silkscreened. At least the cover was progressive! Or maybe the last track, a recorder solo filtered through a Binson Echorec.
ALAN SORRENTI
Massimo and Manuela Villa introduced Alan Sorrenti to me. At the time, Sorrenti was a rising superstar following a successful album recorded with Jean-Luc Ponty, among others. I knew his music from having heard his material on the radio - it was very acoustic, with Alan's high-pitched voice soaring above a bed of acoustic guitar strumming and brought-in session musicians such as Ponty. What followed was a visit to the Suono Recording Studio at the outskirts of Mestre, near Venice. He was in the neighborhood for a solo concert and decided to zoom by in his white Ford Transit van. As things usually develop, it was decided to have a jam… Ermanno Velludo, Suono studio engineer and resident producer and myself hooked up a PA system and huge speakers in the studio room and a couple a loud guitar amplifiers were carried in as well. What followed was a psychedelic and very electrifying duel of rock-oriented guitars, with Alan soaring on top with his voice. In retrospect, this May have changed Alan's stance as to electric guitars. It was during the Winter, and his Transit diesel van got stuck, refusing to start up - everyone had to chip in and after a couple of tries, we succeeded in starting the van by pushing it until the motor started… Later on, Massimo came into the picture again, promoting a remarkable concert with Alan at Re Nudo in Milano - having played bass with Stormy Six before embarking into journalism, Massimo anchored the bass while Alberto Camerini and myself provided the guitar mayhem. While Sorrenti's style was based on gossamer textures of acoustic guitar coupled with an angelic and delicate voice, his songs took on new life when subjected to brutal rock. Sorrenti was later on to turn even more towards mainstream Pop, with hits in Italian and English across Europe.
NINO SMERALDI (Le Orme)
While growing up and starting out on guitar in Venice, I also started getting acquainted with the local music scene. In those days, Le Orme was the numero uno band to come from the Venice area, being known all over Italy following their debut album Ad Gloriam, and a daring album for the time. Nino was thus a superstar, lead guitarist in version one of Le Orme but was soon to leave them due to the usual "musical differences"…
Being back to Venice, some fellow musicians introduced me to Nino and I was instantly impressed. This guy was a superstar and yet he was nice and helpful with advice and guidance for the young and inexperienced musician I was back then.
Nino soon hooked up with the extraordinary singer and multi-instrumentalist Hans Triebnig, then the "Mick Jagger" of Austria, to form the core of what was supposed to be sort of a Led Zeppelin-style set up: think the vocals of Robert Plant along to the orchestral guitar of Jimmy Page, occasionally with frantic solos but mostly with grinding riffs. Having set up a rehearsal camp at our common friend Nini Morelli's attic I was invited to jam along one day. Nino being such a strong guitar player, I decided to play an electric piano Nino had there. We hooked it up to a Marshall amp and I tried to stay out of trouble as much as possible, supporting what Hans and Nino were doing with some simple chordal stuff rather than trying to impress. I impressed nevertheless, as Nino said "wow, that was great stuff" afterwards and said "how about playing keyboards for us?" Being already heavily committed to The Blues Right Off (and making an own record production at the time), I had to decline but we kept in touch and also appeared on the same bill on some occasions. I also loaned Nino my guitar on one occasion for a gig, as his own was off for repairs, and we became really close friends and have actually stayed in touch over the years since.
From Nino I learned that guitar playing is definitely not about trying to exceed speed limits for guitar playing or trying to invent a new dissonant chord never heard before - it is all about "feel", injecting your very soul into very single note you play. In Nino's World, less is definitely more. In a period when everyone was craving a Gibson Les Paul (and Nino had such a guitar), he switched more and more to be playing his white Fender Stratocaster, a Fender 12-string electric and even got himself the very futuristic Ampeg Dan Armstrong Lucite (Plexiglas) guitar. To power up his guitars, he used a Marshall 100W double stack, a 50W Marshall PA amp with its incredible gain and distortion plus a 120W Sunn double stack… LOUD, but always under Nino's control.
Nino then embarked on making his project a stable band - Re Mida thus came into being. It was to be one of the greatest unsung heroes of the Italian Prog Rock set, and never recorded anything but endless jams on a 2-track Revox tape machine. The credo of that band can be easily summed up in "never play the same thing twice". In practice, that meant jamming all day and night, never getting into a pattern and always coming up with new angles, new sounds, new rhythms… 100% improvised on-the-spot. The whole story of Re Mida could easily fill a book or be the script for a movie! As a musician, I benefited greatly from Nino's "how-to-jam" and "how-to-listen to the other musicians" while developing my own style and personality.
A SESSION WITH CLAUDIO ROCCHI AT ARISTON'S STUDIO
In the early 70s, Claudio Rocchi was the hip and trendy Folk-derived singer and a guru for the generation of youngsters then growing up listening to radio. While having a very acoustic orientation, he nevertheless employed scores of talented guitar players such as Camerini and Belloni - via the ubiquitous Massimo Villa, I was invited to participate on yet another of Rocchi's "experiments" at the Milano Ariston Studio.
Roberto Di Muro Villicich was then the resident producer/engineer at the studio having the chore of managing the session… He was a very meticulous and caring type of engineer, not normally liking disturbances in nailing the perfect sound.
As per Rocchi's requirements, no electric lighting was allowed in the studio - chandeliers and candles everywhere were intermixed with flower arrangements to make for a suitable and inspiring decor. The trend back then was already based on "pan-caking" tracks, starting with a basic rhythm section and then adding the remaining overdub bits one at a time on a 16 or 24-track multitrack tape recorder. Not so for Rocchi, however! The mandate was to play live - and not only that, to improvise everything having no prior idea as to exactly what Rocchi had in his head just then. The sheer amount of instruments and musicians crammed into a little studio made it hard to retain cohesiveness for tunes that could evolve in 6 or 7-minute long extravaganzas. Needless to say for those who are familiar with studio sessions, it took quite some time to balance everyone's mike or amp against Claudio's voice and get a reasonable cue feed on the headphones. I was later told that the session had been ditched as nothing much came out of it.
A SESSION WITH EQUIPE 84
Back in the mid-60s, I inherited a viola and tried briefly to play it - I quickly decided to stick to guitar but then did some experiments playing with its bow on an electric guitar. I soon found out that a regular sized bow was impractical for the purpose and found a child's cello bow that was the right length and width to really make a difference. I then had a Gibson SG guitar, which was supremely well-suited for bowing, due to its construction, slim-ness and general woody, sustain-happy sound. I was most surprised to later on see a picture of Jimmy Page playing a regular violin bow on a Les Paul… he should have asked me for what combination of things would make it sound best! Anywayz, I was later invited to play bow bits on a recording session for Equipe 84. Here's a scoop as to that:
One of the first exponents of the new generation of Italian Beat groups of the mid-60s were Equipe 84, that rapidly came to the fore mainly on the basis of inspired cover versions of hit US/UK songs with lyrics in Italian. While I was starting to play guitar in Venice, I saw Equipe 84 constantly on TV, as the band was immensely popular. They were very effective and charismatic, with singer and guitarist Maurizio Vandelli up front. Years after having seen them on TV for the first time and many an Equipe 84 chart hit later, I was to meet them in person. By then, they were regarded as the Italian answer to The Beatles, in terms of sonic studio escapades.
Not having previously met the main man, I soon found out that Maurizio Vandelli of Equipe 84 was a visionary songwriter, producer and inspired musician (and totally supported by his band mates) - and that's of course why he envisioned a bowed guitar part on one of the songs then in production at the Ariston studio in Milano.
I duly showed up with my SG, the kid cello bow and proceeded to plug in while the band played the bit of the track I was supposed to play on. Mind you, it was fairly incomplete at that stage, missing significant parts only to show up later, on the record. I mentally zoomed in onto the chords, the melodies and did what I thought was my restrained best, hoping not to wreck the track. Vandelli constantly barked back to me over the studio intercom system, saying, "it's pretty good…. but not what I have in my head". At some point I think I asked more or less "then, what have you got in your mind??" without getting much of a feedback on that. So I thought "what the hell, I'll make an enormous noise, get fired and that's that for today and Equipe 84". I went into the studio room again, notched up the amp to the proverbial 11 and made an enormous racket of a noise, screeching and scratching like mad, banging the bow against the guitar body and sounding like World War III. After that, and a bit sweaty from the whole proceedings, I reentered the studio control room expecting to be fired on-the-spot. No so… everyone was cheering and dancing and Vandelli told me with a bright smile "why didn't you play like that the first time around? - it's exactly what I had in my head. So congrats, well done!"
I left the studio thinking that they would probably do more sonic experiments down the road and obliterate that bow guitar part. Lo and behold - that bit ended up on the album at the end of the day. And, in the context of the finished mix, it sounded perfectly right even though I did my best at making it sound as wrong as possible.
IL PACCO
The Milano band Pacco had the coolest logo at the start of the 70s and were the coolest undergroundish outfit, with definitive slant towards US music, rather than the UK leanings of most other bands back then. To my knowledge, they never released an album, but recorded miles of tape as evidenced by a session over a couple of days at the Suono Recording Studio near Mestre. Captured on tape by Ermanno Velludo, the recordings go towards the extreme consequences of jamming, improvising and applying sophisticated recording techniques and creative microphone positioning. Pepe Gagliardi's Wurlizter for example taking a whole new dimension in the soundscape when ran through a Binson echo machine, and then playing trilled 5ths to make a would-be Mellotron string section! Hook up a parametric EQ to zoom in on interesting sounding frequencies, and voilà - you've got an ethereally sustaining sound with an organic quality sounding much better than the most modern synth. Sonic buffs out there should try this old Velludo trick! I was invited to join the proceedings and contributed some bits here and there while the sessions endlessly went on night and day.
The chief theoreticians in the band were the hip and intellectual Camerini brothers, Alberto the guitar muso and Mario the design and art freak - Mario was the one to do that great band logotype. The power came from the twin thunder of Paolo Donnarumma on bass and Ezio Rossi on drums - Paolo with his frenetic and intensive Entwistle-meets-Bruce pulse while Ezio was a less-is-more guy. Alberto the guitar man was already then a very impressive guitarist, very incisive but never in a show-off mode like most other guitar heroes back then (including myself!).
Pacco came across as a very uptown band, a very brainy outfit, indeed! In their circle of friends were of course the ubiquitous Massimo Villa, Eugenio Finardi (whose early solo recordings included Pacco members) and Gianni Sassi of the AL.SA ad agency then starting up the Cramps label. Alberto Camerini went on to a very successful career going solo, to become what is perhaps the very first cyberpop artist in Italy with a futuristic stance and visuals.
GUIDO TOFFOLETTI
I'm a big fan of Italy, having been there for 15 formative years of my life. Now living in Copenhagen, I still occasionally buy Italian newspapers to keep abreast of the news. On one monday, I was intending to buy a copy of La Gazzetta dello Sport to see if my fave team Juve had done well for itself. La Gazzetta was already sold out, so I bought La Repubblica instead. And then, one headline blazed "Italian bluesman dead in accident". I sent a short email to the journalist reporting the news, with a bit of background info. I then heard that La Repubblica had published that as a reader's letter (which wasn't my intention at all) and was subsequently contacted by the music editor of the Il Gazzettino newspaper of Venice, and later contributed a song to a memorial concert. But let's backtrack a bit…
In the mid-60s, longhaired "Capelloni" freaks were very few in Venice. There was only one young guy in town, of course nicknamed "Caveòn" (Venetian lingo for capellone, a neologism to describe the new mop top fashion imported from the UK in the wake of The Beatles, The Rolling Stones, etc.). One day I was riding on a vaporetto (the Venice equivalent of a bus) and, wow, Caveon appeared - walking down a fondamenta (a canal bank). He had extremely long, dark hair flowing about in the Bora wind on that winter day.
I met him through mutual music friends a short while later and thus Guido Toffoletti became a friend, and at some point, also dating my sister. Both of us were deeply into music from the UK and the US and bent on a mission: to promote this new and great music in a country totally dominated by the San Remo festival. Guido was an avid collector, specializing in The Beatles. He already then had a vast collection of memorabilia. As he had inherited a minor fortune, he was also able to buy some guitars, just as The Beatles, and he used to invite me in to play on them as he then wasn't up to snuff yet. He kept on saying "no, I'm not a player" but must have secretly practiced a lot as he suddenly surfaced, as if from out of the clear blue sky, with dazzling speed Blues at the start of the 70s! He also began hob-nobbing with the stars, and met a lot of famous people such as The Stones and a wide variety of Blues and Rock musicians in the 70s and onwards. Some local asserted that Toffoletti "porta sfiga" (brings bad luck, in Italian), but I personally do not believe in this kind of superstition. He went on to become a catalyst of Blues forces in Italy for many years until his untimely death in a hit-and-run car accident while riding a bike outside a recording studio. The tragic accident occurred on a narrow and winding country road, in the middle of the night, and has never fully been explained.
PREMIATA FORNERIA MARCONI & FRANCO MAMONE
During one of the many tours undertaken by PFM, they came to visit the Suono Recording Studio in Mestre dropping by shortly along with their manager Franco Mamone, one of the top managers and tour agents at the time in Italy. The resident producer and engineer of the studio, Ermanno Velludo, played them some of the stuff I recently had done there, some bluesy jams. They appreciated the quality of the recording and production but commented "Blues is definitely dead… There's no future whatsoever in that and it's anyway a music form too simple to warrant prolonged attention". The PFM lot certainly played advanced stuff, for sure, and had the chops and technical prowess to carry through songs with complicated arrangements in true Prog Rock style. A year or two later, I was actually some of that dreaded Blues stuff with none other than PFM drummer Franz di Cioccio, with Massimo Villa on bass. We performed at a Milano festival and performed extended ramblings such as "Spoonful". Mamone said: "pretty good… But ain't you too old and too intelligent to be a musician?" - mind you, I was about 22 at the time. Mamone kept on thinking that I came from Sweden, not Denmark, and I bumped into him several times later on, after having relocated to Copenhagen and working in the music biz ever since.

This page wouldn't have been possible without the help of Claes Cornelius, that has contributed with information on his musical experience in Italy and his recollections of the music scene of the 70's and The Blues Right Off.
Also thanks to Massimo Viviani for the precious scans of the original LP and Marco Silvestrini for other information.