Artist

CLAUDIO ROCCHI

Claudio Rocchi was the original bass guitarist of Stormy Six, and played on their first album Le idee di oggi per la musica di domani, leaving the band soon after the album release for a solo career that started in 1970 with the first album, Viaggio, mainly acoustic and with good flute playing by PFM's Mauro Pagani.
Always influenced by eastern doctrines (he later became a Hare Krishna), he was also active in anti-war movements and always present at the various Italian pop festivals of the early 70's.
A second album in 1971, Volo magico n.1, is usually considered as his best effort, in much the same style as Alan Sorrenti's Aria with a side-long title track and softer tracks on the other side. The 18 minute long title track starts with a soft introduction and goes on with hypnotic move based on the guitars of Alberto Camerini and Ricky Belloni (from Nuova Idea and later New Trolls).
Next album, La norma del cielo (subtitled Volo Magico n.2) was similar, but weakest in comparison, and after a long journey to India he released Essenza at the end of 1973, with help from Elio D'Anna (Osanna) and Mino De Martino (Giganti) among others.
Il miele dei pianeti, le isole, le api was a six-track album mainly based as usual on Rocchi's acoustic guitar folk-psych compositions, but featured well-known guests such as Walter Maioli (from Aktuala), Trilok Gurtu (that played with the same band at that time) and violinist/multi instrumentalist Lucio Fabbri (from Piazza delle Erbe, then a long time Eugenio Finardi collaborator and from 1978 with PFM, he also released a solo album on Cramps).
Later production had more use of electronics and interest in experimental sounds. In 1980 while in a Hare Krishna community he released Un gusto superiore with Paolo Tofani (Area).
In 2007 Claudio Rocchi directed the film Pedra Mendalza (the name of a popular volcanic hill in Sardinia) and its soundtrack, released on CD in 2008.
Between 2011 and 2012 the huge discography of Claudio Rocchi had many new productions added. In 2011 came two new albums, one with the psychedelic group from Piedmont, Effervescent Elephants on the Psych-Out label (Claudio Rocchi & Effervescent Elephants - on CD and LP) and another as soloist for the revived Cramps, In alto. In 2012 Psych-Out released two interesting vinyl LP's (both as limited pressings) with unreleased 70's recordings: the 2-LP set Concerti 1973/4/5 and Mirage (a live recording from 1976).
The long and multiform career of Claudio Rocchi suddenly came to an end in June 2013, aged 62, due to a degenerative disease.
His musical testament, showing his creativity and interest for any style, can be the very nice album made with producer and musician Gianni Maroccolo (ex-Litfiba, CSI and many others), issued in late 2013 and entitled VDB23/Nulla è andato perso. The album, mixing rock and electronic influences, features many guests in the long Rinascere Hugs Suite, among which Franco Battiato and Piero Pelù.

LP (up to 1979)
Viaggio
Ariston (AR/LP 11020)
1970
single cover - three different designs - black/silver label
Ariston/Oxford (OX 3025)
1976
different single cover - reissued as Flying
Sony Music/BMG (88985 36564 1)
2017
new remastered reissue
Volo magico n.1
Ariston (AR/LP 12067)
1971
centre opening textured foldout cover with inner - initially with black/silver label, later on Gnomo beige label
later issues have a smooth cover
Ariston/Oxford (OX 3061)
1977
different single cover
Ariston/De Agostini (AR/LP 12067)
2018
gatefold cover with inner and 8-page insert - no.16 in the De Agostini "Prog Rock Italiano" series
La norma del cielo
(Volo magico n.2)
Ariston (AR/LP 12088)
1972
gatefold laminated cover - Gnomo beige label
Ariston/Oxford (OX 3092)
1978
different single cover
Essenza
Ariston (AR/LP 12112)
1973
gatefold cover - Gnomo beige label - inner sleeve
Il miele dei pianeti, le isole, le api
Ariston (AR/LP 12135)
1974
Gnomo beige label - gatefold cover with lyric foldout insert
Sony Music (88691 98899 1)
2012
reissue of 1974 album with gatefold cover
Rocchi
Ariston (AR/LP 12279)
1975
single cover with inner - Gnomo beige label
Suoni di frontiera
Ariston (AR/LP 12293)
1976
single cover with inner - Gnomo beige label
A fuoco
Cramps (CRSLP 5451)
1977
gatefold cover with lyric inner
Non ce n'è per nessuno
Cramps (5205 452)
1979
gatefold cover with inner


CD
Viaggio
Vinyl Magic (VM 044)
1994
reissue of 1970 album - now deleted
BMG (74321-98508-2)
2003
as above with mini LP cover - now deleted
Sony/BMG (88697-90003-2)
2011
as above with mini LP cover
Volo magico n.1
Vinyl Magic (VM 047)
1994
reissue of 1971 album - now deleted
BMG (82876-54409-2)
2003
as above with mini LP centre foldout cover - now deleted
Sony/BMG (88697-92265-2)
2011
as above with mini LP centre foldout cover
Gruppo Ed.L'Espresso (8)
2014
as above with mini-LP gatefold cover – no.8 in the "Progressive Rock Italiano" series
La norma del cielo
(Volo magico n.2)
Vinyl Magic (VM 048)
1994
reissue of 1972 album - now deleted
BMG (82876-63741-2)
2004
as above with mini LP cover - now deleted
Sony/BMG (82876-63741-2)
2011
as above with mini LP cover
Ariston/Mondadori (17)
2019
mini-LP gatefold cover with booklet - no.17 in the Mondadori "Prog Italia" series
A fuoco
Mercury/Cramps (525566-2)
1994
reissue of 1977 album - now deleted
Edel (CRA 0151982)
2003
as above with digipack cover
Claudio Rocchi (Lo scopo della luna)
Mercury/Cramps (522883-2)
1994
new studio album
I think you heard me right
Vinyl Magic (VM 055)
1995
compilation of outtakes and unreleased tracks from the 70's
Visioni prima
BMG/Ricordi (74321 51302 2)
1997
compilation with tracks from the Ariston albums (1970-75)
Sulla soglia
Vinyl Magic (VM 063)
1998
live recording with Mauro Pagani guesting
Non ce n'è per nessuno
Edel (CRA 0151992)
2003
reissue of 1979 album with digipack cover
Pedra Mendalza
AMS/BTF (AMS 130CD)
2007
soundtrack of the film of the same name (also on DVD)
Suoni di frontiera
Die Schachtel (DS18)
2009
reissue of 1976 album with digipack cover and different artwork
Claudio Rocchi & Effervescent Elephants
Psych Out (PO-33023)
2011
new recordings
In alto
Cramps (CRSCD 0211)
2011
copertina digipack - new recordings


VARIOUS ARTISTS COMPILATIONS
Progressive rock
with (I cerchi, Grazie, La televisione accesa, Indiscutibilmente)
Vinyl Magic (VM 058)
1995
CD compilation with singles tracks from Nuova Idea, Simon Luca, I Top 4


SINGLES (with picture sleeve - up to 1974)
Indiscutibilmente
La televisione accesa
Ariston (AR 0341)
1970
both unreleased tracks
Cerchi
Grazie
Ariston (AR 0506)
1971
both unreleased tracks
Vado in India
part I & II
Ariston (AR 0559)
1972
both unreleased tracks - some copies include a poster
Radici e semi
Templi e mercati
Ariston (AR 0621)
1973
both tracks from Essenza


PROMOTIONAL AND JUKEBOX SINGLES (with blank cover - up to 1974)
Indiscutibilmente
La televisione accesa
Ariston (AR 0341)
1970
jukebox single with white label
Grazie
Ariston (AR EP/1018)
1971
promotional EP - also includes Nuova Idea/Non dire niente, Giovanna/Io volevo diventare... and Giovanna/Sono solo una donna
Tutto quello che ho da dire
La realtà non esiste
Ariston (AR 0534)
1972
promotional single with blank cover
La norma del cielo
L'arancia è un frutto d'acqua
Ariston (AR EP/1034)
1973
promotional EP Free Line series no.11 with cover - also includes R.Porridge/Harmony and Mirror/US woman
Il miele delle api
Adesso
Ariston (AR 0645)
1974
promotional single with white, text-only cover

First albums are not easy to find, but never particularly expensive. all were released by Ariston.
Viaggio appeared with three different single covers, the first and second had a green background with the album title in large white letters (first issue had the author's name in black letters, second issue had it in white), while a third one had a black and white picture of Claudio sitting in the clouds. Apparently the three different designs were changed in a few months, and all have the same catalogue number and label design.
The album has the year 1970 on the label, but the vinyl carries the date 19-5-1971, it's not clear if different masters exist. Some copies also have a round sticker with "Disco vincitore del 1. premio Critica Discografica 1971", as the album won a critics' poll in that year.
It has been reissued on CD in March 2003 by BMG with mini-LP cover and obi, as part of their "Dei di un perduto rock" series, and later repressed in October of the same year when a second batch of those CD's came out (including, among others, Volo magico n.1).
The same CD was announced by BMG as being also available with standard jewel case (cat.no. 74321-98507-2) but was probably never issued in this form.
Volo magico n.1 came in a centre opening foldout cover, textured, and with an inner sleeve (but apparently not all the copies came with the inner).
The very first batch of copies came on the old black/silver Ariston label (soon replaced by the newly introduced Gnomo beige label) and only had the title on the "wall" side, but this was soon added on the back side where there is a colour picture of Claudio. Allegedly this was made to help the shops selling the record because it was usually exposed with the colour picture as the LP.
While the early pressings of this cover are textured, it was later issued with a smooth cover (still opening from the centre).
La norma del cielo has a laminated gatefold cover with light blue background, but some copies exist with the same cover design on white background.
Essenza had a gatefold cover and the inner sleeve with lyrics on a black and white rising moon. In later copies the rising moon was gold tinted.
Il miele dei pianeti, le isole, le api had a gatefold cover and a foldout insert reproducing the cover on a side and including the lyrics on the other.
Suoni di frontiera has on vinyl the year 1976, though on Rocchi's site and other sites centered on his activity it is usually listed as issued in 1975.
Non ce n'è per nessuno was issued on CD in Japan in 2007 by Strange Days (POCE-1185) with gatefold mini-LP cover in the "Cramps label collection" series.
The LP's issued by Psych-Out are all in limited pressings with thick vinyl and heavy cardboard gatefold covers: Concerti 1973/4/5 (PO-LP 33027) and Mirage (PO-LP 33028, with DVD) were issued in 500 numbered copies
The 2013 album with Gianni Maroccolo, VDB23/Nulla è andato perso was released through the crowdfunding site Musicraiser on CD; later, in 2014, it was also issued on vinyl by Psych-Out (PO-LP 33032, with bonus single) in 1000 numbered copies having a hand-painted thick cardboard cover.
No counterfeit exists, nor foreign issues of the official albums. A Spanish compilation, Strepitoso (Carnaby, 1972) contains La tua prima luna, from the Viaggio LP, along with another Rocchi track, Io volevo diventare, sung from Giovanna.

Viaggio - LP (first and third design)

Flying (Viaggio) - reissue LP in Oxford series

Volo magico n°1 - LP

Volo magico n°1 - back cover (first pressing with no name and title)

Volo magico n°1 - foldout back cover (second pressing with name on the back picture)

Volo magico n°1 - first label design

Volo magico n.1 - reissue LP in Oxford series

La norma del cielo (Volo magico n.2) - LP and 8-track cartridge

Essenza - LP

Il miele dei pianeti, le isole, le api - gatefold cover

Rocchi - LP

Suoni di frontiera - LP

A fuoco - LP

Non ce n'è per nessuno - LP

Indiscutibilmente - 7" single

Grazie - 7" single

Vado in India - 7" single, cover + poster



Click on pictures to enlarge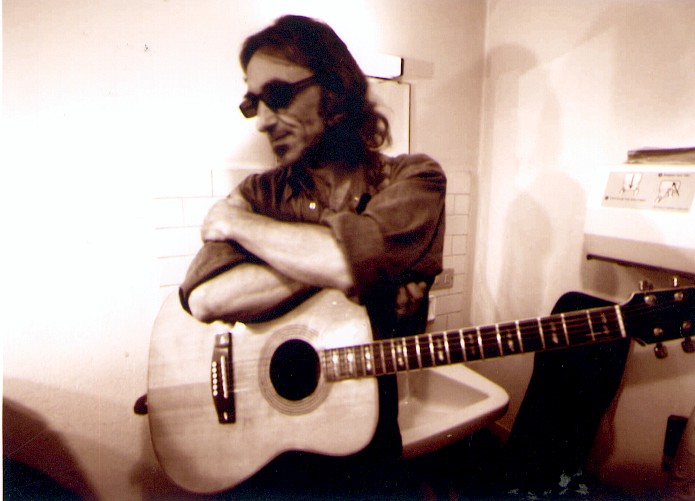 Promotional photo - 2005

Claudio Rocchi has an odd website at http://www.claudiorocchi.com, but it contains little info on his career and record releases
A fansite is at http://digilander.libero.it/martingianni/claudiorocchi.htm.

Many thanks to Maurizio Fulvi, Armando Lanni, Manuel da Achada, Alos, John Elvis Gualtieri, Pio De Bellis and Antonio Calcagno for scans and information.
Also thanks to Gianni Martin for encouragement, useful information on collectible Rocchi releases and the 2005 promotional picture.