Artist

MADRUGADA

Gianfranco Pinto (keyboards, vocals)
Alessandro "Billy" Zanelli (bass, vocals)
Pietro Rapelli (drums, vocals)

This band from Bergamo was formed around 1970, and had a long life that lasted until 1978. Their name means dawn in Spanish.
The group derived from some 60's beat bands like I Condor, that included bass player Alessandro Zanelli and keyboardist Franco Orlandini (from Mat 65 and who later worked with Equipe 84 and Claudio Rocchi), and later changed name to Le Lunghe Storie, and along them from Le Bugie and Gruppo 3. But the basic nucleus came from Terza Classe, which also gave birth to Perdio.
Though not properly a progressive rock album, their first one, only released in 1974 by Philips, contains some interesting parts.
It contains seven tracks, some of which were arranged and signed by Roberto Vecchioni (a singer-songwriter that's still very popular nowadays), while three songs were composed by Mauro Paoluzzi.
The first side shows some influences by a West Coast styled sound, with multivocal parts very well executed but not particularly original. Second side contains the long Mandrax, led by Gianfranco Pinto's keyboards, that's probably the best album track.
Except for a limited use of acoustic guitar on Uomo blu the band didn't use guitars and their sound was strongly based on keyboards and richly arranged vocal parts.
Second album came three years later, this time the trio was helped by some guest musicians like Lucio Fabbri on violin (Piazza delle Erbe and later PFM), the jazz saxophonist Gianluigi Trovesi, and Luciano Ninzatti (from Eugenio Finardi's band Crisalide) on guitar.
With a much better production and sound, this can be considered the best of their two albums, with long tracks like the opening Romanzen or Aragon showing a very good composition quality. Another nice song was È triste il vento, that had previously been played by another group from Bergamo that had a close connection with Madrugada, Perdio.
Like in the first album there are some odd different-styled tracks, like the folky Noter de Berghem and the silly Katmandu (that was also released on single with È triste il vento, but with no success), but Incastro can be surely appreciated by progressive music fans. Unfortunately it didn't have a good promotion by the record company.
In concert, Madrugada played on tour with Area, Claudio Rocchi and Biglietto per l'Inferno, and in Lugano (Switzerland) with Kevin Ayers. Moreover they played in many concerts for political movements like Avanguardia Operaia and the Radical Party and the Re Nudo magazine. The band split at the end of the 70's.
Pinto and Zanelli collaborated with Mauro Paoluzzi in his shortlived Pangea project, which produced only a promotional album in 1976.
Gianfranco Pinto has collaborated with many Italian and international artists (Patty Pravo, Roberto Vecchioni, Adriano Pappalardo, Riccardo Fogli, Gianna Nannini, Brian Auger), and in the late 90's with the reformed progressive group Perdio. He worked for many years in a music school in the Parma area and sadly passed away in late 2011.
Bass player Billy Zanelli formed the semi-punk group Judas, with an album on Spaghetti label in 1978, and later played with Roberto Vecchioni.

LP

Madrugada
Philips (6323 033A)
1974
single cover with inner
Incastro
Philips (6323 046A)
1977
single cover with inner


CD
Madrugada
AMS/BTF (AMS 107)
2006
reissue of 1974 album with mini-LP gatefold cover - 4 bonus tracks - now deleted
Universal (0602527319377)
2010
mini-LP single cover - part of the box set Progressive Italia - Gli anni '70 vol.4
Incastro
AMS/BTF (AMS 108)
2006
reissue of 1977 album with mini-LP gatefold cover - 3 bonus tracks - now deleted
Universal (0602527339267)
2010
mini-LP single cover - part of the box set Progressive Italia - Gli anni '70 vol.5
Three experience 1977
Giallo (MM 118)
2015
credited to "Perdio/Madrugada", contains unreleased recordings from 1977



SINGLES (with picture sleeve)

Katmandu
E' triste il vento
Philips (6025 164)
1977
both tracks from Incastro



PROMOTIONAL AND JUKEBOX SINGLES (with blank cover)

Katmandu
Philips (AS 5000 376)
1977
jukebox white label issue / backed with other artist's track

Both albums by Madrugada are scarce and have become increasingly expensive and sought after.
They have never had any foreign issues or counterfeits. The first CD reissue ever released has been made by AMS/BTF/Vinyl Magic in 2006, with mini-LP gatefold cover and booklet. Both these reissues contain extra tracks, taken from live concerts and demos.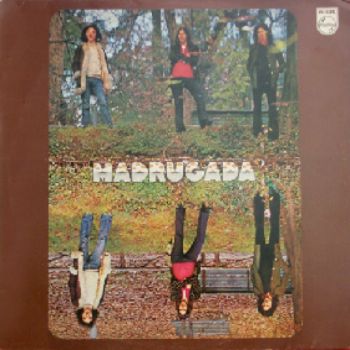 Madrugada - LP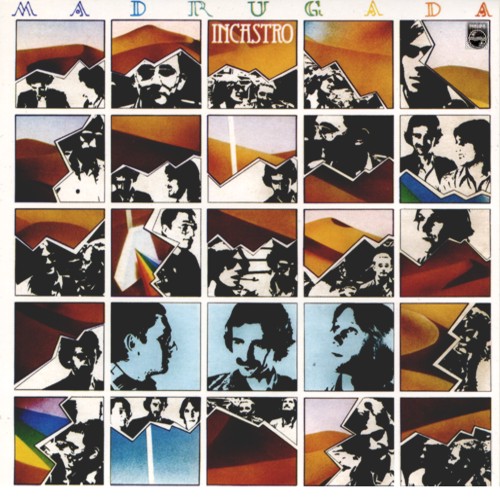 Incastro - LP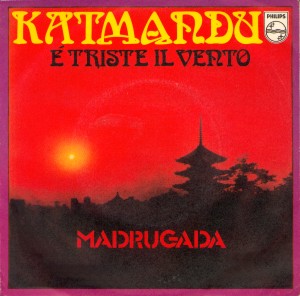 Katmandu - 7" single



Click on the pictures to enlarge

Thanks very much to Gianfranco Pinto for information and pictures