Artist

SIMON LUCA

A singer songwriter from Piacenza, Alberto Favata started his career in the late 60's with some singles in a beat style under the name of Alberto Oro.
At the turn of the seventies, now based and well known in Milan, he took the name of Simon Luca and recorded his first album, Da tremila anni, and some singles on the Victory label. An orchestrated pop album, this went unnoticed despite the help of some name musicians, among which members of Stormy Six and drummer Tullio De Piscopo.
Second album was released with his backing band, L'Enorme Maria, a sort of supergroup including some of the best musicians from Milan like Alberto Camerini, Fabio Treves, brothers Ricky (later with Nuova Idea and New Trolls) and Gigi Belloni, Eugenio Finardi, Donatella Bardi.
Entitled Per proteggere l'enorme Maria, the album had good sales success and Simon Luca appeared in some open air festivals of the time. The album is slightly more rock-oriented, though not entirely convincing, the singer had an original harsh voice but the arrangements are not particularly effective.
Third and last album, E la mia mente? is probably his best. Again with help from L'Enorme Maria (now with Claudio Bazzari on guitar, Gigi Belloni on bass, Flaviano Cuffari on drums, Ronnie Jackson and Claudio Ciampini on guitars and singer Flavia Baldassarri), the album has very good guitar-led parts, though some male-female vocal passages can sound dated at times.
A rock album rather than a prog one, and including 16 tracks all connected to form two long suites, this can be an interesting listen to many.
Simon Luca ended his career as solo artist after some late singles in the second half of the 70's. He's remained in the showbiz since then, both in the advertising world and as composer of TV and movie soundtracks.
His return to a pop-rock style came in 2022 with a new album, Mastico asfalto, credited to Simon Luca & L'Enorme Maria.

LP
Da tremila anni (Musica della parola)
Victory (VY 10050)
1971
single cover
Per proteggere l'enorme Maria
Ariston (AR/LP 12074)
1972
laminated gatefold cover
E la mia mente?
Ariston (AR/LP 12102)
1973
laminated gatefold cover


CD
Per proteggere l'enorme Maria
Vinyl Magic (VM 052)
1995
reissue of 1972 album
E la mia mente?
Vinyl Magic (VM 053)
1995
reissue of 1973 album
Mastico asfalto
MP Records (MPRCD 099)
2022
new studio album


SINGLES (with picture sleeve)
Hey ragazzo
Con la mia chitarra
Carisch (VCA 26194)
1968
as Alberto Oro
Mi sei mancata sai
Tante donne
Odeon (MSOQ 5370)
1969
as Alberto Oro
Tu non mi piaci
Tu te ne vai
Odeon (MSOQ 5381)
1969
as Alberto Oro
Parlo parlo ma penso a lei
Niente di più facile
Victory (VY 030)
1971
both tracks from Da tremila anni
Piccolo grande immenso dolore
Parlo di lei
Victory (VY 034)
1971
both tracks from Da tremila anni
Chiara
Spegni la luce
Victory (VY 050)
1971
A side from Da tremila anni
Per proteggere l'enorme Maria
Mangia con me il tuo pane
Ariston (AR 0539)
1972
both tracks from Per proteggere l'enorme Maria
Ridammi la mia anima
Cuore nero
Ariston (AR 0556)
1972
both tracks from Per proteggere l'enorme Maria
Per proteggere l'enorme Maria
Cuore nero
Ridammi la mia anima
Ariston (AR/EP 1028)
1972
EP - all tracks from Per proteggere l'enorme Maria
Io credo in me
Com'è fatto il viso di una donna
Ariston (AR 0594)
1973
Un'età
Pazzia
Ricordi (SRL 10727)
1974
Per favore basta
Spezzerò
Ricordi (SRL 10762)
1975
Bang bang (my baby shot me down)
All'improvviso nell'aria
Ricordi (SRL 10800)
1976
E' la luna
L'anima di Giuda
Spaghetti (ZBSR 7107)
1978


PROMOTIONAL AND JUKEBOX SINGLES (with blank cover)
Senti dottore
Un'ora in città
Victory/Ariston (VY 035)
1970
only issued in promotional form
Spegni la luce
Victory/Ariston (VY 050)
1971
jukebox white label single - backed with Ornella Vanoni/Il tempo di impazzire
Spegni la luce
Victory/Transatlantic (VY 050)
1971
different version of the above - backed with Stray/Only what you make it
Ridammi la mia anima
Mangia con me il tuo pane
Ariston (AR 0548)
1972
jukebox white label single - both tracks from Per proteggere l'enorme Maria
Per proteggere l'enorme Maria
Ridammi la mia anima
Mangia con me il tuo pane
Cuore nero
Ariston (AR/EP 1028)
1972
promotional 4-track EP with art cover- all the tracks from Per proteggere l'enorme Maria
Pazzia
Ricordi (JB 58)
1974
jukebox white label single - backed with Drupi/Sereno è

First album on Victory is rare though not particularly sought after, the others on Ariston are more common to find, both had gatefold covers and black/silver labels.
E la mia mente? was also released in France by Columbia (no. 2C064-95300) in 1974 with a different laminated single cover.
No counterfeits exist.
The 1970 promotional single Senti dottore/Un'ora in città was also issued with the same catalogue number under the name Adalberto, one of the nicknames used by the artist. The version credited to Simon Luca was only pressed in a very limited promotional quantity and is very hard to find.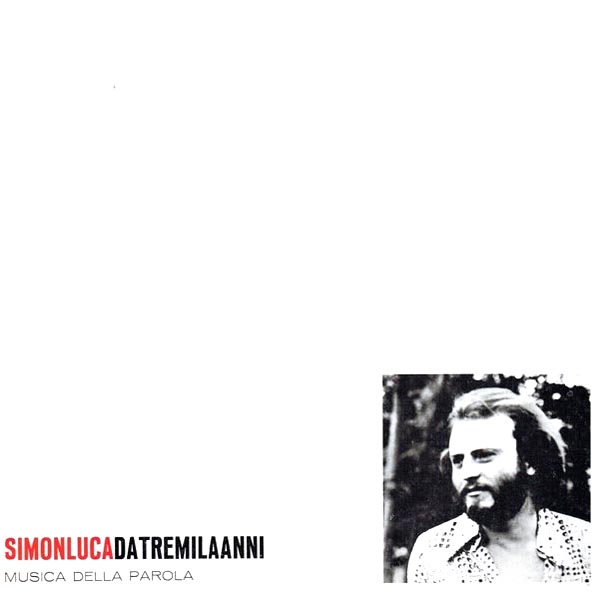 Da tremila anni - LP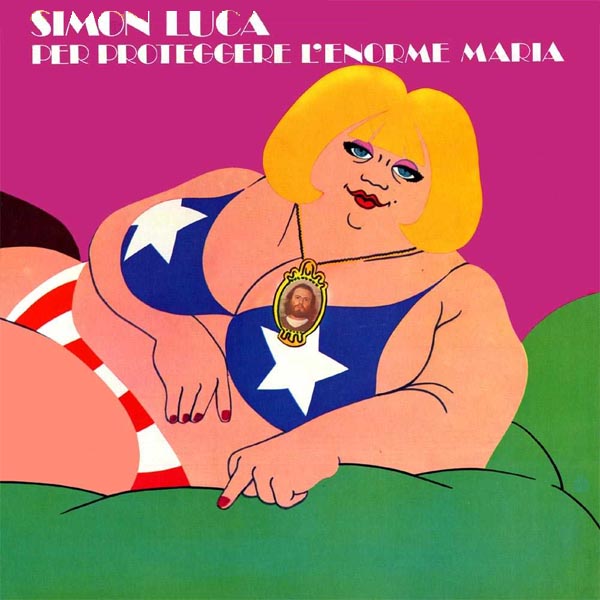 Per proteggere l'enorme Maria - LP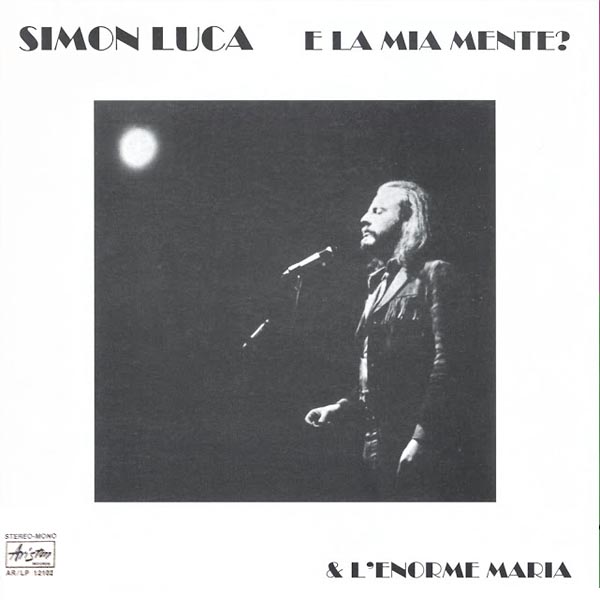 E la mia mente? - LP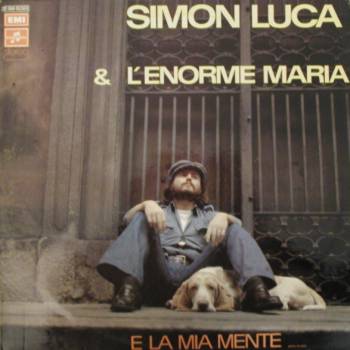 E la mia mente? - French issue LP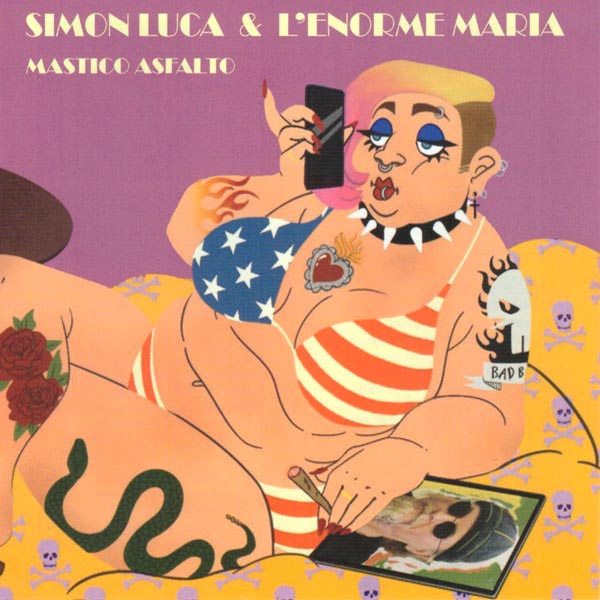 Mastico asfalto - CD
Ridammi la mia anima - 7" single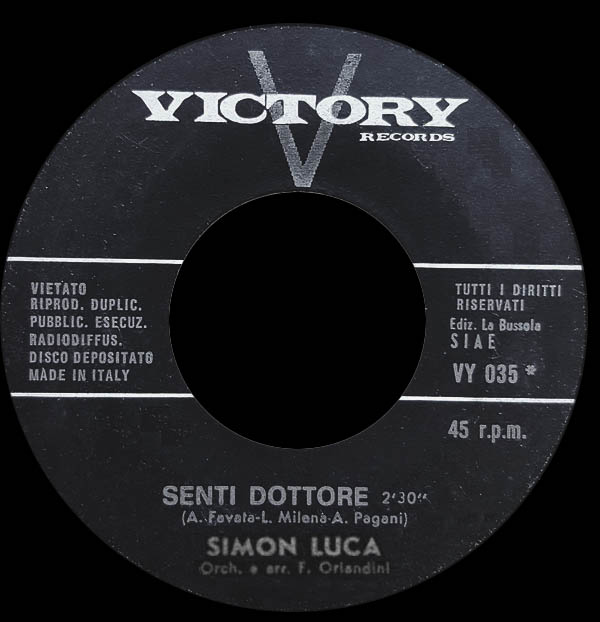 Senti dottore - 7" promotional single

An interview with Simon Luca, by Augusto Croce, September 2004
1-How did you start as a singer?
Music always played an important role in my family. My grandmother, my father, some of my uncles were all into music. Our home, in Piacenza, was always frequented by artists, musicians, opera singers (one of them, tenor Gianni Poggi was my godfather), directors, etc. For this reason music always represented to me joy of living and enthusiasm.
When we moved to Milan, at the age of 13, I formed one of the first student bands, I Semplici, with which I started singing.
My first records as solo singer were released under the name of Alberto Oro, that was chosen for me by my record company, that considered my real name to be little "artistic". Unsatisfied with it, I decided to change, suggesting the third and fourth of my Christian names, Simon Luca.
2-There are big differences between your debut album and the two following, how come?
In Da Tremila anni, I had to fight against the dictates of the record company to include a song, Spegni la luce, that forestalled my musical tastes, which were already into the rock blues and progressive style, with various influences typically Italian and mitteleuropean.
From what I'm saying you can understand that the relations between the artists and the record companies were very difficult back then, in the years of student protest. The contracts were tying, the fees ridiculously low, and the press offices, accustomed to dealing with "yesmen" artists, couldn't stand doing what they liked with everyone. As a law student, in that time of student protest, I rebelled against their bullying. And this especially happened with Per proteggere l'enorme Maria.
3-"L'Enorme Maria" has often been described as a supergroup. Can you tell us something about them and your collaboration? And where did the title "Per proteggere l'Enorme Maria" come from?
Your question lets me understand that "L'Enorme Maria" is considered as an independent group, but it was in fact my own group, "Simon Luca & L'Enorme Maria" was my own name and trade mark.
I formed that group with the aim to have an open line-up, a thing that was totally new in Italy, for two reasons: the first was to carry out my idea of an ensemble of many interchangeable musicians for an instrument. The second was to create, through a practice ground like "L'Enorme Maria", new room for young artists and musicians believing in true music and not in the exhibition of themselves through music. The album title came from my desire to defend the idea behind my group from the continuous pressure coming from my record company that wanted it to be split to reduce the costs of the promotional tours.
I resisted as much as my finances allowed me to do this, but at last I had to renounce. Some critics wanted to see in "L'Enorme Maria" the strong presence of marijuana, but beyond the absolute freedom of thought and personal choices which our togetherness was based on, the bonding agent of that musical experience was certainly not marijuana, but just the music, and the love of music.
Many of those musicians who shared that experience did it with enthusiasm and creative generosity. And from that experience, that some of those people still remember with nostalgia, many of those musicians started their successful personal paths, to my great and intimate satisfaction, a thing that proved that my initial idea was good.
I want to mention, among these, Fabio Treves, Gigi and Ricky Belloni, Ezio Malgrati, Pepè Gagliardi, Paolo Donnarumma, Claudio Bazzari, Marco Ferradini, Alberto Camerini, Flaviano Cuffari, Alberto Mompellio, Ronnie Jackson, Claudio Ciampini, Flavia Baldassarri, Donatella Bardi, Massimo Villa, Eugenio Finardi, Lucio Fabbri, Walter Calloni, Roberto Colombo,Lalla Francia, Lella Esposito, Franco Orlandini.
4-After "E la mia mente?" you just produced many singles but no more albums. What was the reason of this break and the following end of your solo career?
I was one of so many people to which the liability of military service took away two essential years. Since when I left, I noticed that the propitious circumstances that I had created around me were slowly dying. Two years of break in a time when the musical taste was quickly changing and disco music was rushing in, produced a total damage.
When I came back, my record company only proposed things that I didn't accept, and working methods that were far away from my choices. At last I decided that the time to stop singing had come, and I only dedicated to composing.
5-Which have been the most significant experiences you had after "Simon Luca"?
There is no post-Simon Luca, as I only decided to stop singing, not composing. The chance of writing music for such big artists as Mina, Ornella Vanoni, Milva, Bruno Lauzi, Astor Piazzolla, Marco Ferradini [popular Italian artists of last decades], warms your heart and lets you think you're lucky.
The world of advertising, the cinema, the television, the documentaries, are today the other sides of my personal way of meaning music. I'm afraid to notice that the Italian specialised press gives really little attention to the irreplaceable role of the composers.
Unfortunately, as everyone knows, we're living in a world of people wanting to become visible, and he who is not visible, doesn't exist.
But I do exist, and these are some of the things I did in the latest years, and the results I obtained:
Songs recorded by other artists
MINA - Colpa mia, Tradirò, Bambola gonfiabile, Chi sarà, Qualcosa in più, Voglio stare bene, Colori , Tra Napoli e un bicchiere
ASTOR PIAZZOLLA - Oblivion (J'oublie), 'Che' tango 'che', Años de soledad, Finale
MILVA - Occhi saraceni
ORNELLA VANONI - Variante, Un gioco senza età (orchestral arrangement)
IVA ZANICCHI - Canterò, Care colleghe (orchestral arrangement)
DIK DIK - E' questione d'amore, Auguri, Ai bambini fa male, Gente strana
MARCO FERRADINI - Quando Teresa verrà. Karkadè, Gatto, San Martino
MAL - Una malattia
BRUNO LAUZI - Pensa per te, Cantico
ROSANNA FRATELLO - Io canto per amore
PAOLO MENGOLI - Ora ridi con me
I GENS - Stamattina
and also ANNA IDENTICI, NICOLA DI BARI, DONATELLA MORETTI, LE STREGHE, LIANELLA VIRGILI, I DALTON, LIANA ORFEI, FRANCA MAZZOLA and others.
I composed the soundtracks for movies and TV films and variety series, for Rai and RTI Mediaset.
Along with these I worked in the publicity field, with works for the likes of Gatorade, Citterio, Mentos, Roccobarocco, Fidogatto, Gioia, Zenith and many others.
Also in the video and DVD documentaries field, for the likes of De Agostini, Pirelli, Heineken, and the Ministries of Tourism of Thailand and Jordan.
Some of these spots, works and products also received Italian and international awards, among which a Bronze Lion at 36th Cannes Film Festival, an US Mobius TV Award, an Eurobest award and many others.

Many thanks to Simon Luca for his friendly help, the interview and all the information on his past and present career.
Also thanks to Marzio Barbieri, Luciano Fassa and Giancarlo Calì for information.