The full list
E
Line-up:
Diego Zanti (bass, vocals)
Giovanni Peroni (guitar, vocals)
Antonio "Tony" Cremon (keyboards, vocals)
Giorgio Fallarini (drums, vocals)
Discography:
MC - Live at Granozzo 1973 (RS Records 002 - 1973 - private pressing)
CD - Live at Granozzo 1973 (Radio Sound Records 004 - 2006 - private pressing)
CD - Comeback (Radio Sound Records 007 - 2006 - private pressing)
Born in 1968 in Novara as Diego Beat And The Electric Blues Band, trio founded by Diego Zanti (vocals, bass, mouth harp) and including Sandro Papa (guitar) and René Sinetti (drummer), with a repertoire based on covers by Hendrix, Cream, Ten Years After, along with original tracks.
After a line-up change in 1970, the keyboards of Cremon and the guitar of Peroni, who had played with Il Volo del Topo, give a distinctly progressive feel to the group. Their live act now included reworkings of Uriah Heep and Colosseum songs, with a long version of Uno sguardo verso il cielo by Le Orme (played for the first time when the group opened a concert by Le Orme near Novara), and with much original material almost entirely sung in English.
In 1973, for a short time bassist Claudio "Klaus" Tiscione entered the group (he was later with In Tre Sulla Strada) and Zanti became the lead singer. This line-up recorded the tape later issued on the Live at Granozzo 1973 cassette (privately pressed in around 100 copies and sold at their concerts), which was refused by some record companies, being judged as non-commercial.
In 1974 Zanti and Cremon alone provoked the audience with a short set before their group's concerts, named as Space Ritual they played unique prog and electronic suites alternating on guitar and keyboards, they even recorded a track in a concert, which remained unreleased.
The group broke up in 1975, but briefly reappeared in 1989 with Zanti again as bassist/singer and some local musicians: they played some summer concerts and recorded the first two tracks of a project left unreleased: Metropoli In Catene and Milano Ore 0,00.
In the spring of 2006 the group was reformed as Diego Beat & the Electric Band, with Zanti the only original member, helped by bassist Tiscione and other local musicians (guitarists Marco Ballarè and Nicola Potito, and drummer Gianni De Filippis), with a repertoire mostly based on 60's and 70's covers.
EMISFERO BOREALE
Line-up:
Banana Joker (Pasquale Petrossi) (guitar, keyboards)
Mattia Giorgetti (guitar)
Alberto "Pepè" Petrossi (bass)
Piero Pallotta (drums, percussion)
Discography:
MC - Nuova civiltà anno zero (self-produced - 1981)
MC - Belfast (self-produced - 1982)
MC - Rumours from the sky (self-produced - 1988)
CD - Belfast (Emisfero Boreale Music - 2002 - 1982 cassette reissue)
CD - Rumours from the sky (Emisfero Boreale Music - 2002 - 1988 cassette reissue)
A group from Milan with a long activity, ended in 1993, Emisfero Boreale were formed with this name in 1978, though guitarist Banana Joker and his brother Pepè Petrossi used to play together since 1976 in Collettivo di Iniziativa Musicale. Mixing various inspirations, among which 70's jazz-rock, symphonic and Canterbury rock, the group developed a personal style, playing in many concerts especially during the 80's, when the line-up had lots of personnel changes.
Their only existing recordings were released on self-produced cassettes, two of which have been reissued on CD and can be ordered through their website.
Websites:
Emisfero Boreale - www.emisferoboreale.com
Banana Joker - www.bananajoker.com
A group of talented musicians from Milan, active in the early 70's, they were formed by Simon Luca as his backing band, and did never release anything on their own.
The group had a variable line-up that included, from time to time, brothers Gigi and Ricky Belloni, mouth harp player Fabio Treves, Eugenio Finardi, Alberto Camerini and drummer Ezio Malgrati.
ERA TERZIARIA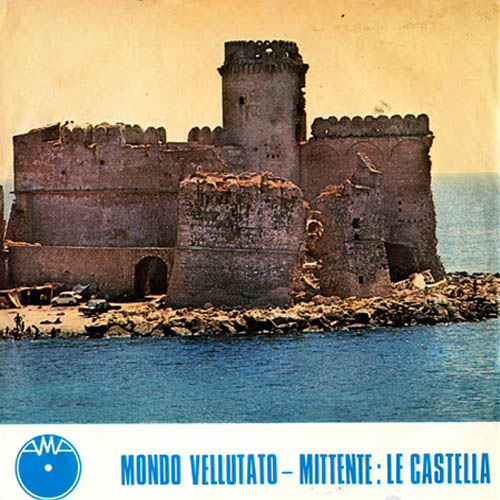 Line-up:
Euro Moroni (guitar)
Franco Pensato (keyboards)
Leo Ercolani (bass)
Paolo Fraccascia (drums)
Discography:
45 - Mondo vellutato/Mittente: Le Castella (Ama 006 - 1972)
A quartet of young boys in their early twenties coming from Lambrate (near Milan), Era Terziaria, musically influenced by Pink Floyd and Soft Machine, were coupled with singer and actor Walter D'Amore for their sole single issued by the Milan label Ama. The single is not particularly representative of their style, having on side A an instrumental soft track based on guitar and keyboards , while their style was more aggressive. It was backed with a dull ballad sung by D'Amore (credited on the label as "Walter") with a romanesque accent. The single is very rare and sought-after by collectors.
Their manager was Alex Schiavi, later active with his group Cemento and as soloist.
GLI EREMITI
Line-up:
Marco Lupi (lead guitar, vocals)
Franco Masulli (rhythm guitar, vocals)
Luciano Marchetti (bass, vocals)
Mario Cottarelli (drums, vocals)
Discography:
45 - Impressioni di settembre/L'orma del pensiero (Gli Eremiti GE01 - 1972)
Not to be confused with the group from Viareggio which gave rise to Capitolo 6, this was a quartet of teenagers from Cremona, formed in 1970 with a repertoire of covers. Their only single contains a remake of PFM's Impressioni di settembre, and was financed by a friend of one of the musicians' father, and only pressed in around 100 copies.
After the split, drummer Mario Cottarelli became a composer of his own music, and in 1979 had the chance of making an album for the Divergo label, but the record was never recorded due to the end of the label. He then played in the dance music field, going back to his progressive roots with a CD issued in 2007, entitled Prodigiosa macchina (New LM NLM 149).
ESCALATION

Line-up:
Roberto Carbone (vocals, guitar)
Mauro "Morgan" Barabino (keyboards)
Mauro Fognani (bass, vocals)
Arturo Fantacchiotti (drums, vocals)
Discography:
45 - Civiltà dei fumi / La valle di Brigadoon (Rex 70 RNP 015 - 1972)
Only a great single for this group from Genova, active between 1968 and 1973.
The original line-up, featuring, along with Carbone and Fognani, guitarist Piero Morielli, keyboardist Stefano Maragliano and drummer Gino Delfino, was changed in 1971 with the entrance of Barabino and Fantacchiotti, and the group mostly played in Genova and Turin.
The single has a style not far from Metamorfosi, with a slightly operatic voice and good keyboards, the lyrics of Civiltà dei fumi are among the first examples of songs dedicated to the environmental conservation.
The group played together until 1973 with a new line-up featuring, along with Carbone and Fantacchiotti, Massimo Gori (guitar, later with Latte e Miele), Marco "Picchio" Piccardo (bass) and Luciano Puppo (keyboards). This line-up recorded some demos but didn't have any record releases.
Notable for the presence in their line-up of many future members of important groups, Le Esperienze from Rome played in October 1970 at the first Caracalla Pop Festival, but couldn't release anything on record.
Some members of the group, Francesco Di Giacomo, Renato D'Angelo and Pier Luigi Calderoni (and for a short time even keyboardist Lino Stopponi, later with Panna Fredda), joined Banco del Mutuo Soccorso, while guitarist Nicola Agrimi was later in Reale Accademia di Musica.
The first line-up of Le Esperienze, dating to 1967, also included as keyboardist Leonardo Sasso, who was later founder and singer of Locanda delle Fate.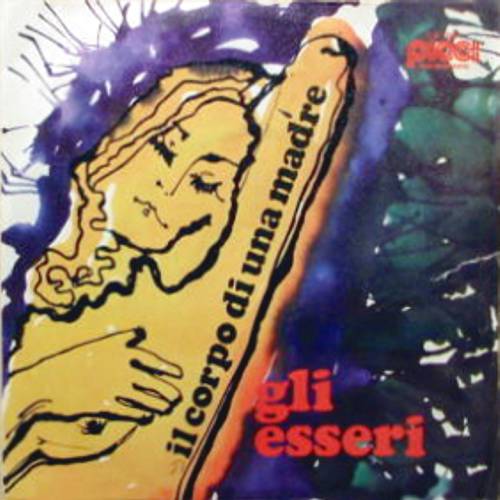 Line-up:
Riccardo De Gennaro (guitar, vocals)
Tiziano Giagnoni (guitar)
Roberto Migliorini (keyboards)
Carlo Burchietti (bass)
Beppe Millo (drums, vocals)
Discography:
45 - Il corpo di una madre/Un mare di tranquillità (Picci LG 1001 - 1972)
Only a single on Picci for this group from Grosseto. Two of their members shared the vocal duties, guitarist De Gennaro on side A and drummer Millo on side B.
The other guitarist Tiziano Giagnoni also released some solo singles, Scammon's lagoon/Immagini dello specchio (RCA - 1978) Orologio/Rock'n'roll star (RCA - 1980) and Uno sguardo/1000 e più battiti di cuore (Disco 82 - 1982), the latter with help from Millo and De Gennaro. He also issued two successful psychedelic trance music CD's in 2000 and 2002 under the name of Suraj.
Both tracks from the rare single by Gli Esseri have been included in 2008 in the bonus CD sold with the book ItalianProg, published by AMS/BTF.
LE ESTENSIONI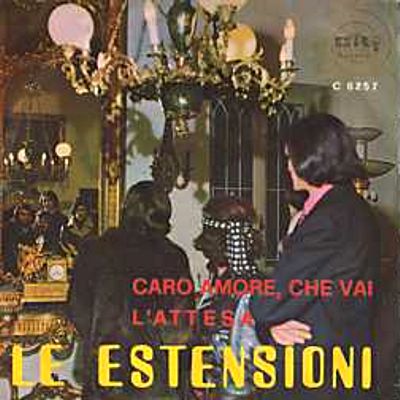 Line-up:
Salvo Azzarone (guitar)
Sandro Cottone (organ)
Peter Russo (bass)
Guido Malta (drums, vocals)
Discography:
45 - Caro amore, che vai/L'attesa (City 6257 - 1971)
A group from Palermo that only released a single in the early 70's. L'attesa on the B-side is a very nice track which brings to mind the hardest Vanilla Fudge compositions.

Thanks very much to Luigi Papi, Diego Zanti, Roberto Carbone, John Elvis Gualtieri, Mario Cottarelli and Marco Silvestrini for some of the information in this page.
Other alphabetical index pages
A B C D E F G HIJK L M N O P QR S T UV WXYZ