The full list
L
STANI LABONIA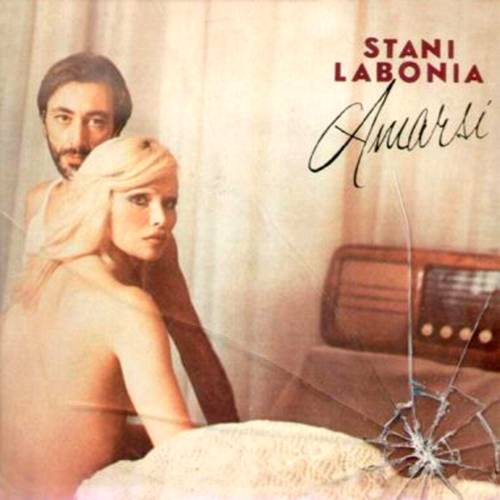 Discography:
LP - Amarsi (It ZPLT 34056 - 1978)
+ singles
A singer-songwriter whose only album on It, though not particularly prog-inspired, is notable for the appearance of Gaio Chiocchio (Pierrot Lunaire), Enzo Avitabile and Gianni Guarracino (CittÓ Frontale) and Jenny Sorrenti among others.
Labonia (whose real name is Stanislao Smiraglia) is from Bolzano but he lived for most of his life in Naples, collaborating with the main musicians in that city.
Discography:
LP - L'acqua purificatrice (Durium MS A 77360 - 1975)
CD - L'acqua purificatrice (AMS/BTF AMS 246CD - 2015 - reissue of the above)
45 - Cristalli di parole/Forse faccio male (Durium LDA 7864 - 1974)
45 - Stop segreto (Durium LDA 7878 - 1975)
45 - Sei tu l'amore/A piedi nudi (Durium LDA 7927 - 1977)
A duo, formed by brothers Gianni & Alberto Tirelli, that released only an album in 1975. An odd concept album, with the songs connected to form two long suites, this is mostly based on vocal parts and orchestral arrangements. The album was reissued for the first time on CD in 2015.
After Lapera, both musicians were involved in the electropop group Triangolo.
FRANCO LEPRINO
Discography:
LP - Integrati...disintegrati (Eleven ELC 25133 - 1977)
CD - Integrati...disintegrati (Vinyl Magic VM 022 - 1990 - reissue of the above)
CD - 1977-1987 (Giallo MMM113 - 2009 - reissue of the LP with 11 additional unreleased recordings)
LP - Integrati...disintegrati (Wah Wah LPS 148 - 2015 - Spain - reissue of the 1977 album)
Strongly based on keyboards, this album is not far from Sonanze by Roberto Cacciapaglia, though less classical-influenced. It went unnoticed, and a second album was recorded but never released.
A CD including the full album along with many unreleased recordings up to 1987 has been released by Giallo Records in 2009, while the first vinyl reissue has been released by the Spanish label Wah Wah in 2015.
LA LIONETTA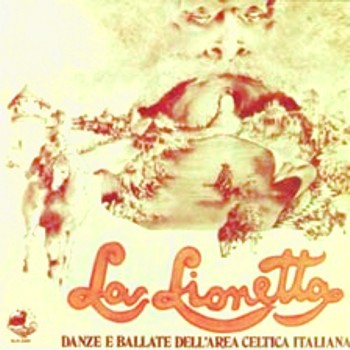 Discography:
LP - Danze e ballate dell'area celtica italiana (Shirak SLN 3304 - 1978)
LP - Il gioco del diavolo (Shirak SLN 3307 - 1981)
A group from Piedmont, whose early activity was dedicated to search and rearrange traditional folk songs from their area. They released two album on the small Shirak label, then had an evolution towards a folk-rock style until their split in 1986. Founder members Roberto Aversa and Maurizio Bertani have reformed the group in 1995.
Websites:
Official site http://www.lalionetta.it/
SARO LIOTTA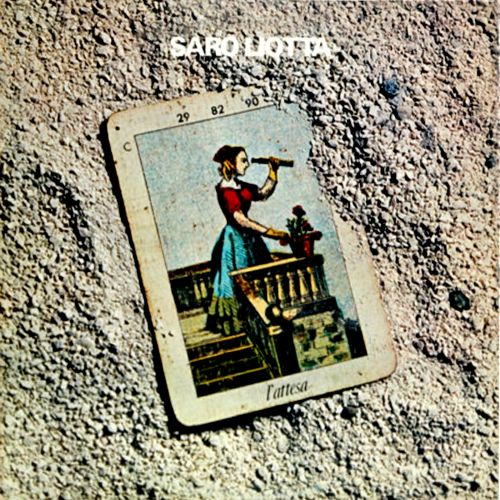 Discography:
LP - L'attesa (RCA TPL1- 1209 - 1976)
45 - Goa/Nanà (RCA TPBO 1138 - 1975)
+ others
Excellent guitarist from Palermo, Liotta is often remembered for his first 1976 album and his successful single Goa. His style is not far from Riccardo Zappa's, with some ethnic influences added, particularly Brazilian.
His second album, La seduzione from 1978, has been reissued on CD in 2010 by Universal as part of the Progressive Italia - Gli anni '70 vol.7 box set.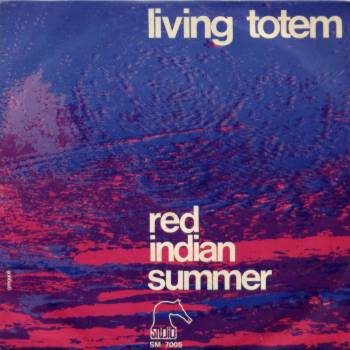 Discography:
45 - Red indian summer/Far far away (Studio SM 7005 - 1972)
45 - So ugly/Krystal brain (Studio SM 7006 - 1973)
An unknown group that only released two English-sung singles in a similar style to Osage Tribe's Un falco nel cielo. A similar single was issued by the same record label credited to Blue Gelatine.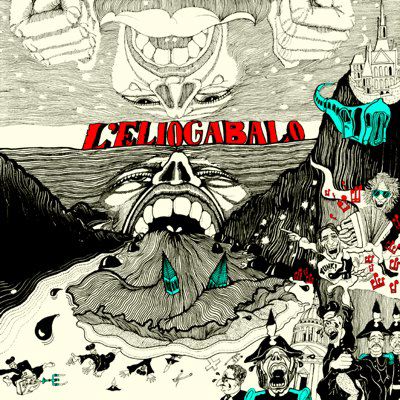 Discography:
LP - L'Eliogabalo (Una Sors Coniunxit ZPLU 34023 - 1977)
12" EP - L'Eliogabalo (Una Sors Coniunxit ZPBU 7034 - 1977)
LP - L'Eliogabalo (Akarma AK 1018 - 1999 - reissue of 1977 album)
CD - L'Eliogabalo (MP MPRCD 010 - 1997 - reissue of 1977 album)
CD - L'Eliogabalo (BMG 74321 98449 2 - 2003 - reissue of 1977 album)
CD - L'Eliogabalo (BMG 88697-89995-2 - 2011 - as above)
This artist from Sicily is well known among collectors for L'Eliogabalo, his only album conceived as a pop opera and featuring many important guests, such as singer-songwriters Lucio Dalla, Claudio Lolli, Rosalino Cellamare (Ron) and Teresa De Sio, while in the musicians role there were members of Pierrot Lunaire and Crash.
Vocal parts are long, and as other albums in a similar style this can be interesting for the rock and pop opera fans, but boring to others.
To attract the listeners, a 12" EP was also released with excerpts from the album.
Two CD reissues exist for this album, both with mini-LP covers. The one on MP Records is better, with a large foldout insert containing the full lyrics and illustrations from the original cover.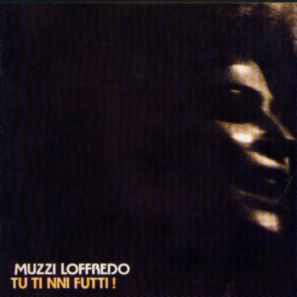 Discography (selected):
LP - Tu ti nni futti! (It ZSLT 70031 - 1976)
CD - Tu ti nni futti! (M.P. MPRCD 036 - 2001 - reissue with 2 bonus tracks)
Another sicilian artist, the actress Emma Muzzi Loffredo recorded this album of traditional songs from her country with help from Gaio Chiocchio and Arturo Stalteri of Pierrot Lunaire. Musically speaking this is essentially a folk album, and the contribution from the guests is limited and restricted to just four tracks. Loffredo passed away in 2017.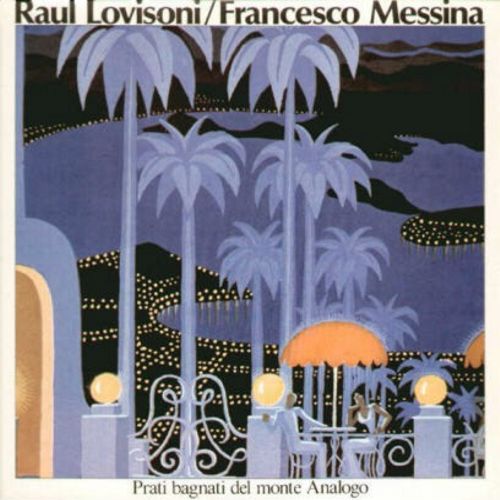 Line-up:
Raul Lovisoni (piano)
Francesco Messina (keyboards)
Discography:
LP - Prati bagnati del monte analogo (Cramps 5207 303 - 1979)
LP - Prati bagnati del monte analogo (Die Schachtel DS25/2 - 2013 - reissue of the above - 500 copies)
CD - Prati bagnati del monte analogo (Die Schachtel DS25 - 2013 - reissue with 3 bonus tracks - 500 copies)
Only an album on Cramps for these keyboardists, each of them was given a whole side of the LP. A difficult avantgarde work that also featured help from Juri Camisasca on the Lovisoni track.
The album was reissued for the first time in 2013 with different artwork and some bonus tracks in the CD version only.
Raul Lovisoni released in 1982 an interesting album entitled La gn˘ve lune (AVF 985), sung in Ladin-Furlan language and with some progressive and folk influences. He kept composing music and soundtracks, writing books, and, in 2008, with the group Musica e Pensiero, a work about organ smuggling.
Francesco Messina released in 1983 the album Medio occidente (Casablanca 8144 291), an electronic pop album made with help from Franco Battiato. This album was reissued on CD in 2010 by Universal as part of the Progressive Italia - Gli anni '70 vol.7 box set.
Line-up:
Checco Loy (vocals, guitar)
Massimo Altomare (vocals, guitar)
Discography:
LP - Portobello (CBS S 65627 - 1973)
LP - Chiaro (CBS S 69064 - 1974)
LP - Lago di Vico (CGD 20126 - 1979)
+ singles
A duo from Rome that produced some albums and singles strongly based on country-rock flavoured ballads, with help from popular sessionmen.
LSM (LABORATORIO DI SPERIMENTAZIONE MUSICALE)
Line-up:
Mario Maccario (keyboards)
Corrado Ramella (vibraphone, percussion)
Giuliano Raimondo (bass, vocals)
Luigi "Toto" Rotella (drums, percussion)
A group formed in 1975 by four young musicians from Ventimiglia, that didn't release anything despite a long career, ended with a last concert in 1981. The original drummer was Riccardo Lora, replaced by Rotella in 1976.
Inspired by the music of Area, Gong, Magma, Henry Cow, their style was mainly instrumental with long compositions and mediterranean sounds featuring large use of electric piano and vibes.
LSM had a good popularity and an intense live activity in Liguria, having the chance of opening some concerts of jazzist Giorgio Gaslini, and they even won, in September 1979, the Bands section of the young artists contest "Incontri di alternativa musicale giovanile", sponsored by the Ciao 2001 magazine, whose final was held in Puglia, in Castellana Grotte.
Despite the relations with other popular musicians of their area, the group only managed to record some demo tracks in the studio owned by Ciro Perrino, but unfortunately these tapes went lost.
Of the four musicians composing this group, only the bass player Giuliano Raimondo followed a professional career, playing with Giorgio Conte and other singer-songwriters, and even in the jazz circuit.
The group reunited with the original line-up in May 2013, aiming to have some concerts since the end of the year.
Websites:
Facebook page https://www.facebook.com/LaboratorioDiSperimentazioneMusicale?fref=ts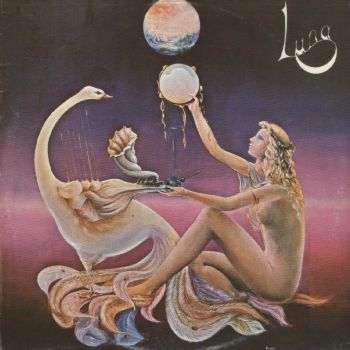 Line-up:
Danilo Rustici (vocals, guitar)
Joe Amoruso (keyboards)
Dario Franco (bass)
Sabatino Romano (drums)
Discography:
LP - Luna (Splash SPL 716 - 1981)
CD - Luna (BTF/Suoni del Sud SS004 - 2006 - reissue of above)
45 - Hallo'/Siliah era diversa (Ariston AR 00785 - 1977)
45 - Iron far/Stay here with me (Ariston AR 00831 - 1978)
45 - Speed up/Tunnel lights (Splash SPH 1034P - 1980 - released as "Tunnel")
Danilo Rustici formed Luna after the last unfruitful reunion of Osanna, the one that produced their last album Suddance. A first single, Hallo', was released in 1977, and a second one followed a year later. In 1980 a third single was made, this time under the name of Tunnel.
After reverting to their original name of Luna, the band released their only LP in 1981, a rather commercial mix of melodic-influenced rock and hard sounding riffs.
LUNA DI PECE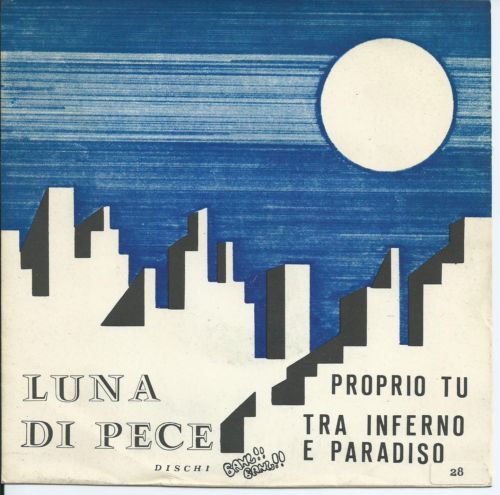 Line-up:
Claudio Canola (guitar, vocals)
Mario Percali (keyboards, vocals)
Tano Lanza (bass, vocals)
Matteo Baggio (drums)
Discography:
45 - Proprio tu/Tra inferno e paradiso (Bang Bang BG030 - 1975)
45 - Proprio tu/Tra inferno e paradiso (Ariston AR 0696 - 1975 - reissue of the above)
45 - Amanti noi/Come un airone (Ariston AR 0731 - 1976)
A group from the Vicenza area whose live act was exciting, they were formed at the end of 1973 and only managed to release two singles
The debut single was initially released on the small local Bang Bang label and soon reissued with the same cover by Ariston. The second one had Maurizio Vandelli of Equipe 84 guesting as backing vocalist.

Thanks to Giuliano Semprucci, Mario Maccario, Emanuel Poletto, Raul Lovisoni, Stani Labonia, Alessandro Chiotti, Valerio D'Angelo, for some of the information in this page
Other alphabetical index pages
A B C D E F G HIJK L M N O P QR S T UV WXYZ